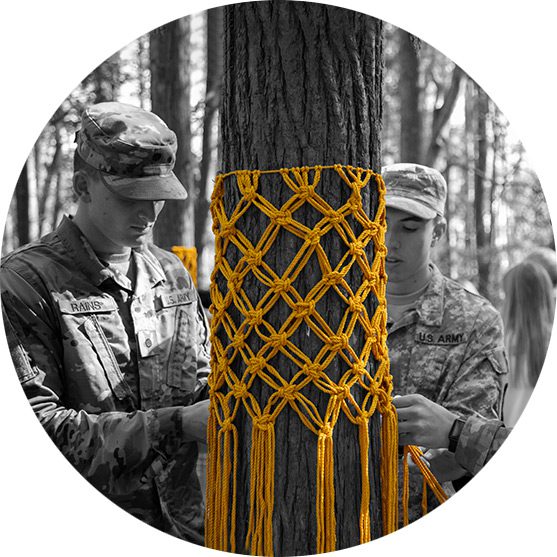 A month of honor, remembrance, awareness and support
Each November, the University of Central Florida honors and remembers our nation's veterans with events throughout the month. The events provide the Central Florida community with opportunities to hear stories shared by veterans, learn about resources and programs available, and support local veterans' causes.
Ranked as one of the nation's best universities for veterans and "Military Friendly" by G.I. Jobs magazine, UCF also provides student veterans with dedicated resources to aid them on their path to graduation.
Check back for activities coordinated by the UCF History department and the Veterans Academic Resource Center, in partnership with units across the university and community, for Veterans Month 2021.
Veterans Month Events
---
November 3–30


Veterans History Interview Days

The UCF Community Veterans History Project (VHP) is proud to partner with The Daughters of the American Revolution, William P. Duval Chapter to preserve the stories and experiences of women veterans. Throughout the month of November, VHP will host several Veterans History Interview Days to collect, preserve and honor these women as well as other Florida veterans.
---
Monday, November 8


Supply Vault for Student Veteran Success Launches at UCF

To support UCF student veterans, the Supply Vault demonstrates an appreciation for their service in the U.S. military. The UCF Community Veterans History Project is honored to welcome student veterans to UCF and to promote solidarity within the veteran community through this initiative. The vault is a collection of school supplies selected by student veterans for student veterans. Example supplies include noise canceling headphones, wireless keyboards, voice recorders, blue light glasses, smart notebooks, and external hard drives. These items are provided to student veterans at no cost are offered to support student success. The vault is sponsored by the UCF Community Veterans History Project in partnership with the UCF Veterans Academic Resource Center with generous donations from a variety of UCF colleges, departments, and offices.
---
Tuesday, November 9 • 9:30–10:15 a.m.


Veterans Salute: Honoring and Remembering Our Veterans

UCF Veterans Commemorative Site & Memory Mall

A signature Veterans Month at UCF event, the annual Veterans Salute will take place at the Veterans Commemorative Site on Memory Mall to honor and remember our Veterans. This year's program will include a flag raising and a moment of silence as well as the playing of Taps. Remarks from campus leaders and student veterans will also be shared in commemorating the occasion. It will culminate with UCF student, faculty and staff volunteers helping to complete the installation of the Veterans Academic Resource Center American flag display on Memory Mall. Each American flag represents the 1400 student veterans enrolled at UCF.

The 2021 Veterans Salute is hosted by the UCF Student Government Association, UCF Veterans Academic Resource Center, UCF Community Veterans History Project and is in collaboration with the UCF Air Force and Army ROTC.
---
Wednesday, November 10


Honoring Captain Richard S. Roberts Through Digital Preservation

The UCF Community Veterans History Project (VHP)Team developed an interactive StoryMap documenting the military service of Capt. Richard S. Roberts, who served in the United States Navy for 24 years. He became an accomplished helicopter pilot, commanding the first heavy lift helicopter squadron (HUP-1) while helping develop engineering and safety improvements; much of this helicopter doctrine is still in use today. Captain Roberts passed away on August 13, 2021 at the age of 107. Prior to his passing, the VHP team conducted a series of oral history interviews with him to preserve his memories. In his honor and as part of Veterans Month at UCF, faculty and students will present the "Legacy and Memory" digital preservation initiative to the Central Florida Navy League, an organization in which Capt. Roberts was longtime member.
---
Wednesday, November 10


Veterans History Project Partners with Local Daughters of the American Revolution

Every story is important and nearly 20 women veterans have shared their story with the UCF Community Veterans History Project (VHP) through its partnership with the Daughters of the American Revolution (DAR), William P. Duval Chapter headquartered in Winter Park. During Veterans Month at UCF, history students will interview more veterans affiliated with DAR, whose mission focuses on education, patriotism, and historic preservation. The VHP team will attend DAR's November luncheon to provide an update on the partnership and share highlights from recent interviews.
---
Wednesday, November 17 • 4–5 p.m.


Research Colloquium: Olustee–Confederate Monuments at a US Soldier Burial Ground: A Public History Project

As part of Veterans Month at UCF, faculty member Barbara A. Gannon and a group of undergraduate history students will discuss a public history project documenting the Olustee Battlefield State Park that commemorates the largest Civil War battle in Florida. While the landscape memorializes only Confederate soldiers' sacrifice, the site is likely the resting place of over 100 unknown black and white US soldiers; men who fought to preserve the Union and free the slaves. The project's goal is to highlight these veterans' sacrifices and ensure that they are properly commemorated on this site where they gave their lives for freedom. The colloquium will be moderated by Samantha Levy, MA history student.
---
UCF History Department


Research and Resources for Veterans