A month of honor, remembrance, awareness and support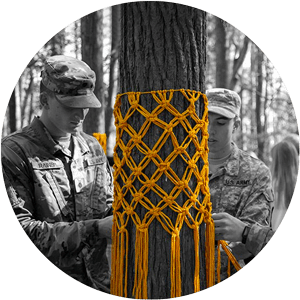 Each November, the University of Central Florida honors and remembers our nation's veterans with events throughout the month. The events provide the Central Florida community with opportunities to hear stories shared by veterans, learn about resources and programs available, and support local veterans' causes.
Ranked as one of the nation's best universities for veterans and "Military Friendly" by G.I. Jobs magazine, UCF also provides student veterans with dedicated resources to aid them on their path to graduation.
Read on for Veterans Month activities coordinated by the UCF History department and the Office of Military and Veteran Student Success, in partnership with units across the university and community.

2022 Events
---
Sunday, November 6 – Thursday, November 10


UCF Student Veterans Flag Week

During this week the Military and Veteran Student Success Center with the assistance of Army and Air Force ROTC will plant over 1,400 American Flags. The flags represent the number of student veterans attending UCF for the Fall 2022 Semester.
---
Tuesday, November 15


Veterans History Project Story Day: Emergency Service Veterans

Via Zoom

UCF's Community Veterans History Project will host a "Story Day" with UCF veterans currently working in emergency services. For this event, VHP team members will meet with veterans to collect, preserve and honor the stories of Florida's Veterans. Email [email protected] for more information.
---
Wednesday, November 16 • 10am – 1pm


Veterans Salute & Purple Heart Proclamation: Honors Veterans Wounded in Battle

The Veterans History Project in collaboration with the Air Force and Army ROTC and the Military and Veteran Student Success Center will host a salute to Veterans in honor of Veterans Day. The event will include the flag raising, playing of taps and Purple Heart Proclamation with commentary about UCF's designation as a Purple Heart University. The designation signifies the university's recognition and honor of veterans wounded in combat while serving their country who are now pursuing higher education and careers at UCF.
---
Wednesday, November 16 • 4:30pm


Florida France Soldiers Stories

John C. Hitt Library, Room 402

Join us for a panel discussion and workshop with panelists Dr. Amelia Lyons, Elizabeth Klements, Marie Oury, Diana Dizon and Evan Murray along with UCF research librarians Mr. Richard Harrison and Mr. Rich Gause.

The Florida-France Soldier Stories project seeks to tell the stories of the Florida soldiers buried in the American Battle Monuments Commission cemeteries in France. Our goal is to honor and commemorate the brave individuals who gave their lives supporting the Allied forces, liberating France, and defeating Germany in the Second World War. Simultaneously, our goal is to teach the students who participate in this research project about the history of France and Florida during World War II, about the history of individual servicemen, and about how to implement historical research methods in their work.

Email [email protected] for more information •  Project Website
---
Wednesday, November 30 • 6pm


Veteran Knights' Roundtable: Conversation with UCF Alumni Veterans

Via Zoom

As part of the University of Central Florida's Veteran Month, the History Department will sponsor a conversation between Alumni Veterans. They will discuss the move from military personnel to student veteran, their experiences at UCF, and how a UCF education and their military experience got them to where they are now. The roundtable moderator is Jim Stoddard '20 MA. The contributors are Jason Fitzgerald '16, '19 MA, Daniella Aguirre '20, John Grande '16, Michael Richardson '22, and Walter Napier '16, '20 MA.

Join Us in Support of Student Veterans
UCF offers a wide range of services and programs to help student veterans. The UCF Foundation invites commmunity members to join the university in support of our veterans.
Find Out More
UCF History Department

Research and Resources for Veterans