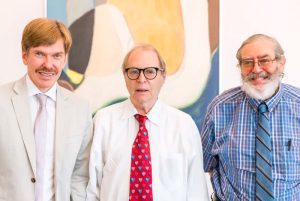 Irving Gussow (center), president of Temple Shalon of Deltona, poses with Kenneth Hanson and Jeff Golub of UCF's Judaic Studies program
A scholarship for up to $2,000 will be awarded each year to a UCF student studying in the field of Judaic Studies.
A generous gift from the Temple Shalom of Deltona established the university's first endowed scholarship in Judaic Studies. A combination of current-use and endowed funds, the scholarship will benefit students for years to come and honor the incredible 50-year legacy of the temple.
Selection Criteria
Applicant must be enrolled as a UCF full-time undergraduate or graduate student
Minimum 3.0 cumulative GPA
Enrolled in courses related to understanding the history, literature and cultural heritage of the Jewish people from among the courses offered by the Judaic Studies program
Preference will be given to applicants that submit an essay (500 words or less) describing how taking courses in Judaic Studies will strengthen their educational and career aspirations.
Apply
Deadline: December 1, 2023
More Information
Awards and scholarships are considered a resource and must be included as a part of a student's financial aid cost of attendance. If a scholarship exceeds your financial cost of attendance, a reduction to your financial aid may occur.
If you have questions or concerns, contact Kenneth Hanson ([email protected]).