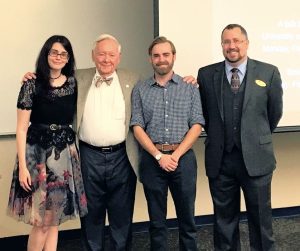 2017 Dr. Thomas Greenhaw History Scholarship Recipients Tyler Campbell and Rachel Rothstein-Safra with Dr. Thomas Greenhaw and Dr. Peter Larson.
The Dr. Thomas Greenhaw History Scholarship is a worthy monument to preserve the historical legacy of Dr. Greenhaw's selfless giving and influence in the lives of students, members of the community and faculty and staff of the UCF History Department. One $500 scholarship will be awarded each spring to a deserving student who meets the following criteria:
Selection Criteria
Applicant must be enrolled at the university as a part-time or full-time undergraduate or graduate student in the University. Considerations will be given to an applicant working toward a major or minor degree in history.
Minimum grade point average of 3.2
Special considerations (after the above criteria are met): Evidence of personal character demonstrated through activities such as community involvement, mentoring, and/or military service; Evidence of passion for history as a vocation, demonstrated through course work or volunteer involvement; Financial need may be considered as a final determinant of the award once all other criteria are met.
Apply
Degree audit will be verified
The scholarship is renewable. However, the student must re-apply to be considered for an additional year.
The criteria for awarding the scholarship will be consistent with the guidelines established by the University Office of Student Financial Assistance.
In the spirit of this scholarship, once recipients have completed their award year, they will be encouraged to give back via community service, mentoring awardees, and/or encouraging others to support the Dr. Thomas Greenhaw History Scholarship.
To apply, email

[email protected]

using the subject heading "Greenhaw Scholarship Application" with the following:

A Personal Statement (maximum 500 words) highlighting evidence of personal character and pursuit of history as a vocation;
The names and contact information of two references.
Deadline: October 15, 2022 at 11:59 p.m.
More Information
Awards and scholarships are considered a resource and must be included as a part of a student's financial aid cost of attendance. If a scholarship exceeds your financial cost of attendance, a reduction to your financial aid may occur.