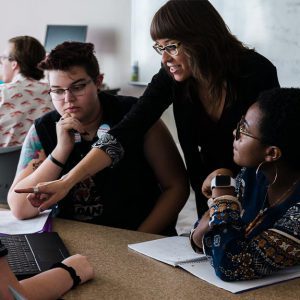 Next Application Deadline: January 1, 2024

NOTE: UCF will be closed December 20, 2023 through January 1, 2024. We will not respond to email during this time.
Did you miss our application deadline? Do you want to take classes in the MFA program before our next deadline?
We permit Non-Degree, Non-Program, or undergraduate students in our courses if there is space available. Active and current students in our program have priority registration for our courses. Check out how to register if you're not in the program.
Overview
For information on general UCF graduate admissions requirements that apply to all prospective students, please visit the admissions section of the Graduate Catalog. Our application requirements are also detailed in the graduate catalog program entry, midway down the page.
Applicants must apply online.
We believe that a diverse group of students creates the best learning environment. Hence, we encourage applications from marginalized groups.
We accept applications for fiction, poetry, creative nonfiction, and we welcome applications in hybrid and experimental/new forms.
---
Application Materials
In addition to the general UCF graduate application requirements, applicants to the Creative Writing MFA program must provide:
An Official Transcript (in a sealed envelope) from each college/university attended.
Three Letters of Recommendation (preferably from current or former teachers). The letters should testify to your ability to complete a graduate program. It is helpful if the recommender has an advanced degree, and we prefer at least one of the letters be from a professor who knows your work from undergraduate. However, any source able to describe your work ethic, writing ability, and maturity will be helpful.
A Statement of Professional, academic/creative background, and commitment to community, which should be 300-1000 words. In the first sentence, you must identify the genre in which you are applying–fiction, poetry, creative nonfiction, or hybrid form. We encourage applications in hybrid, literary genre fiction, and experimental/new forms.

In discussing your professional and creative goals, show us your passion for writing, your interest in specific styles or subjects, why you intend to pursue graduate study at UCF, and what you hope to achieve in the program. In the first sentence, you must identify the genre in which you are applying–-fiction, poetry, or creative nonfiction. We encourage applications in hybrid experimental/new forms. 

In discussing your academic and creative background, explain your background in writing, influences on your writing (other writers, specific classes, professors, or books), contemporary authors and works you admire, your extracurricular activities related to academia or writing, and any publications or awards you already have. 

In discussing your commitment to community, comment on your investment in creating a supportive community of writers, including the value of peer critique and exchange of creative ideas, your interest or involvement in community events or outreach, and your commitment to diverse and inclusive literary spaces.g.

Résumé or CV
A Portfolio (Writing Sample) of fiction, poetry, creative nonfiction, or hybrid work. Please note that hybrid work is different than applying in two separate genres. We encourage hybrid forms, literary genre fiction, and experimental/new forms. Our expectation is that you will concentrate your studies in the genre/form in which you applied. Your portfolio must be in English and in your chief genre (up to 15 pages of poetry, 30 pages of fiction, or 30 pages of creative nonfiction). This manuscript is the most important element of your application. It will be evaluated by a committee of creative writing faculty to assess your readiness for graduate study. The committee's decision is based upon the qualitative assessment for the manuscript's competence in standard English, its originality, and your demonstrated potential to succeed in the profession of creative writing.
We do not require the GRE.
All application and materials must be submitted through the UCF College of Graduate Studies online admission system.
You must meet the minimum UCF admission criteria, but this does not guarantee program admission. Final admission is based on evaluation of your abilities, past performance, recommendations, match of this program and faculty expertise to your career/academic goals, and your potential for completing the degree.
Your undergraduate degree does not have to be in English. However, the writing sample and statement of background and goals should indicate your readiness to engage at the graduate level. We expect beginning students will be able to contribute intelligently to the program and write highly effective stories, essays, or poems.
The UCF Graduate School limits the number of admitted students in any graduate program with an undergraduate GPA of less than 3.0.
For more information visit our FAQ page or contact [email protected].