By Marina Habib
---
     On January 11, 2022, the Parental Rights in Education bill (HB 1557) was filed for the 2022 legislative session. This bill was soon dubbed the "Don't Say Gay" bill because the bill states that classrooms are prohibited from "discussing sexual orientation and gender identity" in the ages of kindergarten through 3rd grade in a manner that is "not age-appropriate." When asked what the bill writers and sponsors meant by "age-appropriate," they refused to answer. Soon the bill proceeded to pass the House, then the Senate, until Governor Ron DeSantis signed it.
     Floridian citizens found out about this bill and took to social media to express their views. For me, social media was the way I have been advocating for different social movements. This bill seemed to just be another movement I would advocate against. However, I noticed an opportunity to study this situation closer in Honors Freshman Composition II (ENC 1102H) with Professor Matthew Bryan. In that class, we conducted primary research and wrote an article on our findings. I decided to write my paper about this bill, specifically about the social media side of the movement against this bill. To get background knowledge, I extensively researched how social media affected different social movements in the past, like the #MeToo movement and the Black Lives Matter movement.
Previous research found that social media could hinder or aid a movement depending on if it exaggerates/undermines the campaign and if people are able to explain what is going on and how to help off social media.
     I decided to use this information to analyze the movement against HB 1557. I searched Twitter for tweets related to the bill to see what was being pushed by the algorithm the most. In the end, I found mainly news articles about the bill's progress through the legislative process, as well as a lot of conservative tweets in favor of the bill. These tweets contained vile amounts of homophobia. As a major supporter of the LGBT+ community, this broke my heart and even frustrated me. There were endless tweets hating the LGBT+ community and people who support it. I was even found by a troll off a Representative's page where I was advocating against the bill. The troll found my personal social media page and proceeded to harass me due to my support for the LGBT+ community.
     I knew this situation was not one I could handle on my own. This situation and hatred made me spiral, and I fell into a depressive episode.
It was a difficult time, so I decided to create a support system at UCF.
     This system consisted of my fellow peers in the Democratic clubs and my professor for the course. With their support, I overcame this depressive episode and finished this semester strong.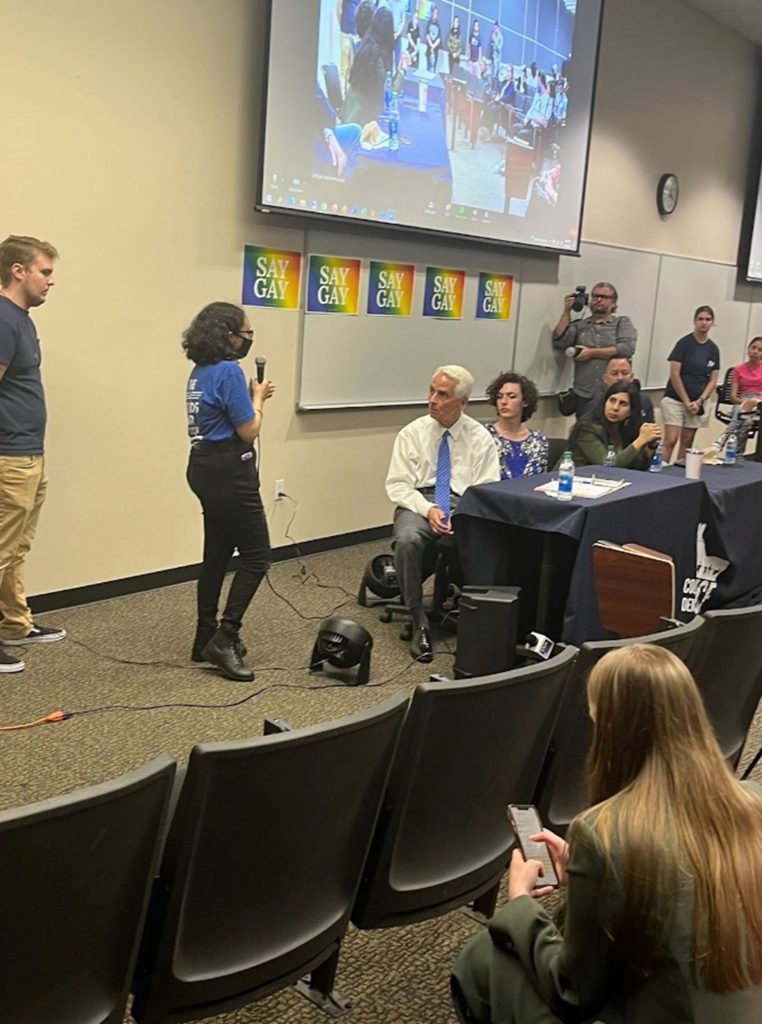 At UCF, we have two Democrat clubs: The Young Democratic Socialists of America (@ucf_ydsa on Instagram) and the College Democrats (@demsucf on Instagram). I am a member of both and attend their events. One event in particular from the CollegeDems and YDSA helped me discover a new path while shining some hope. This was their panel about the Don't Say Gay bill with guests like Democratic candidate Charlie Crist for governor, Rep Eskamani, and Rep Carlos G. Smith. This panel discussed what people could do to combat the bill and what comes after. Some things they mentioned was creating a support system, staying educated, and making sure your advocacy makes it past social media.
     Advocating on social media is a wonderful way to gain people on your side, but nothing can get done unless you go out on the streets and make your voice heard.
     One way you could do that is by following as many advocacy pages as you can. For me personally, I use Instagram, and some pages I found incredibly helpful were @charliecrist, @annaforflorida, @carlosgsmith, @proudtwinkie, @jackpetocz, @genzforchange, @sergioxcart, and @sierraxholmes These people were incredibly inspirational in this fight, and the last two are close friends of mine who were part of my closer support system.
     This panel also discussed how teachers can advocate against this bill by not being silent. When they mentioned the word "teacher," something sparked inside me. I thought this project left a dent in my dream of doing politics; it made me realize that politics may not be for me. However, a new light emerged for me.
I could become a professor and be an advocate, an activist and an educator but not an actual politician.
     Also, a professor conducts research that activists and politicians can use to show proof of needing specific policies. This research process I conducted was something I thoroughly enjoyed. Without the multiple words of encouragement from my peers at UCF, my ENC 1102H professor, and the Writing Center, I would have never been empowered enough to change my career path. They made me realize that I should be confident in my writing and that I should pursue writing and research. Before their encouragement, I felt alone and insecure about sharing my story and findings. However, with their words, I realized that this fight is not something I'm alone in. I have people fighting for my work with me.
If you ever feel insecure about your writing like I did, I highly recommend you visit our Writing Center on campus.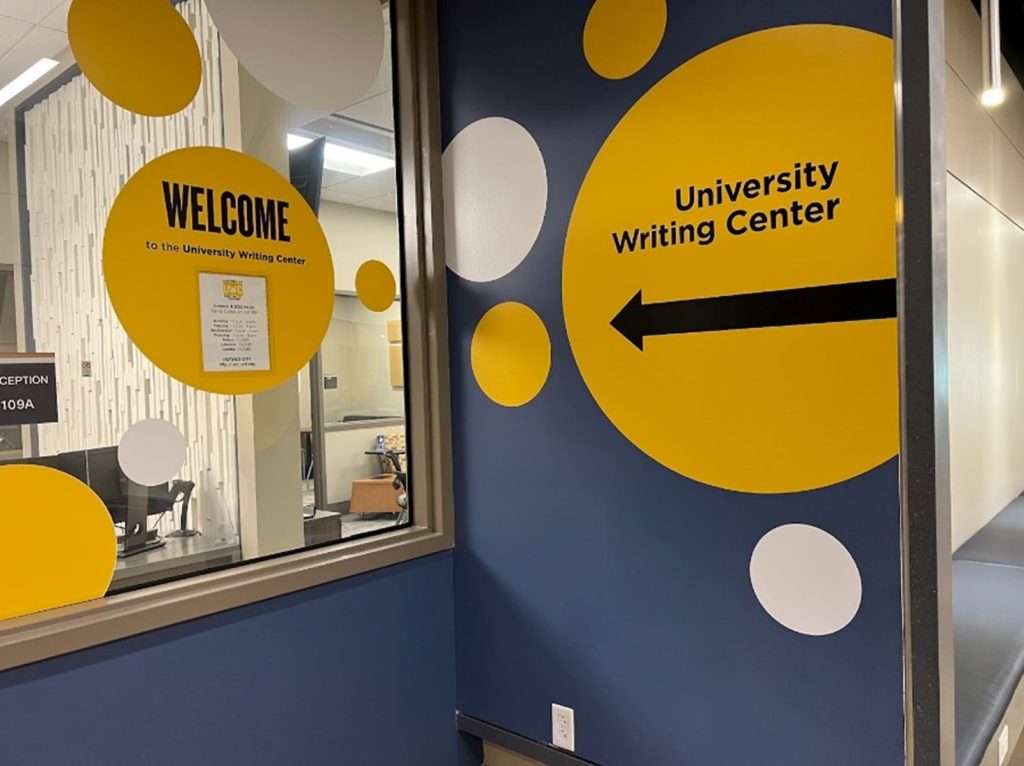 The website is https://uwc.cah.ucf.edu/ or call (407) 823-2197. You can schedule a consultation with any of their peer tutors, and they are incredibly helpful in aiding you in feeling confident in your writing. They also help you learn ways to revise at home and how to read your paper like someone brand new. If you visit in Spring 2023, maybe I can be the consultant you schedule with. Inspired by how much they aided me in my writing process, I decided I would join the team.
     The more I go through my time at UCF, the more I realize we never fight alone. Whether it was the fight against a political issue like the Don't Say Gay bill, a fight to thrive in my career, or even an internal fight, I was never alone. I always had Professor Bryan aiding me throughout the writing process and helping me connect with support systems on campus. I had my friends in the Democratic clubs at UCF as well as my activist friends. I was never alone in my battles, and I realized this because I never gave up.
Even when I couldn't see the light, I still kept going, and I found others fighting with me.
     I encourage those reading this to never give up. If it seems impossible or difficult, take a breather but do not give up. You can reach out to your professor for help. You can lean on a club on campus. You can even lean on the Writing Center for help. And if none of those work for you, UCF has a free counseling service for students. Their site is https://caps.sdes.ucf.edu/, and their number is (407) 823-2811. I want you to know that it's never shameful to ask for help because once you do, you will find out how many people are there to fight along with you. You indeed are never alone.
---