What is SLAM?
SLAM, the Science Leadership and Mentoring program, promotes youth's inspiration and excitement in STEM fields and careers while also building their leadership abilities. SLAM is an after-school, curriculum-based mentoring program pairing one 7th grade girl (Little) with one UCF undergraduate woman (Big).
Apply Now!
Mission
SLAM empowers youth to be assertive, brave, confident, independent, inquisitive, and proud leaders in STEM. SLAM seeks to promote inspiration and excitement into STEM fields and careers while also building leadership abilities such as problem-solving, teamwork and cooperation, time management, confidence and self-esteem, and goals for the future. We believe all students are influential leaders with innate leadership abilities. Our vision is to examine the social and cultural expectations for middle schoolers, investigate existing themes of girlhood and leadership, and engage students to empower themselves to be leaders in STEM. SLAM to create spaces where young people can share their real-life experiences, build themselves up and learn from one another.
Program Structure
Research and Grants
Program Leadership
CONTACT: [email protected]
Anne Bubriski
Slam Director
Interim Director, Associate Lecturer
Ph.D. Sociology, UCF; M.A. Women's Studies, Southern Connecticut State Univ. (2009); BGS General Studies: Human Services, Univ. of Connecticut (2006)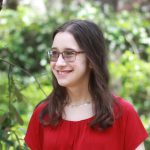 Cassie Parker
SLAM Program Manager
Cassie has been involved in SLAM since 2019, volunteering as a Big and later a Facilitator. Captivated by the cosmos and wishing to share her passion with others, Cassie is currently seeking a bachelor's degree in Physics with an Education specialization, and minors in Science Education and Astronomy. She aims to pursue a Masters in Teaching after graduation.
Program Structure
Apply Now!
Schedule
All orientation and training events held on the UCF Main Campus
Little Meetings: every Wednesday, 6–7:30 p.m.
Parent Orientation: Wednesday, Oct 5 at 6 p.m.
First Little Meeting: Wednesday, Oct 12 at 6 p.m.
Big Training: Wednesday, September 14
Big Meetings: first Wednesday of the month, 7:30–9 p.m.
Leadership Lessons
Formal and Informal Leadership
Conflict Management and Problem Solving
Diversity and Inclusion
Self-Confidence and Self-Esteem
Healthy Mind Healthy Body
Time Management
Goals and Values
STEM Lessons
Girls and Women in STEM
Robotics Workshop
UCF Arboretum
Animation and Simulation Institute Workshop
Women in Engineering
Reef Oyster Preservation
UCF Robinson Observatory and Planetarium
Coding and Computer Science Workshop
Careers in Math
Aero Space Engineering and NASA
Careers in Health Sciences
UCF STEM Day
Support Our Program
You can support Women's and Gender Studies at UCF with tax-deductible contributions including online donations. Find out more about how to make a gift. Donations sponsor student and faculty mentoring groups, recruitment materials, supplies and expenses for Big Sister groups and more.
Find Out More