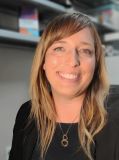 Emily Kuzneski Johnson
Biography
Emily K. Johnson, Ph.D. conducts research focusing on technical communication, UX, user-centered design, educational technology, learning games, playful/gameful learning, simulations and learning, self-regulated learning, learner motivation, and self-efficacy. She designs and researches educational games in VR, AR, mobile, PC/Mac, and nontraditional platforms. Emily earned her Ph.D. in Texts and Technology from the University of Central Florida in 2015 after teaching middle school Language Arts for eight years. She earned her M.A. in Reading Education from the University of South Florida in Tampa, FL and her BA in English from Dickinson College in Carlisle, PA.
Research Interests
technical communication
UX, human-centered design
educational technology
leaning games
playful/gameful learning
self-regulated learning
embodied cognition
VR, MR, AR, XR, etc.
computer assisted language learning 
Recent Research Activities
ELLE the EndLess Learner
BeadED Adventures
emPower through Play (UCF SEED funded project in progress)
And more!
---
Selected Publications
Books
Articles/Essays
Johnson, Emily K., and Anastasia Salter. "Embracing Discord? The rhetorical consequences of gaming platforms as classrooms." Computers and Composition 65 (2022): https://doi.org/10.1016/j.compcom.2022.102729.

Johnson, E.K., Giroux, A.L., Merritt, D., Vitanova, G., Sousa, S. (2020). Assessing the Impact of Game Modalities in Second Language Acquisition: ELLE the EndLess LEarner. Journal of Universal Computer Science, 26(8), 880-903.
Conference Papers/Presentations
Johnson, E.K. (2021). Just @Me: Digitally-Mediated Team Communication in a Pandemic. In 39th ACM International Conference on Design of Communication (SIGDOC '21). Association for Computing Machinery, New York, NY: 315-318. DOI:https://doi.org/10.1145/3472714.3473658
Courses
No courses found for Fall 2023.
No courses found for Summer 2023.
Course Number
Course
Title
Mode
Date and Time
Syllabus
11470
ENC4265
Writing for Computer Industry
Web-Based (W)
Unavailable

This Integrative-Learning Experience (IE), high-quality online course is an introduction to designing and creating different types of genres online, with an emphasis on developing a professional digital portfolio. In addition to learning some of the specialized language of the software industry, students will study and compose tutorials, procedures, reference guides, and more. Students will practice designing clear, concise, task-oriented instructions in different genres and using various media. Because this course builds upon and extends basic technical communication concepts, it is recommended (but not required) students take this course as a follow up to ENC 3241.



19699
ENC6225
User-centered Design for Tc
Web-Based (W)
Unavailable

This course is an introduction to user-centered design and emphasizes practical methods for approaching a design problem in technical communication. User-centered design is an approach to design and development that centers the needs and desires of users. The general goals of this course are to help you develop an appreciation for the theory and philosophy of user-centered design as it pertains to technical communication, develop skills in using and applying usability methods that are specifically applicable to user-centered design, and improve individual and collaborative skills in design-based problem solving. Course activities are collaborative, hands-on, and project-based.
Updated: Oct 20, 2022