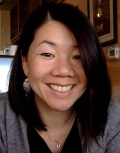 Caroline Cheong, Ph.D.
Biography
Caroline Cheong's research focuses on the relationship between urban heritage conservation and community and economic development, values-based conservation management, conservation economics and poverty reduction. She has presented her work at numerous conferences, including the Association of Collegiate Schools of Planning Conference, UN-Habitat's World Urban Forum, and the ICOMOS General Assembly. 
Dr. Cheong's current research projects focus on community land trusts and public-private partnerships as tools that leverage the historic built environment for equitable urban regeneration, including affordable housing. 
Dr. Cheong was a 2007 US/ICOMOS International Exchange Intern, during which she worked in Al Houson, Jordan on the rehabilitation of an historic convent into a community center. She was a 2009 Graduate Intern at the Getty Conservation Institute where she evaluated the challenges and opportunities facing historic cities.  Dr. Cheong later served as a consultant for the Getty during which she co-authored a research report on public-private partnerships for heritage conservation projects.

Previously, Dr. Cheong was Director of Research for heritage economics consulting firms PlaceEconomics and Heritage Strategies International, through which she published numerous research reports and professional publications focusing on the economic impacts of historic preservation with Donovan Rypkema.
Education
Ph.D. in City & Regional Planning from University of Pennsylvania
M.S. in Historic Preservation from University of Pennsylvania
B.S. in Anthropology from University of Chicago
Research Interests
Historic preservation, urban regeneration, poverty, Global South, public history 
---
Selected Publications
Edited Collections
Cheong, Caroline and Kecia Fong (co-editors). Change Over Time, "Gentrification" 8 (2). Spring 2019.
Articles/Essays
Book Sections/Chapters
Book Reviews
Cheong, Caroline. "Historic Real Estate: Market Morality and the Politics of Preservation in the Early United States by Whitney Martinko." The Public Historian 43, no. 3 (2021): 99-101.

Miscellaneous Publications
Awards
2018 Pauley Travel Award
Courses
Course Number
Course
Title
Mode
Date and Time
Syllabus
10880
HIS3600
Professionalizing History Maj
Video
Unavailable
No Description Available
11251
HIS5067
Introduction to Public History
Video
M 06:00 PM - 08:50 PM
Unavailable
No Description Available
19524
LAH3200
Modern Latin America
Web-Based (W)
Unavailable
No Description Available
Course Number
Course
Title
Mode
Date and Time
Syllabus
81229
LAH3200
Modern Latin America
Web-Based (W)
Unavailable
No Description Available
Course Number
Course
Title
Mode
Session
Date and Time
Syllabus
51580
HIS5083
Cultural Heritage Management
Face to Face (P)
C
Tu 06:00 PM - 08:50 PM
Unavailable
No Description Available
Course Number
Course
Title
Mode
Date and Time
Syllabus
11332
HIS5067
Introduction to Public History
Face to Face (P)
M 06:00 PM - 08:50 PM
Unavailable
No Description Available
Course Number
Course
Title
Mode
Date and Time
Syllabus
81584
HIS3600
Professionalizing History Maj
Face to Face (P)
Tu,Th 12:00 PM - 01:15 PM
Unavailable
No Description Available
93829
HIS6096
Sem in Historic Preservation
Face to Face (P)
Tu 06:00 PM - 08:50 PM
Unavailable
No Description Available
81334
LAH3200
Modern Latin America
Web-Based (W)
Unavailable
No Description Available
Course Number
Course
Title
Mode
Session
Date and Time
Syllabus
61900
HIS5083
Cultural Heritage Management
Mixed-Mode/Reduce Seat-Time(M)
C
Tu 06:00 PM - 08:50 PM
Unavailable
No Description Available
Updated: Nov 2, 2021