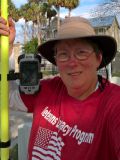 Amy Larner Giroux, Ph.D.
Biography
Amy Larner Giroux, PhD, is Associate Director of the Center for Humanities and Digital Research at the University of Central Florida (UCF) and a Digital Historian for the National Cemetery Administration, part of the Department of Veterans Affairs. Her research involves the contact zone between humans and technology within the intersections of history and learning. By leveraging technologies such as Augmented Reality and Virtual Reality, she brings learning to both classroom and field. Her specialty is cemetery research and she is involved in both recording the physical aspects of the space through technology such as drone photogrammetry and 360̊ imagery, and also researching the lives of those interred through genealogical research as she is a board-certified genealogist.  Her research in St. Augustine National Cemetery has brought to light new information on Civil War soldiers, Native American prisoners of war, and Seminole War history. Giroux earned her doctorate in Texts and Technology from UCF and her dissertation included a digital project which mapped historical artifacts geo-spatially on Google Earth. She is currently the technical lead for UCF's Veterans Legacy Program (vlp.cah.ucf.edu).
Education
Ph.D. in Texts & Technology from University of Central Florida (2014)
M.A. in Anthropology from University of Central Florida (2009)
B.S. in Engineering Technology from University of Central Florida (1985)
A.S. in Electronics Technology from Seminole Community College (1983)
Research Interests
Digital humanities through historical, cultural, and genealogical research; cemetery analysis; GIS analysis; digital ethnography; digital archives; AR/VR.
---
Selected Publications
Articles/Essays
Amy Larner Giroux, "The Many Names of Frances Ellsworth: Unraveled Evidence Identifies a Birth Name." National Genealogical Society Quarterly 109, no. 4 (December 2021): 283–307.
Emily K. Johnson, Amy L. Giroux, Don Merritt, Gergana Vitanova, and Sandra Sousa. "Assessing the Impact of Game Modalities in Second Language Acquisition: ELLE the EndLess LEarner." Journal of Universal Computer Science 26.8 (2020): 880-903, special issue on Immersive Learning.
Amy Larner Giroux, "Navigating People, Paper, and Pixels: Examining Contact Zones With(in) the Past." Florida Studies Review (London: Cambridge Publishing, 2018), 46–61.
Marcy L. Galbreath and Amy L. Giroux, "Researching Genres in Agricultural Communities: The Role of the Farm Record Book." Current Research in Digital History 1 (2018). https://doi.org/10.31835/crdh.2018.16
Amy Larner Giroux, Connie Harper, Paul Wiegand, "Evaluating Multi-criteria Connection Mechanisms: a new algorithm for browsing digital archives." Digital Scholarship in the Humanities 33, no. 3 (2018): 540–547. https://doi.org/10.1093/llc/fqx057
Kenneth Hanson, Emily Johnson, Amy Larner Giroux, "The Potential of Digital Media in Teaching Biblical and Jewish Studies." Mentalities/Mentalités 30, no. 5 (2017).
Amy Larner Giroux, "God A Stinks: Synesthesia in the Maya Afterlife." ImageTexT 8, no. 3 (2016). http://www.english.ufl.edu/imagetext/archives/v8_3/giroux/
Book Sections/Chapters
Gergana Vitanova, Emily Johnson, Sandra Sousa, Amy Giroux, and Don Merritt. "Gameful Teaching: Exploring Language Teacher Identity and Agency through Videogames." Language Teacher Development in Digital Contexts, eds. H. Kayi-Aydar and J. Reinhardt. (John Benjamins Publishing Company, 2022).
Barry Jason Mauer, John Venecek, Amy Larner Giroux, Patricia Carlton, Marcy Galbreath, and Valerie Kasper, "Teaching the Repulsive Memorial." In Pedagogies of Public Memory: Teaching Writing and Rhetoric at Museums, Archives, and Memorials, edited by Laurie Grobman and Jane Greer. New York: Routledge, 2015.

Updated: Jul 25, 2022