Desistance is supported by three main factors: social bonds, educational attainment, and employment.
FPEP offers impactful programs that focus on building social relationships, educating students, and preparing them for employment.
FPEP's curriculum is aligned with the State of Florida's General Education Program (GEP) for easy transfer of up to 45 credits through the Prior Learning Assessment Program.
---
FCHEP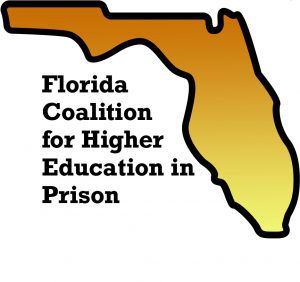 The Florida Coalition for Higher Education in Prison is a statewide network of programs that provides high quality educational opportunities to incarcerated and formerly incarcerated people. We are committed to working for diversity, equity, inclusion and justice and together have served thousands of incarcerated students and their families. Our goal is to bring higher education to every incarcerated and formerly incarcerated person in Florida and to include all of Florida's colleges and universities in these efforts.
Members of FCHEP include the Florida Prison Education Project at the University of Central Florida, the Entrepreneurial Business in Prison Program at the University of South Florida, the Institute for Educational Empowerment at Miami Dade College, the Philosophy in Prison Program at the University of North Florida, and Exchange for Change, a Miami-based non-profit that partners with the University of Miami, Florida Atlantic University, and Florida International University. Are you interested in joining FCHEP? Email [email protected] for more information.
Classes
The Florida Prison Education Project has offered classes at the Central Florida Reception Center (CFRC), Avon Park, Hardee, Hernando, Lake, Polk, and Zephyrhills Correctional Institutions for Continuing Education Certification.