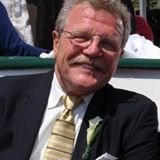 Daniel Peters
Dan currently works at the US Securities & Exchange Commission (SEC) based out of Washington, DC and works in Florida most of the time although he travels to all the SEC locations across the United States. He works in the capacity of the Head of the Securities Faculty in which he creates, designs, develops, and delivers securities related curriculum to participants of the offices and divisions of the SEC. He does this in a classroom setting or an online setting (synchronously and asynchronously).
Dan has nearly 30 years in the financial services industry having worked mainly as a training director or senior officer, but has also held several securities licenses in support of the brokerage firms for which he worked. Dan also has 12 years of securities regulation experience in which he has trained numerous examiners who go into the field and examine the books and records of brokerage firms to assure compliance with federal securities laws, rules, and regulations.
Dan's main purpose in pursuing a degree in technical communication is to enhance the skills he has acquired over the years that he has been in the securities industry. The main focus is technical writing, editing, and publishing of the coursework he creates.
Dan has BA in Elementary Education from Florida Atlantic and an MS in Open and Distance Learning from Florida State.
Originally from Miami, Florida, Dan began his professional career as a fifth-grade teacher which he did for 15 years before his transition to adult learning.