Location: UCF Art Gallery
UCF Art Gallery presents Alumni Exhibition:
LEGENDS:
The Next Generation
Opening Reception:
Thursday, September 29 at 5pm
Legends: The Next Generation celebrates the accomplishments of twenty alumni artists from the last fifteen years of the School of Visual Arts and Design at the University of Central Florida.  These artists make their homes at the major Art capitals – Los Angeles, New York City and Berlin as well as regional centers. They are masters of the visual metaphors that make our hearts beat faster, our thoughts sharper, and our ability to act enabled. Curated by Yulia Tikhonova, Legends: The Next Generation affirms our commitment to art that illuminates and transforms our lives.
Exhibiting Alumni Artists/Year Graduated:
Perry Angelora '03
Nate Anspaugh '04
Samuel Borkson '01
Danny Coeyman  '04
Chris Davison '02
Melissa Diaz '06
Bryce Hammond '13
Erika Heffernan '04
Ian Larson '04
Ginger Leigh '04
Sherri Littlefield '12
Amanda C. Mathis '04
Patricia Lois Nuss Bambace '11
Ryan Parker '04
Kris Porter '02
Jason Scuilla '03
Nathan Selikoff '04
Lisa Wicka '05
Exhibition View:
Scheduled Events:
Art at UCF:  Memories Alive: Faculty Panel w/ Robert Rivers, Larry Cooper, and Victor Davila
Sept. 13 @ 10:00am
Artist Talk:  Ginger Leigh
Sept. 26 @ 2:00pm
Artist Talk:  Erika Heffernan
Sept. 29 @ 10:30pm
Artist Talk:  Perry Angelora
Sept. 29 @ 2:30pm
Artist Talk:  Melissa Diaz
Sept. 29 @ 4:00pm
All Events are Free and Open to the Public.
---
About Legends:
"Legends: The Next Generation" was prompted by a series of exhibitions "Central Florida Arts Pioneers," hosted in 2015 by several Orlando cultural institutions. The founding fathers of SVAD were an important part of these exhibits, which brought together for the first time the leading artists of Central Florida in the pre-Disney era.   I take pride in the fact that this is the first time within the last decade our art alumni exhibit at the gallery.
In the late 1960's, Steve Lotz, Johan Eyfells, and Walter Gaudnek, all artists with international reputations, created the art program at UCF (FTU at that time). They became known as the "Three Musketeers." Gaudnek from Germany, and Eyfells from Iceland, were inspired by European Modernism and brought Actionism and Happenings to the campus. Steve Lotz's paintings – twice life-size dreamscapes of flowers, plants and sea motifs – channeled his passion for the Floridian landscape. The energy of this trio attracted an additional group of exceptional younger artists.
Of particular note among this younger faculty is Robert Rivers (drawing), Carla Poindexter (painting), David Haxton (photography), Rob Reedy and Ke Frances (print making). They focused on studio practice and close investigation of the properties of their respective mediums. Through their personal work, they established a standard for unique interpretations/expressions of nature built on deep introspection. They challenged their students (and themselves) to compete with the Masters, such as Goya, Delacroix or even Leonardo. Students learned from untraditional props. As rumor goes – they were once asked to draw an installation assembled from chairs, easels, skeletons and traffic cones hanging suspended from the studio ceiling. They bonded by drinking, drawing and discussing art together for long hours. Contour and cross-hatching became a signature style of several generations of graduates who, as we will see in the current exhibit, shared many stylistic ideas.
And if teachers of drawing fathered this family, their mother was the painting faculty. Painting classes were taught with compassion, softness and wisdom. Here students studied the lush Florida landscape and were inspired to imagine the relationships between themselves and enigmatic nature. This painting studio was a tropical oasis in an archipelago of rock formations. This was an art boot camp and a school for life.
"Legends: The Next Generation" surveys the artists who are the fruits of this program. Beginning with a focus on the intimate and personal their approach evolves to a broader concern with our society and environment. Porter, Scullia, Angelora, and Davison treat the two-dimensional surface as a support for the depiction of nightmarish worlds, scenes from fables and myth, sci-fi landscapes and moments of loss. Their exquisite mark making and contour lines – a legacy of the studio faculty- reveal a sensuality and vulnerability that emerged from the personal explorations encouraged in the studio.
Later graduates are not afraid to mess with paint (Larsen), deploy discarded materials and deconstruct the picture plane (Mathis, Wicka), or render allusive architectural perspectives (Parker). Larsen uses heavy impasto to render grotesque Art Brut faces, and Anspaugh follows his style, but on paper, deconstructing the surface to make masks and body suits out of newspaper prints and advertising posters. This critique of mass culture links his work with the Murakami influenced animations created by the LA based collective FriendsWithYou.
2004 was the year when digital media was added to the curriculum: Selikoff and Leigh incorporate computer code and traditional materials to create projects that demand user participation. Similarly, Heffernan creates "puzzles" that asks the audience to decode her instructions and to document their own thought processes. Diaz (2006) graduated with a strong emphasis on installation and community engagement and since then she has created an impressive body of work that represents the healing power of art.
The first decade of the new millennium also saw the emergence of conceptual work concerned with the environment (Hammond) alongside sensitive photo-portraits of working class women in the Third World. (Nuss Bambace). Together, the works in this exhibition engage a wide spectrum of social and cultural phenomena. These artists take nothing at face value, and they are keenly attuned to their visionary role as artists.
Are these artists the next generation of legends? Have they taken the best from their teachers and carried it forward? Are they role models of professional dedication for our current students? Absolutely!
They are masters of the visual metaphors that make our hearts beat faster, our thoughts sharper, and our ability to act enabled. "Legends: The Next Generation" affirms our commitment to art that illuminates and transforms our lives.
"Legends: The Next Generation" would not be possible without the support and advice of the Director the School of Art and Design, Byron Clercx, professors Carla Poindexter, Theo Lotz, Robert Rivers, and David Haxton.
-Yulia Tikhonova, UCF Art Gallery Director
About the Artists:
Perry Angelora::  www.perryangelora.com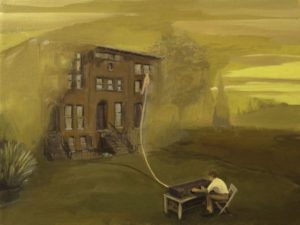 ARTIST BIO
Born in Massepequa, New York, Angelora earned his BFA from the University of Central Florida and his MFA from the Pratt Institute, Brooklyn.
He has exhibited his work both nationally and internationally and has taught at Montclair State University, Hunter College, and Edinburgh College of Art Summer School. In 2015 he was a recipient of the New York Foundation for the Arts Fellowship in Printmaking/Drawing/Book Arts.  Perry lives and works in Brooklyn, New York.
SVAD STATEMENT
When I survey my SVAD education I now see that, through the rigors of drawing/printmaking/art history, I was taught how to learn, work hard, and think critically about the world. These lessons eclipse the gains of memorizing facts or mastering of technical skills—these  are the lessons that provide the basis of long-term growth and success.  
---
Nate Anspaugh::  www.nateanspaugh.com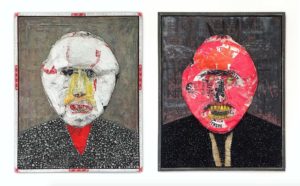 ARTIST BIO
Nate Anspaugh was born in Dayton, Ohio in 1981. He attended the University of Central Florida, earning his BFA in painting and graphic design in 2004. In 2011 he was an artist in residence at Stiftung Starke in Berlin, Germany. In 2008 he was an artist in residence in Caracas, Venezuela & Acarigua, Venezuela through the Venezuelan American Endowment for the Arts. His work has been exhibited at Pocket Utopia, Lower East Side, Manhattan / English Kills Gallery, Bushwick, Brooklyn / Centotto Gallery, Bushwick / Bushwick Gallery, @ the 2012 Fountain Art Fair @ Park Ave Armory, Manhattan / Gallery Bar, Lower East Side.
His work was included in a traveling exhibition sponsored by the Venezuelan American Endowment for the Arts, 5 x 5 Real 2013 / Real- Unreal, which showcased the work of ten emerging artists – five from the US and five from Venezuela. The exhibition was on view at the Museo de Art Acarigua Araure, in Venezuela from November 2012 – May 2013 and later in New York City from November 7th to December, 2013 at One Art Space, in Tribecca, Manhattan. Nathan Anspaugh lives and works in Berlin, Germany and is currently doing a residency program with the Stark Foundation.
SVAD STATEMENT
At UCF I specialized in graphic design and painting. A number of the faculty had an important impact, especially Chuck Abraham, Robert Rivers, Kevin Haran and Jody Cutler. But only one, Carla Poindexter, was a mentor. She noticed my potential, communicated that to me and took me under her wing. After two years of foundation courses I contemplated dropping out of school. I believe Carla knew what I needed; to be given time and space in which to let go, particularly with paint! Thanks to her perception and grace, the door to the river was opened to me and I did not give up – I discovered one of my greatest passions, earning my BFA in the process. Twice while at UCF I traveled to New York City with groups led by Carla. Inspired by those trips, and with Carla's encouragement, I chose to move there after graduation. In New York I developed a voice and over time, increasingly, the world opened itself to me. During my years at UCF Carla Poindexter's presence and influence in my life was invaluable. And I'm certain that if not for her, then I would not be what and where I am today.
---
Samuel Borkson:: www.friendswithyou.com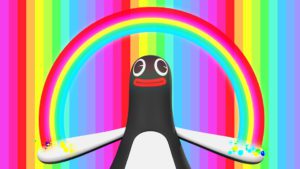 ARTIST BIO
FriendsWithYou is the fine art collaborative of Samuel Borkson and Arturo Sandoval III, working collectively since 2002 with the sole purpose of spreading the positive message of Magic, Luck, and Friendship™. As artists working in a variety of mediums, including paintings, sculpture, large-scale experiential installations, public playgrounds, published works and live performances, FriendsWithYou's mission is to affect world culture by cultivating special moments of spiritual awareness and powerful, joyous interaction.
Forging their own brand of post pop visual language a la Murakami, Arturo Herrera and Yayoi Kusama, FWY take a spiritual and serene approach to form and figure. Their reductive and simplified use of geometric abstraction always contains a whimsical touch.  FriendsWithYou is a new breed of artist, actively generating culture beyond the traditional art boundaries and reshaping the current contemporary art scene. FriendsWithYou's most important artistic tactic to foster these interpersonal relationships is the use of play. Many FriendsWithYou works reference toys because they are meant for play, a tool for unstructured free association and interaction. Their sculptures and paintings, inflatables and objects are meant to trigger the buried,neglected urges and yearnings that a seasoned art viewer may not expect to have activated; playfulness, laughter and inquisitiveness, with an end result of feeling connected. Influenced by the simple happiness found in everyday life, FriendsWithYou's work is designed to be accessible to all.
SVAD STATEMENT 
Hi everyone reading this, you can do it, but it is all on you! When I attended UCF, it was a strange new frontier, brand new computer animation with the students learning at the same time as the teachers, however David Haxton, my advisor, is an amazing artist and I was so happy to be learning from someone like him. There was also a new film school – new courses in gaming and programming, it was all very exciting but also daunting looking into the abyss of my life and trying to empower myself with the right journey. The truth is, you will find it and everything you put into your work, you get back in knowledge and mistakes. IF you persevere through the years and keep at it, you will make something of yourself. IF you don't see making art your whole life stop now and look for what makes you happy. I wish you luck and love and make sure to not take yourself too seriously, otherwise you miss the whole point!
---
Danny Coeyman::  www.visualaids.org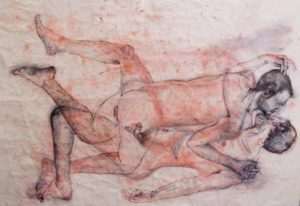 ARTIST BIO
Trained as a Fine Artist, Coeyman first earned a bachelor's in fine arts from the University of Central Florida and later a master's in fine arts from Parsons The New School for Design with a full scholarship from the Jack Kent Cooke Foundation. Danny's work has appeared at The Kitchen, the Leslie Lohman Museum, the New Museum Festival of Ideas, and Purdue University, as well as numerous other galleries in New York. After working as an arts educator at the New Museum and for Bric Arts Media, Coeyman joined Apple Arts to work exclusively with homeless youth in New York City. After five years as their Program Manager, Coeyman joined Art Start, a non-profit that teaches art to children and adults in shelters. He co-authored and illustrated his first book, "Happy Clouds, Happy Trees: the Bob Ross Phenomenon" which was published by the University of Mississippi Press. He has written several children's books as well, and is currently collaborating with animators to turn one of them into a short film. Coeyman co-founded FolkVine, an online ethnography of Florida's Folk Artists, which was funded by the NEA. He has performed improv at the Upright Citizens Brigade Theatre, where he continues to connect with audiences through laughter and play. His Youtube channel, "Bruised Fruit" features comedic sketches and interviews with his conservative family in Florida. While in college, Danny worked as an advocate and educator for queer rights, and footage of his activist performance of marrying several gay couples while dressed like a priest ended up on Univision and Chris Matthew's Hardball. Danny currently lives in Brooklyn where he likes to bake, walk through Prospect Park, and sew in his free time.
---
Chris Davison::  www.christopherdavison.com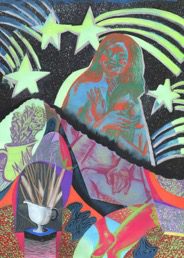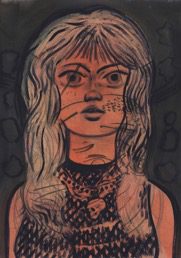 ARTIST BIO
Christopher Davison is a New York-based painter with an MFA from the Tyler School of Art. His first solo exhibition in New York was in 2009 at Nicelle Beauchene Gallery and his two-person exhibition in 2010 at Fred Torres Collaborations was reviewed in the November, 2010 issue of Modern Painters Magazine. He has been included in exhibitions in New York, Miami, Copenhagen, Philadelphia, Boston, Rome, Los Angeles and Brussels. His work can be seen in the public collections of the Rose Art Museum (MA), University of Alabama (AL) and Museum of the Hague (Netherlands). In addition to creating works of art, Mr. Davison is a part-time professor of art in Philadelphia at the University of the Arts, Moore College of Art and Design and Drexel University.
SVAD STATEMENT
I had been a Computer Animation major as a freshman until the day that I saw an exhibition of Picasso's etchings at the Cornell Fine Arts Museum. The prints, collectively known as the Vollard Suite, completely absorbed and electrified me. In somewhat of a trance I drove back to campus and immediately changed my major to Studio Art with a concentration in Drawing. Robert Rivers' drawing courses provided the right kind of fire to burn my new found passion. What I responded to during those classes was the spirit of friendly competition and the challenge of the exacting techniques but most of all I responded to something far more peculiar and difficult to express with words. There were days when his enthusiasm worked us up into a drawing frenzy whereby the intense mental concentration and the sustained physical effort to "see" created a nearly religious experience. Those brief but flashing moments provided access to a knowledge, not accessible through words, but through the ineffable language of nature (shape, color, pattern) whereby the act of looking outward became analogous to the act of looking inward. Being that Robert had the presence of both teacher and shaman, such mystical insights did not seem particularly out of place. Whatever the case may be it was under his guidance that I came to realize that the act of making art was also a means of transcendental experience.
---
Melissa Diaz::  www.melissadiazart.com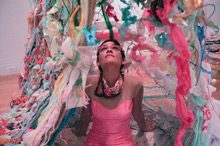 ARTIST BIO
Melissa Diaz is an artist and a licensed, registered & board certified art therapist living and working in Brooklyn, NY. She holds a BFA in Painting from The University of Central Florida and an MPS in Art Therapy & Creativity Development from Pratt Institute. Diaz is the founder and director of Open House BK, community arts initiative that provides free and affordable popup art events, exhibitions and therapeutic arts workshops. As a Creative Arts Therapist, Diaz has experience utilizing art therapy,play therapy and mindfulness practices with adults, children and families. She has worked as a therapist and teaching artists in shelters, schools, museums, inpatient and outpatient psychiatric settings. In her artwork, Diaz creates interactive installation art as a source of community engagement. She has exhibited widely throughout NYC and nationally, in both gallery and alternative spaces. In all her work, she considers space, relationships and holding environment.
SVAD STATEMENT
My work is primarily informed by natural habitats, as I view nature and the earth as humans
most shared universality. Florida's landscapes, ecosystems and color palette have always been an inspiration to me. The flora's saturated greens, limes and pastels continue to run throughout my work; elements of ocean, coral and land weave throughout my pieces.
UCF greatly shaped the visual language I have built upon. It was in Carla Poindexter's
painting class, where I stumbled into installation art. With encouragement, I was able to view space as canvas,  mixed mediums as my paint, and my body as brush. Installation became more in tune with the coinciding development of my art therapy career. I found my installation art to be much more about holding environment, the here & now moment and the art building a relationship with space/viewer. All of these themes, mirror elements of the the therapeutic relationship.
---
Bryce Hammond::  www.brycehammond.com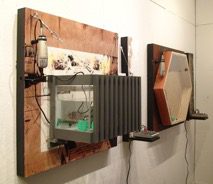 ARTIST BIO
Bryce Hammond, b. 1970 Daytona Beach, Florida.
Bryce Hammond received his BA in Art History from Furman University in 1992, and his MFA in Emerging Media from University of Central Florida in 2013. He has had solo exhibitions around the United States where his paintings are held in major public collections. Hammond is represented by Alan Avery Art Company in Atlanta, Georgia.
Mr. Hammond has received the Sam and Adele Golden Foundation Fellowship, Florida Fellowship for the Arts, Pabst Family Foundation Grant, South East College Art Conference Gulnar-Bosch travel grant, and Fiscal Sponsorship from the New York Foundation for the Arts.
Hammond records evidence of human presence in man-made environments through first-hand observation of transient poverty culture. This data is compiled to pollinate and present diverse techniques of expression including participatory installation, voyeuristic sound and documentation through paintings and other art objects.
SVAD STATEMENT
When I began the UCF MFA Emerging Media program, painting was my full-time career. I had an established reputation as a national-level artist for over 15 years. During my time as a student, I learned comradery and collaboration with my professors and fellow students. Through meaningful discussion and peer critiques, I learned an ambition and willingness to explore a wider variety of new and experimental media. Since receiving my MFA from UCF in 2013 and due to my exploration during the program, my career has expanded to the international stage through exhibitions and collaborations in many diverse media.
---
Erika Heffernan::  www.erikaheffernan.com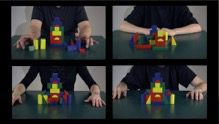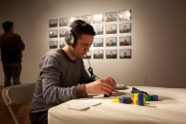 ARTIST BIO
Erika Heffernan was born in Augusta, Maine, USA 1981 and currently lives and works in Gainesville FL. She received her BA at University of Central Florida, earned her Post Baccalaureate from School of the Museum Fine Arts Boston and graduated with her MFA from the Rochester Institute of Technology. Her work explores the conceptual side of learning and new understandings. Erika is an internationally shown artist as a Special Selection Finalist of the 2012 Videoholica Festival in Bulgaria. She is a DeCordova Museum Lending Artist and her work has been exhibited widely throughout the Boston area in addition to WORK·DETROIT, Booksmart Studios and the University of Virginia.
ARTIST  STATEMENT
How we learn, comprehend, and interpret information is an internal process, rarely seen from the outside. While comprehension is invisible, our ability to communicate and understand relevant information is an observable measure of intelligence. The inner dialogue circulating inside a person's head remains a mystery. This work illuminates the difference between the internal standard of "right", and the elusive standard of what is "right" upheld in society.
SVAD STATEMENT
I really enjoyed my time at UCF in the SVAD, David Haxton pushed me to go far beyond anything I had tried before and has encouraged and supported me over the years since I have left UCF. There are not enough thanks yous in the world.
---
Ian Larson::  www.idlstudio.com/home.html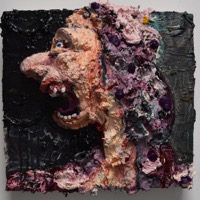 ARTIST BIO
Ian Larson is originally from southern California. He Graduated from the University of Central Florida in 2004 and then went to London where he lived and worked for five years, Completing his MFA from the Slade School of Fine Art in 2007. He has exhibited in many important exhibitions both nationally and internationally and his work is included in many important private collections worldwide. He currently resides and works splitting his time between Los Angeles, CA and Charlotte, NC.
SVAD STATEMENT
I left UCF and the SVAD in 2004 unfulfilled, in the best possible way.  I think that's what an artist needs to make next steps and being pushed and critiqued by some of the SVAD's finest professors I was unfulfilled and ready for more wanting to do better and I couldn't be more thankful for that push and the path that it was a catalyst for.
---
Ginger Leigh::  www.synthestruct.com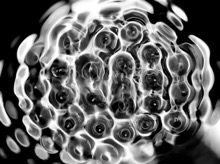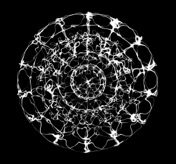 ARTIST BIO
Ginger Leigh (Synthestruct) is a multidisciplinary artist creating interactive and audiovisual experiences that explore the beauty of science, math, and natural systems. Leigh received her B.A. in Digital Media in 2004 from the University of Central Florida and currently teaches design at Full Sail University. She began exploring cymatics in 2011 as part of her ongoing research into the field of acoustics. Her body of cymatics photography and videography has been presented at galleries and events throughout Orlando, and internationally in Sweden and Berlin. Her love for music and club culture has inspired her creation of several audio-reactive visual systems for live musical performances, as well as reactive dance visualizers.
---
Sherri Littlefield::  www.sherrilittlefield.com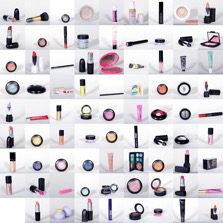 ARTIST BIO
Sherri Littlefield was born in 1987 in Milwaukee, Wisconsin and raised in Central Florida. Documentary photographs from her "shopping series" have been exhibited internationally, including the Brighton Photo Biennial, Humble Art Foundation and the Aperture Foundation in New York. Littlefield earned her MFA in Photography from the University of Central Florida in 2012. Littlefield's art is both a celebration and commentary on the beauty industry and contemporary consumerism. The individuals photographed in her "shopping series" are unaware of their participation in the creation of her work. In 2016, Sherri launched Treat Gallery. Exhibitions curated by Littlefield have been featured on ArteFuse and dnainfo New York. Treat Gallery has quarterly exhibitions that donate a portion of proceeds to various non-profits and charities throughout the boroughs of New York City. Sherri currently serves on the advisory committee for Parsons School of Design's Making Center (opening in Fall 2016) and Platform Art Fair. As an educator, artist and curator, Littlefield aims to use her skills toward positive causes.
SVAD STATEMENT
I bleed garnet, gold and black. I valued my time at the University of Central Florida and Orlando as a graduate student and young adult. There is constant opportunity surrounding Central Florida. After graduation I had all the tools I needed to begin my career as an artist and curator.
---
Amanda C. Mathis::  www.amandacmathis.com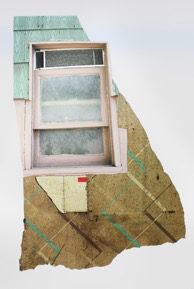 ARTIST BIO
Amanda C. Mathis was born in Orlando, FL and currently lives and works in Brooklyn, NY. Her work encompasses site-specific interventions, photography, collage, assemblage and notions on dwelling in modern day society. She received her BFA in ceramics from the University of Central Florida (2004) and her MFA in sculpture from Pratt Institute (2006). Mathis has participated in the Artist in the Marketplace program at The Bronx Museum of the Arts, Lower Manhattan Cultural Council's Workspace program, and the Constance Saltonstall Foundation for the Arts residency. She was a recipient of a Pollock-Krasner Foundation grant in 2011 and a NYFA Fellowship (Crafts/Sculpture) in 2014.
SVAD STATEMENT
As an art student graduating from high school, I had high hopes of moving away and attending an art college. Due to a lack of funds, I had to remain living at home and attend the local university instead. However, I found that my teachers in UCF's fine art department gave me the guidance, knowledge, and inspiration that I required at that time, and much more. They were integral in forming my views on art during this developmental period and were influential role models as I gained an understanding of what it meant to be a practicing artist.
---
Ryan Parker::  www.ryan-parker.com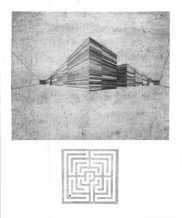 ARTIST BIO
Ryan Parker (BFA, 2004) is a Philadelphia-based artist and the coordinator of the Post-Graduate Apprenticeship at The Fabric Workshop and Museum. He studied printmaking at Tyler School of Art in Rome and Philadelphia and has participated in residencies at Frans Masereel Centrum, Belgium, and at Cork Printmakers and Ballinglen in Ireland. Ryan uses architectural drawing to explore psychology and memory.
SVAD STATEMENT
At UCF, I studied graphic design, but I also had a lot of opportunities to take courses in printmaking and drawing—which became more of a focus for me later on. The teachers really had a way to get students motivated—encouraging camaraderie as well as a positive competitive spirit that was really motivating and pushed our work. I have fond memories of working late into the night on a litho stone or drawing from a giant still-life with a group of tired peers."
---
Kris Porter:: http://kristoferporter.com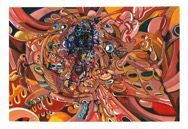 ARTIST BIO
Kristofer Porter is a multi-discipline artist and illustrator based in New York City.
Selected Highlights:  His exhibition in 2010 at Fred Torres Collaborations was reviewed in the November 2010 issue of Modern Painters. He is a New York Foundation for the Arts fellowship recipient and was a featured artist at the 2012 Pulse Art fair Pulse Projects.
About: Each piece of his work is like a page torn out of a never-ending novel. In narratives and compositions that blur the line between euphoria and existential dread, Porter draws as much from art history as he does from the world around him. Rather than outraging and satirizing society, Porter offers a reflection and investigation of the self. His work indulges in a sort of physical grotesquerie and psychological unease that would seem at home amongst the Japanese ukiyo-e, Persian miniature painting, post war German expressionism, and American underground comics."
SVAD STATEMENT
 I moved to Orlando to attend UCF in 1998 and left for New York in 2002, but the foundational drawing skills, visual thinking, and solid sense of art history I received during my time there still reverberate through my life and work today. With Professors like Robert Rivers and Carla Poindexter I was set early on a path of using the tools and process of art making not just to express my self but also, and perhaps more importantly, as a means of personal investigation to help make sense of my experience. Also, I would be remiss not to mention the strong bonds and friendships I continue to foster with a community of artists and thinkers with whom I attended UCF.
---
Jason Scuilla::  www.jasonscuilla.com
ARTIST BIO
Jason Scuilla is an artist whose prints and drawings have been featured in museum collections, solo, and group exhibitions throughout the US and Europe. He serves as Associate Professor and Head of the Printmaking Department at Kansas State University. His mastery of traditional and innovative printmaking processes has been recognized internationally in the scientific and print communities. Scuilla has lectured and demonstrated his techniques at Universities, Conferences, Art Centers, and Print shops throughout the world. An American artist of Italian descent, Scuilla spends considerable time in Italy studying and creating prints. In his prints and drawings dramatic composition, intellectual subtlety, pictorial economy, and deadpan humor are combined to question mankind's complex relationship with his mortality and the ancient past.
SVAD STATEMENT
Professors Robert Rivers (major), Rob Reedy, Carla Poindexter, Dr. Francis Martin, Ke Francis, and Charles Wellmann served as mentors to me at UCF. They instilled in me the value of hard work, accountability, discipline, honesty, integrity, and imagination. I created the Last Judgment drawing in Rome, Italy one year after graduating, and tried my hardest to live up to the standards these great artists/professors practiced and preached. I still do.
---
Nathan Selikoff::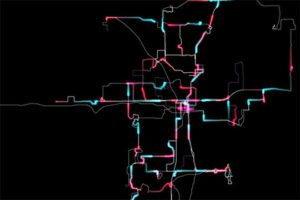 ARTIST BIO
Nathan Selikoff plays with interactivity and motion in time and space. Inspired by the behavior of systems, science, nature, and music, he combines computer code, traditional materials, and future technology to bring new ideas to life. His award-winning artwork has been exhibited and performed in galleries and venues throughout the United States and around the world. Selikoff is represented by Snap! Space in Florida, Bangkok, and Amsterdam.
SVAD STATEMENT
My first exhibition on my artist resume is a show I was in at UCF as a student in 2003. Scott Hall, one of my professors in the Computer Animation BFA program, took me over to UCF's Daytona campus where they had a large format Epson printer that could make high quality inkjet prints and gave me my first lessons in digital printing. After graduation, as I applied to juried exhibitions around the world, I found that there was still a lot of bias against digitally produced work. That has changed over the years, and it's great to be back at UCF, where a lot of my work started, for this exhibition.
---
Lisa Wicka::  http://www.lisawicka.com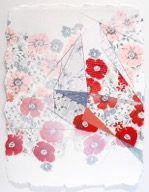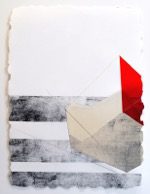 ARTIST BIO
Lisa Wicka received her BFA from the University of Central Florida in 2005 and her MFA in Painting, Printmaking and Drawing in 2013 from Purdue University. She was awarded the Mrs. Granville Wells Memorial Award² from the National Society of Arts and Letters in 2013, was featured on DailyServing.com, and recently published in Fresh Paint Magazine.  Lisa Wicka currently is an Assistant Professor of Art at the University of Wisconsin – Marinette where she teaches foundations art courses, art history and is the coordinator of their art gallery. Her research explores the cyclical dialogue of internal/external architecture, the body as a mediator and its role in the instability of identity.
SVAD STATEMENT
"My appreciation for my time at SVAD continues to grow as time passes. I realize how valuable it is to have a creative group of classmates that support and motivate each other, to have faculty that push you to your limits; and how important my SVAD community continues to be to me today as I move forward as an artist."
---
Patricia Lois Nuss Bambace::  www.patricialoisnuss.com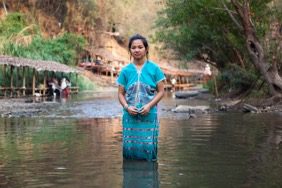 ARTIST BIO
Patricia Lois Nuss recently completed a semester serving as a Guest Lecturer on the topic of Alternative Photographic Processes at Chiang Mai University in Thailand. She is also an adjunct faculty member at the Southeast Center for Photographic Studies, where she has taught digital, fine art, editorial, and darkroom courses. Nuss established and now continues to work as the Thailand Program Manager for the social enterprise Lensational, a program that brings digital cameras and photographic training to marginalized women internationally. Nuss has also consistently contributed to the Society for Photographic Education in the form of caucus exhibition coordination, panels, and conference peer review. Her work has been exhibited nationally, including the Corcoran College of Art and Design, PhotoNOLA, within Select Art Fair during Art Basel Miami, Maryland Institute College of Art, the Florida State College Museum of Fine Art, and currently she is is exhibiting in a two-person exhibition at Rocky Mountain College of Art and Design in Colorado. Patricia Lois Nuss received her BFA in Photography in 2008 and her MFA in Emerging Media in 2011, both from the University of Central Florida.