Location: UCF Art Gallery
Please join us in the Gallery for
ARTIST TALK: Melissa Diaz
September 29, 4pm
One of the exhibiting Alumni Artist from Legends: The Next Generation, Melissa Diaz will present her work and discuss her involvement in the Exhibition.
Also presenting on September 29 will be Peter Angelora and Erika Heffernan followed by a Reception for the Exhibition.
Melissa Diaz::  www.melissadiazart.com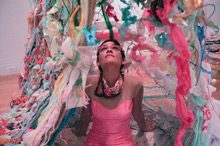 ARTIST BIO
Melissa Diaz is an artist and a licensed, registered & board certified art therapist living and working in Brooklyn, NY. She holds a BFA in Painting from The University of Central Florida and an MPS in Art Therapy & Creativity Development from Pratt Institute. Diaz is the founder and director of Open House BK, community arts initiative that provides free and affordable popup art events, exhibitions and therapeutic arts workshops. As a Creative Arts Therapist, Diaz has experience utilizing art therapy,play therapy and mindfulness practices with adults, children and families. She has worked as a therapist and teaching artists in shelters, schools, museums, inpatient and outpatient psychiatric settings. In her artwork, Diaz creates interactive installation art as a source of community engagement. She has exhibited widely throughout NYC and nationally, in both gallery and alternative spaces. In all her work, she considers space, relationships and holding environment.
SVAD STATEMENT
My work is primarily informed by natural habitats, as I view nature and the earth as humans
most shared universality. Florida's landscapes, ecosystems and color palette have always been an inspiration to me. The flora's saturated greens, limes and pastels continue to run throughout my work; elements of ocean, coral and land weave throughout my pieces.
UCF greatly shaped the visual language I have built upon. It was in Carla Poindexter's
painting class, where I stumbled into installation art. With encouragement, I was able to view space as canvas,  mixed mediums as my paint, and my body as brush. Installation became more in tune with the coinciding development of my art therapy career. I found my installation art to be much more about holding environment, the here & now moment and the art building a relationship with space/viewer. All of these themes, mirror elements of the the therapeutic relationship.