Location: UCF Art Gallery
Please join us in the Gallery for
ARTIST TALK: Erika Heffernan
September 29, 10:30am
One of the exhibiting Alumni Artist from Legends: The Next Generation, Erika Heffernan will present her work and discuss her involvement in the Exhibition.
Also presenting on September 29 will be Peter Angelora and Melissa Diaz followed by a Reception for the Exhibition.
Erika Heffernan::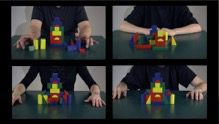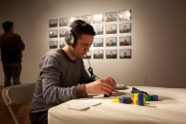 ARTIST BIO
Erika Heffernan was born in Augusta, Maine, USA 1981 and currently lives and works in Gainesville FL. She received her BA at University of Central Florida, earned her Post Baccalaureate from School of the Museum Fine Arts Boston and graduated with her MFA from the Rochester Institute of Technology. Her work explores the conceptual side of learning and new understandings. Erika is an internationally shown artist as a Special Selection Finalist of the 2012 Videoholica Festival in Bulgaria. She is a DeCordova Museum Lending Artist and her work has been exhibited widely throughout the Boston area in addition to WORK·DETROIT, Booksmart Studios and the University of Virginia.
ARTIST  STATEMENT
How we learn, comprehend, and interpret information is an internal process, rarely seen from the outside. While comprehension is invisible, our ability to communicate and understand relevant information is an observable measure of intelligence. The inner dialogue circulating inside a person's head remains a mystery. This work illuminates the difference between the internal standard of "right", and the elusive standard of what is "right" upheld in society.
SVAD STATEMENT
I really enjoyed my time at UCF in the SVAD, David Haxton pushed me to go far beyond anything I had tried before and has encouraged and supported me over the years since I have left UCF. There are not enough thanks yous in the world.