Named in honor of a prolific historian of Florida and past editor of the journal, this series, sponsored by the Florida Historical Quarterly and UCF Department of History, is designed to bring noted scholars of the region to Orlando once a year to discuss their research for an audience of faculty, students, and the general public.
For the 7th Annual Shofner Lecture, we will be hosting both a panel from noon–1:30pm and a reception and lecture from 5:30pm-7:30pm on Monday, October 14, 2019 at the Fairwinds Alumni Center on the UCF main campus.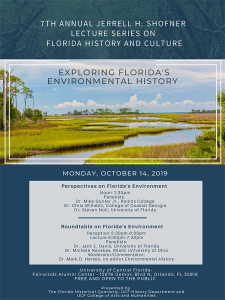 A list of previous Shofner Lecturers is available below.  Each lecture can be viewed at UCF-FHQ Annual Jerrell Shofner Lecture on Florida History.
2018 – Stephen Prince and Paul Ortiz
"Reconsidering Reconstruction: Regional, National, and Global Perspectives"
2017 – Gary R. Mormino
"Florida and the Age of Terror"
2016 – Dr. James Cusick
"A Murder Among Slaves: A Case from Florida in 1800"
2015 – Professor Sherry Johnson 
"When Good Climate Goes Bad:  Climate Change, Pivot Periods, and the Opportunities for Florida History"
2014  –  Professor Jane Landers
"Florida Corsairs in the Eighteenth-Century Atlantic World"
2013  –  Professor Paul E. Hoffman
"La Florida (Spanish Florida): Thoughts About a Story Still Largely Untold"