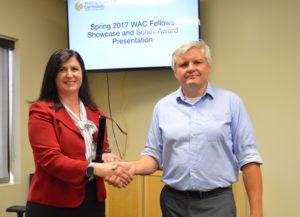 As the 2017 WAC Fellows Showcase drew to a close, I had the opportunity to sit down and talk with Vicky I. Zygouris-Coe, Ph.D., a professor and Program Coordinator for UCF's School of Teaching, Learning, and Leadership, and this year's winner of the Schell Award for Implementing Innovative Writing Instruction in the Disciplines. Below is an abridged transcript of our conversation on her experiences participating in the WAC SOTL and WAC Fellows programs.
What prompted you to apply to the WAC SOTL program?
My efforts to learn more about the literacy demands of the discipline was my impetus to join. I wanted to learn more since I am interested in disciplinary literacy, and since I work with interdisciplinary teachers in different departments, I was interested in learning more about disciplinary learning. Lindee and others had invited me to talk about the academic demands of reading in content areas and different disciplines, how students read very differently in different disciplines, and that they communicate differently in different disciplines. That started the conversation to look into writing.
What conversations, activities, concepts, or readings from the program were the most valuable to you as an instructor?
The most valuable, I think I have to start with the purpose of writing in my instruction. It was a very reflective effort. I have all kinds of writing assignments and activities, so how do I use writing in my instruction? Why do I use writing in my instruction? The one word I would use is reconceptualize… reconceptualize writing as a thinking and learning tool in my discipline. Once I better understood that, it re-energized me as an instructor to make strategic adjustments in my courses in terms of writing. Number two: the difference between–what in my field we would call more informal writing–high and low stakes writing in my class was a major contribution. Or I should say it had a major impact? To better understand how to scaffold assignments to both improve my students' motivation and to improve my students' ability to engage with writing in my discipline, it had to become very tangible to me. I had to be able to say "here's what I'm doing and why." Also, the purpose of writing and the types of writing: low stakes and high stakes. And the collaborative work we did. We talked about programmatic change and innovation when it comes to writing in my field. I think the collaborative work we've been doing on lesson plan as a genre communicates to me that not only are we going to be better equipping students how to write lesson plans, but to also create habits of mind about writing and engage them in thinking processes that will affect them personally as well as future educators.
What were some positive takeaways from your WAC SOTL experience?
Number one, the collaborative, interdisciplinary environment, and learning from writing and rhetoric experts and from other disciplinary experts. Number two, I think the scaffolded experiences and number three, the peer reviews. I place a lot of value on the conversations that have taken place as part of that WAC experience that shape our knowledge and inform our practice in so many different ways. I think those conversations are valuable resources.
Now that you have gone through the WAC SOTL process, how have your views about teaching, learning, and writing changed?
They have changed in a number of ways. They have changed in terms of looking at writing not just in the form of "Oh I have a signature assignment in my class. I have the rubrics and outcomes, etc.", but to view that assignment much more critically. How will that assignment shape the learning of my students? It has shaped the way that I view writing in my courses for the purpose of preparing future teachers. That's one way. In another, it has helped me to think more about assessment, the role of my feedback, the role of peer feedback, and different kinds of assessment in my classes. It helped me to emphasize providing feedback, especially on low stakes assignments, and put my energy more on instructive feedback as students prepare for a high stakes assignment. It's not so much emphasis on "I have to grade" but it's more on helping students reflect on their own writing, especially when it comes to low stakes writing assignments. I think I had been struggling with that. I talked in my presentation about the learning vs doing gap, which still exists. There is a disconnect between partial knowledge and doing or implementing it. The WAC SOTL experience bridged for me the knowing and doing, the dissonance or gap. I titled my presentation "Learn. Then, Act." The learning in the SOTL project helped me to think more critically about the role of instruction and writing in my teacher preparation courses. And, in a way, it also created new habits of mind for myself about the role of writing in my discipline.