Location: UCF Art Gallery
Please join us in the Gallery for
PANEL DISCUSSION:
Every Room Has a Sound
Friday, August 26, 5pm
A curatorial panel discussion inspired by the Progeny installation, exploring the relationship between architecture, space and sound as well as John Cage's place within this landscape.  Featuring the Progeny Artists Bryce Hammond and Luke Aaron Clark, Guest Speaker Colin Ripley (Editor of: In the Place of Sound: Architecture Music | Acoustics, Cambridge Scholars Press), UCF Assistant Professor of Music Thad Anderson, Valencia College Program Chair of Architecture Allen Watters, UCF Art Gallery Director Yulia Tikhonova.
Free and Open to the Public!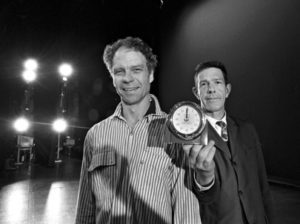 As part of the Progeny Exhibition, Luke Aaron Clark and Bryce Hammond, invite you to a discussion on sound, architecture and interdisciplinary collaboration followed by a Performance of John Cage's Four4 by UCF Assistant Professor of Music Thad Anderson and UCF percussionists.
Panelists:
Luke Aaron Clark, exhibiting Artist with Progeny, is a composer and sound artist. His work explores the relationship between architecture and sound, our natural environment and everyday human interaction within these settings. These works are reliant on the combination of research, exploration and collaboration and expressed through performance, sound design, public intervention, architectural installation and film.
Bryce Hammond, exhibiting Artist with Progeny, records evidence of human presence in man-made environments through first-hand observation of poverty culture. This data is compiled to pollinate and present diverse techniques of expression including participatory installation, voyeuristic sound and documentation through paintings and other art objects.
Colin Ripley, special guest, will be discussing his book In the Place of Sound: Architecture | Music | Acoustics, his work as a Director of www.rvtr.com and projects in which architects explicitly take on sound as a generating material in their designs.
Allen Waters will be discussing Points in Space, Merce Cunningham's collaboration with John Cage, and how considerations of space, time, movement and light can also be transferred to architectural design.
Yulia Tikhonova will be discussing the process of interdisciplinary collaboration by examining Experiments in Art and Technology (E.A.T.). This non-profit organization founded in 1966 by engineers Billy Klüver and Fred Waldhauer and artists Robert Rauschenberg and Robert Whitman developed from the piece 9 Evenings: Theatre and Engineering, a series of performance art presentations that united artists and engineers to create groundbreaking performances that incorporated new technology.
Thad Anderson will be discussing John Cage's composition Four4 and Cage's use of numbers, flexible brackets and unspecified instruments. Anderson will also give insight into how he and his fellow musicians negotiated the Progeny Installation for the performance of John Cage's Four4.