Location: UCF Art Gallery
Please join us in the Gallery for
PERFORMANCE:  In The Hive
Friday, August 26 at 7pm
In adjacent with the Progeny  Exhibition, UCF Assistant Professor of Music Thad Anderson + UCF Percussionists will perform John Cage's Four4.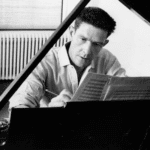 John Milton Cage Jr. (September 5, 1912 – August 12, 1992) was an American composer, music theorist, writer, and artist.  A pioneer of indeterminacy in music, electroacoustic music, and non-standard use of musical instruments, Cage was one of the leading figures of the post-war avant-garde. Critics have lauded him as one of the most influential American composers of the 20th century.
Free and Open to the Public!