Location: UCF Art Gallery
In association with the Exhibition Progeny,
The UCF Art Gallery invites you to:
The Bee Society Conceptual Forum 
Wednesday, August 24 from

 
2:00pm – 4:00pm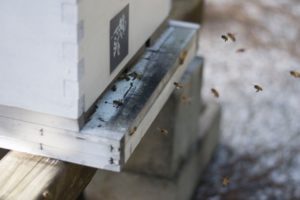 Doug McGinnis talks about how flowers taught bees to be vegetarian, functions of bee society and the super organism. "Bees come in all colors and sizes, their diversity adapted to climate and environments around the globe. Their social structures vary from the 60,000-plus "super organism" of a honeybee hive to the lonely lives of solitary bees. Yet what drives them creates bounty in nature and a binding force between plants and animals."
About Doug McGinnis:
Doug McGinnis is a member of the Atlantic Center for the Arts Board of Trustees. His family business, Tropical Blossom Honey Co., has been collecting honey from beekeepers in Florida since the 1940's. Doug established an apiary on ACA grounds and regularly brings visiting artists out to the hives to observe the bees feasting on the wide variety of native flowers. Doug has also served on the National Honey Board and the National Honey Packers and Dealers.
All Gallery Events are Free and Open to the Public.