This event runs on
Friday, April 6 and Saturday, April 7, 2018

.

Generously supported by OUC—The ReliableOne® and Baker Barrios Architects, Inc. This production of Mass will be performed without intermission.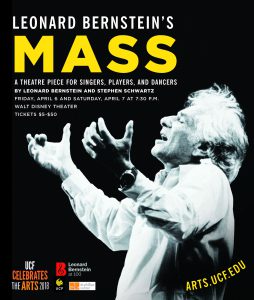 UCF Celebrates the Arts 2018 opens with a tip of the hat to one of classical music's most iconic artists: Leonard Bernstein. Leonard Bernstein at 100, a two-year global celebration of the life and career of the 20th century cultural giant with more than 2,000 events on six continents, kicked off in the fall of 2017 and UCF is pleased to be able to honor this musical composer, conductor, and educator. 
Mass: A Theatre Piece for Singers, Players, and Dancers is an enormous and ambitious piece, with more than 200 musicians, vocalists, and dancers on stage. Written for the inauguration of the Kennedy Center in 1971, the controversial piece gave voice to an anti-war youth culture that was seeking truth and transparency from its government. Though Mass challenges divine authority, exposing its contradictions and questioning religion's relevance to contemporary life, it ultimately serves as a reaffirmation of faith and hope for universal peace.
The eclecticism of Mass's music reflects the multifaceted nature of Bernstein's career, with blues, rock, gospel, folk, Broadway, and jazz idioms appearing side by side with 12-tone serialism, symphonic marches, solemn hymns, Middle Eastern dances, orchestral meditations, and lush chorales, all united in a single dramatic event with recurring musical motifs. Bernstein uses the uninhibitedly tonal rock 'n' roll of the Street Chorus to challenge the dogmatic, atonal music of the Church; ultimately, the musical argument is resolved with a glorious, tonal chorale ("Almighty Father") sung by the entire company.
Join the UCF Symphony Orchestra, UCF Choirs, Theatre UCF singers and dancers, and School of Performing Arts alumni at this "Massive" centenary event!
"…Mass re-emerged as the moving and visionary piece it's always been — arguably the best thing Bernstein ever wrote." —The Washington Post
"Bernstein left nothing of himself out of Mass, and like the man who wrote it, the piece demands to be noticed. …beneath the original dramatic conception, the creative exuberance, the showbiz glitter and the ear-catching set numbers is a sophisticated, carefully controlled piece of musical craftsmanship that repays close scrutiny. …Yes, Bernstein could manipulate a 12-tone row with the best of them.
"…[an] extravagant, exuberant and endlessly inventive creation…" —The New York Times

LEONARD BERNSTEIN (August 25, 1918- October 14, 1990) was a world-renowned conductor and composer, and one of classical music's icons of the 20th century. He was Music Director of the New York Philharmonic and conducted the world's major orchestras, leaving behind an enormous legacy of audio and video recordings. His books, as well as the much-beloved televised Young People's Concerts with the New York Philharmonic, established him as a leading educator. His orchestral and choral works include three symphonies (No. 1 "Jeremiah", No. 2 "Age of Anxiety", and No. 3 "Kaddish"), Serenade, Mass, Chichester Psalms, Songfest, Divertimento for Orchestra, Arias and Barcarolles, and Concerto for Orchestra. Bernstein's works for the Broadway stage include On the Town, Wonderful Town, Candide and the immensely popular West Side Story. In addition to the West Side Story collaboration, Mr. Bernstein worked with choreographer Jerome Robbins on three major ballets, Fancy Free, Facsimile and Dybbuk. Mr. Bernstein was the recipient of many honors, including eleven Emmy Awards, one Tony Award, the Lifetime Achievement Grammy Award, and the Kennedy Center Honors.
Read more about the extensive history and background of Mass and the Leonard Bernstein at 100 celebration. #BernsteinAt100
By arrangement with Boosey & Hawkes, Inc., Sole Agent for Leonard Bernstein Music Publishing Company LLC, publisher and copyright owner.
STREET CHORUS
Director
Dr. Steven Chicurel-Stein#
Celebrant
Dr. Jeremy Hunt#
Soloists
Samantha Barnes Daniel#
Shonn McCloud#
Sarah Purser#
Ensemble
Julie Berman
Pierce Connell
Matthew Fackler
Rachel Frangie
Hallie Friedman
Alaric Frinzi
Kimberly Hagland
Ryan Koch
Jose-Manuel Lopez
Michael Olaribigbe
Ethan Rich
Savannah Rucks
Hayley Renee Scott
Andrew Sivco
Allison Stanley
Carly Ventura
DANCERS
Brian Alford
Austin Branks
Anna Convery
Darin Dabney
Rebecca Englehart
Tyler Ham
Malik Harris
Megan Kuczajada
Elizabeth Laches
Rachel Laches
Anna Molinari
Sarina Rios
Dylan Rivers
Amber Steward
Sammy Swim
Ensemble@
Austin Bonneau
Caitlin Clark
Mary Eshleman
Githal Z. Figueroa
Jude Frazier
Will Gavigan
Jade Grey
Gianna Guerrero
Hannah Loper
Jurrien Mejeur
Anavi Modi
Samantha Sosa
Lyla Tsiokos
Brenda Weiner
Carys Williams
UNIVERSITY CHOIR
Director
Dr. David Brunner#
Soprano
Natalie Almeter
Giselle Beuscher
Sarah Brickeen
Alyssa Cassidy
Andrea Cimino
Stephanie Eugster
Olivia Figh
Emily Gensch
Elizabeth Glavin
Lisamarie Guadalupe
Joyce Hernandez
Nicole Leonard
Zaria Modeste
Maeghin Mueller
Mairead O'Rourke
Emanuela Pava
Marisol Santander
Andrea Segarra
Allyson Sherron
Sarah Stanley
Jenna Toler
Alto
Breanna Costa
Maricel Cumbo
Jenna Derrenbacker
Linsey Duca
Elton Gargano
Maggie Gifford
Karissa Hardin
Leah Hernandez
Paulina Hernandez
Lora Korpar
Charlotte Kreibich
Ariana Lanahan
Alyssa Long
Gayssie Lugo
Christina Machado
Bethany Marsh
Queenija Morris
Melanie Niarhos
Nicole Riddering
Ilani Santos
Tenor
Armani Adames
Peter Devita
Christopher Ludwig
Deyvion Norris
Micah Walker
Benjamin Watson
Yuting Zhang
Andres Soler-Garzon
Bass
Rashad Everett
Frankie Frevola
David Goodwill
Ryan Goodwin
Michael Hanusiak
Colin Jackson
Robert Proben
Dezi Rodgers
Taylor Skipper
Andrew Smith
Zach Weinstein
Jacob Woods
David Hertzo
WOMEN'S CHOIR
Director
Dr. Kelly A. Miller#
Soprano I
Arianna Bounds
Melissa Derison
Melanie Fesmire
Kathleen Kilcommons
Nicole Leonard
Kayla Lodge
Elizabeth Lockwood
Ashlen McWhorter
Annalise Mendez
Lissette Moran-Kenner
Jacqueline O'Brien
Alyssa Parker
Allyson Sherron
Jessica Watley
Chloe Ziler
Soprano II
Xena Abella
Olivia Browdy
Lydia Castillo
Sarah Kwilecki
Delaney Knapp
Guilana Saint-Louis
Victoria Lane
Heather Reid
Lauren Smedberg
Madeleine Smith
Meghan St. Pierre
Christine Tholen
Katie Zarama
Alto I
Alexandria Achinapura
Lynette Davis
Sashah Elouidor
Natasha Huston
Jin Jones
Sophia Kennedy
Alyssa Long
Lyanna Martinez
Veronica Nguyen
Annabelle Pace
Andrea Roman
Reide Smith
Alto II
Destiny Antonelli
Widelyne Beaubrun
Darien Frey
Elizabeth Leroy
Kristin Linn
Alexis Mack
Marissa Richards
Nicole Riddering
Lauren Vetere
CHILDREN'S CHOIR
Director
Robin Jensen#
Soloists
Jahdai Figueroa@
---
ORCHESTRA
Director
Dr. Chung Park#
Assistant Conductor
Joshua Cutting
Violin
Daniel Seymour^
Jordan Bicasan*
Emily Champagne&
Jerika'Marie Cruz
Jennifer Guo
Steven Hernandez
Jin Na Jones
Richard Klemm#
Sarah Kwilecki
Julia Lancieri
Krister Lawlor
Jill Mezo
Connor Olivardia
Beck Roberts
Madeleine Smith
Sarah Stanley
Robin Thompson
Emma Tumlin
Kathy Zhu
Viola
Sharon Billman*
Michael Loyd*
Steven Dibidad
Pamela Leadbitter@
Geralyn Moore
Michael Simpson
Alexandra Zuleta-Visser
Aaron Wiggins@
Violincello
Aramis Ruiz-Ruiz*
Jedidah Wong&
Chavellee Almonte
Linda Cartagena
Jomar Cruz
Emily Elmore
David Herzog
Carlos Moros
Sydney Smallwood
Contrabass
Adam Fimbres*
Edwin Rivera Jorge*
Jelani Britt
Michael Feliciano
Marcus Jordan
Laura Knott
John Konstantopolous
Electric Guitar
Michael McCabe
Mike Pan
Bass Guitar
Luther Burke
Erick Campos
Flute
Christopher Ludwig*
Isabel Aviles
Jolene Crossman
Oboe
Sara Hrkach*
Stephanie Hargrave*
Clarinet
Andrew Martin*
Raymond Woodruff*
Austin Suarez
Bassoon
Ashley Heintzen@*
Erika Clippinger@
Saxophone
Jade Deatherage*
Alex Garcia
Noah Mosca
Horn
Ignacio Poncio*
Mike Himes
Nick Burner
Kerry Sullivan
Trumpet
Matt Pieper*
Coral Navarre
Robert Fayard
Marco Rivera
Trombone
Julio Rivera*
Zachary Noble
Bass Trombone
Brian Ildefonso
Tuba
Michael Guinaugh*
Percussion
Ryan Boehme*
Chris Baird
Nick Chase
Theodore Jackson
Matt Malhiot
Jessica Otaiza
Kyle Signer
Sebastian Suarez-Solis
Paul Yorke
Harp
Deborah Wendt#
Organ
George Atwell
Keyboard
Joshua Cutting
---
^Concertmaster
*Principal or Co-Principal
&Assistant or Associate Principal
@Community Member
#UCF Faculty or Alumni