Department website
Active Students
(as of April 2023)
Undergrad majors: 90
Undergrad minors: 61
Undergrad certificates: 17
Graduate certificates: 23
2022-23 Student Credit Hours:
24,877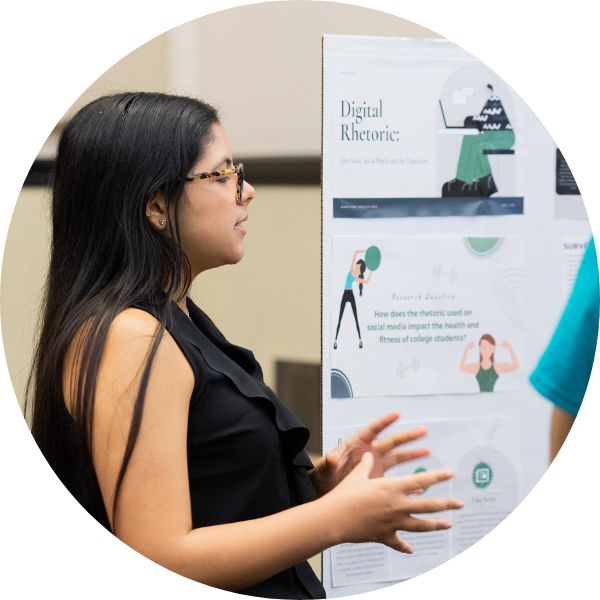 The Department of Writing and Rhetoric (DWR) equips students with the skills to change their community, address society's challenges and offer new solutions. Through communication, students learn how to relate to one another and the environments in which they learn, live and work. At the heart of the department lies impact. DWR faculty use their research to inspire their students in their classrooms to reach beyond students' preconceived notions about academia and the world in which they live. Our faculty build partnerships with the community. DWR creates stronger writers, effective communicators and community leaders.
This year, in our bachelor's program, our faculty started an innovative medical rhetoric certificate and developed new courses in disability studies and graphic medicine. The department's first-year composition program was awarded the 2022-2023 prestigious distinction of Writing Program Certificate of Excellence from the College Composition and Communication Conference (CCCC). In the award letter, CCCC recognized the program's commitment to supporting students' linguistic and racial diversity. This award, established in 2004, honors up to twenty programs nationwide. The first-year curriculum aims to support students' ability to transfer the invaluable writing and communication skills learned in the program to other fields, professions and community partnerships.
The department hosted several impactful writing events this year. Knights Write Showcase returned fully to campus after a COVID hiatus necessitated remote sessions. We were honored that UCF alumna, Dr. Laura Gonzales, assistant professor of English at the University of Florida, joined us as the keynote speaker. Dr. Gonzales spoke about how her education and experience in studying rhetoric has helped her develop a career researching the importance of language diversity in the classroom and workplace. Knights Write Showcase brings forward and recognizes the many voices of the talented writers and faculty in our department.
DWR co-hosted international writers and speakers Kal Penn and Jeff Nussbaum. The department partnered with the UCF India Center and UCF Global to welcome author, director and actor Kal Penn to campus. Speechwriter and author Jeff Nussbaum spoke with writing students about his career and new book, Undelivered. Finally, we were thrilled to celebrate our colleague Adele Richardson, who was awarded the UCF advising award, and the many students who graduated with degrees in writing this year.
DWR faculty use their research to inspire their students in their classrooms to reach beyond students' preconceived notions about academia and the world in which they live.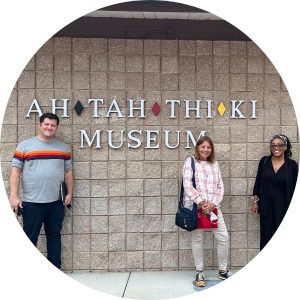 This year, two of our faculty scholars worked with the archival holdings of the Ah-Tah-Thi-Ki Museum located on the Big Cypress Reservation of the Seminole Tribe of Florida. This community-based project, in a reciprocal partnership between the Department of Writing and Rhetoric and the museum, aims to improve the historical accuracy of mid-20th century newspapers recordings of the Seminole Tribe of Florida and the Miccosukee Tribe of Indians of Florida in South and Central Florida. The research highlights the vibrant and joyous Indigenous communities in Florida. Now in its second year, this donor-driven research is funded by the Sam and Virginia Patz foundation, which is spearheaded by Monica and Chet King.
To address the continuing conversations across campus about Artificial Intelligence and its academic impact, the Writing Across the Curriculum (WAC) program launched a series of faculty workshops in the spring of 2023 that featured teaching, researching and learning with tools such as ChatGPT. The WAC program supported UCF Celebrates the Arts through inviting guest speaker, Emily Legg, a Cherokee Nation citizen and assistant professor of intercultural rhetoric at Miami University in Ohio, who spoke about how Indigenous storytelling becomes a way to reflect on writing practices and artifacts. Our University Writing Center visited over 100 courses and offered nearly 4,200 student consultations, a 22% increase over the previous year. UWC offers workshops on topics that strengthen Knights writers. The UWC is a vital resource for writers across campus and now offers graduate writing groups.
The Department of Writing and Rhetoric's mission is to help students receive a comprehensive education in writing and rhetoric that enables them to communicate effectively, persuasively and ethically across a range of civic, professional and educational contexts. One UCF alumna generously donated to the department; funds are being used to support student scholarships. We welcome the opportunity to support students at UCF, alumni and members of the greater Orlando community. Go Knights! Write On!
— Sherry Rankins-Robertson, chair