Carl Beers believes in making an investment in Orlando and UCF students – himself. The Central Florida architect has been a regular visitor to one of UCF's architecture classes for the past five summers. The class, entitled "In the Space of Health and Wellness," is one that Beers is uniquely qualified to lead.
Beers, a principal with HKS Health and the Florida Health Group Practice Leader at HKS Architects, Inc., says his firm works on large and complex projects: stadiums, office buildings, performing art centers and more. However, health and wellness has always been a personal focus for him: "Because it's spiritual. Churches, long-term care facilities, hospitals, places that are center to the core of what we are about as humans."
Beers provides UCF architecture students a semester-long masterclass on where healthcare architecture has been and where it is going. "He has a wealth of information to share. He's at class every day," says Allen Watters, director of the architecture program. "He's helping students understand that healthcare spaces are not just hospitals—they're doctor's offices, clinics, drugstores, spaces around and outside these buildings—and to help them think broadly and holistically."
"It's very gratifying," Beers chuckles. The most gratifying part of the partnership, he says, is the ability to help inspire the next generation of design and nurture new talent, who are often offered positions at HKS upon graduation. Beers also loves sharing the culture and ethos of HKS, a forward-looking firm, and the opportunity for HKS to be a learning organization. "We call it 'sharpening the sword': it makes us sharper and it reminds us of the passion and why we got into architecture," Beers reflects. Linking a world-renowned firm to an academic program teaches students not only the foundations, thought process, and aesthetics of architecture needed to make the world a better place, but how to do it.
Both Watters and Beers agree that examining healthcare facilities is one of the best ways for students to learn. These facilities combine construction requirements and codes found in every building imaginable – hospitals are hotels, medical offices, restaurants, and more combined into one complex. Added to that is the fact that metrics and new research create opportunities for innovation in these spaces. The healthcare needs are ever changing, and Watters and Beers believe architecture plays a large role in responding to those needs.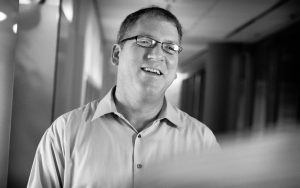 The Health and Wellness course is hands on, and includes drawing, digital work and model-building. Course topics include healthy eating, exercise, integrating existing facilities into urban fabric and field trips to hospitals under construction, all aimed at answering the questions, what is in the space of health and wellness? What is a space that could help patients heal? Students in the course understand that "healthcare isn't just about big hospitals. It is an expanding field of architecture that deals with all facets of life."
One former student from the program, Savannah Heipp, is currently an architectural intern at HKS in Orlando. She already held a personal interest in healthcare architecture before taking the course, but soon felt the course become an important asset to her curriculum in two ways: first, being a specialty course, the chance to delve into an area usually left untouched by regular curricula; and second, Beers' presence in the classroom. "The one thing that set this class apart was having a helpful leader in the healthcare industry teaching the class. The first-hand knowledge and 'real-world' approach Carl provided, along with the amount of passion, knowledge and excitement he brought to the class definitely impacted me personally and drove me to focus strictly on this field of study," she says. "Today, I work at HKS in the healthcare department with Carl. Having him as my day-to-day mentor is an incredible asset that would not have been possible without, first, connecting with him through UCF."
Beers reflects on his dedication to healthcare architecture: "We have the ability to influence life experiences, which is what I love about working in health. I want to make that space as positive and uplifting to them as I can." Studies have shown that more comfortable and artistically-focused patient rooms lead to lower cortisol levels, requests for pain medication, blood pressure reports of pain. Beers and Watters ensure the students understand this balance. "Architecture and design does have an impact on us that we don't often realize." He feels the ability to shape these environments is powerful and passes on that trust to the students. "You're creating a space that is artful for everyone, which is like paying it forward to society."
"A strength of the UCF architecture program," says Watters, "is we have such a vibrant professional community who are eager and willing to give back, like Carl, and these professionals giving back to new designers is going to make the profession stronger."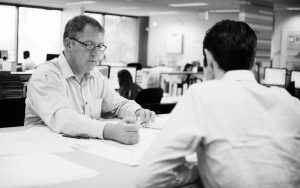 "In the last five years, at least one student per year has gone on to intern at HKS, and one alumnus has gone on to work there," Watters comments. By the time students get to their senior year, the firm is very familiar with their strengths and helps identify opportunities for them.
Many graduates of the architecture program are now working on large-scale projects with HKS, because of their experience and partnership from the healthcare course. One such graduate the duo speaks of with admiration: Philip Lantry '15. "He's an extraordinary, extremely disciplined guy," Beers nods. Lantry was the third person in the United States licensed under a new program for licensure beginning in graduate school, with the preceding two graduates also from UCF.  "They were honored at the AIA Conference because they're pioneers. And that all came out of UCF," Beers says. Watters agrees: "We gave them the foundations at Valencia and UCF to spring forward."
Beers feels it is highly valuable and mutually beneficial to invest his time in UCF students and develop their talent. An altruistic approach, Beers is happy to help new designers embark on their careers: "One of the things I try to do, besides imparting knowledge, is show them that someone can still be in love with architecture and enthusiastic about it even after years of doing it."
The UCF Architecture program is a 2+2+2 program, with Valencia College and the University of Florida. Students travel, take classes and are provided internship opportunities. To learn more about the Bachelor of Design in Architecture program, visit svad.cah.ucf.edu/program/architecture.