Location: UCF Art Gallery
Specters of Capital: An Exploration in Architecture and Identity explores architectural structures as both repositories and as vehicles for memory and provide a framework through which culture and identity can be expressed. The work does not act merely as a method of documentation, but a sociopolitical/socioeconomic commentary on the effects of avarice, outsourcing, deregulation, neoliberalism, obsolescence, and international finance capital upon communities throughout the world. Within the realm of Jacques Derrida's theory of Hauntology, the paintings speak of the slow disintegration of the future, and the abysmal fragmentation of the past.
Join us on Thursday, June 13 from 5 – 7 p.m. for the Opening Reception and an Artist Talk at 6 p.m.
This event is free and open to the public. Please click HERE to RSVP!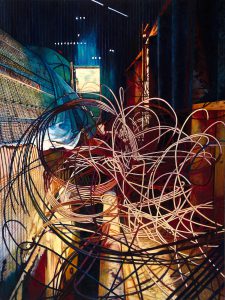 Rhizome by Morgan Craig, Oil on Linen, 72" x 54", 2018
Morgan Craig has exhibited throughout the U.S.A. Canada, Europe, and Australia, including SPACES in Cleveland, the Delaware Center for Contemporary Arts and the Australian National University. Craig has received numerous awards including, the Pollock-Krasner Foundation Grant (2009, 2019), the Elizabeth Greenshields Foundation Grant (2007, 2011), and the Pennsylvania Council on the Arts Fellowship (2006, 2008). He has also been invited to several residencies including, Cite Internationale des Arts, the Macdowell Colony, UCross, Proekt Fabrika in Moscow, and Red Gate in Beijing. Selections from his oeuvre were recently featured in several solo exhibitions, including Western Illinois, Vanderbilt, and Salisbury Universities. Upcoming solo exhibitions are scheduled for the Colorado State University, and Binghamton University. This summer, he will participate in residencies at Paul Artspace, St. Louis, MO., the Resident Artist Program in Silver City, NV., and the Munandi Art Space in Lusaka, Zambia.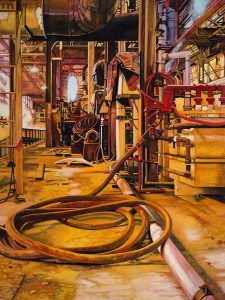 Ouroboros by Morgan Craig, Oil on Linen, 72" x 54", 2013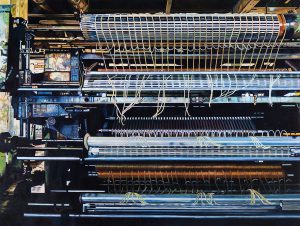 What Is It That We Have Weft? by Morgan Craig, Oil on Linen, 54" x 72", 2016