Location: UCF Art Gallery
Opening Reception:
March 3
 5:00 pm
DO IT is a group exhibition of works produced by students and faculty according to instructional procedures written by some of the greatest figures in contemporary art.
"Art is something that you encounter and you know it's in a different kind of space from the rest of your life, but is directly connected to it."
Do It! Exhibition Installation View:
Originally curated by Hans Ulrich Obrist, Do It began in Paris in 1993 as a conversation between Obrist and Christian Boltanski and Bertrand Lavier. Interested in creating more flexible and open-ended exhibition formats, Obrist invited 12 artists to send instructions for art pieces, which could be interpreted anew every time they were enacted. Now 22 years later after the initial conversation took place, Do It has been featured in 50 different locations worldwide.
Do It draws from Conceptual and Minimalist art of the 1960s and 1970s as well as Fluxus practices. Each do it exhibition is site-specific because it engages the local community in a dialogue that responds to and adds a new set of instructions, while it remains global in the scope of its ever-expanding repertoire. The generative and accumulative aspects of Do It's ongoing presentation is less concerned with notions of the materiality of the artworks than with revealing the nuances of human interpretation in its various permutations and iterations.
The UCF Art Gallery invites students, staff, and faculty to experience Do It.  Stop by the Gallery between February 23 and March 4 for instructions or to participate in any of a number of pieces across campus.
Do It was conceived and curated by Hans Ulrich Obrist. For the University of Central Florida version of the exhibition, students and faculty in the will come together to build an exhibition from scratch over the course of two weeks, following directions from world-renowned artists including Yoko Ono, Sol Lewitt, Louise Bourgeois, and Felix Gonzalez-Torres.
---
Please join us at the Opening Reception for refreshments and live music:
Acoustic Beach will perform, a three piece original and cover music band from Orlando, Florida.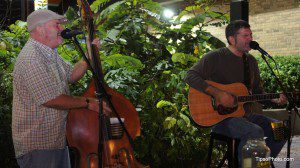 Performers:
John Lazar– Guitar and vocals
Kevin Meehan– Bass and Vocals
Harley Smith– Drums and Vocal