Location: Center for Emerging Media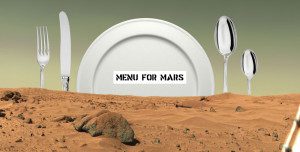 Artist talk—on satellites, space junk and Martian cuisine
Time: 5:00 pm
Open to the public
Heidi Neilson
has been engaged with envisioning outer space from our vantage point here on Earth. Among other works, she'll present projects involving direct research through temporary public installations, such as Ground Station, where she receives satellite transmissions through HAM radio, and the Menu for Mars Kitchen. The Kitchen, stocked with dried, powdered, thermostabilized, and dehydrated Mars-feasible ingredients, was inflated as a temporary experimental test site where meals were developed for future Mars colonists. Heidi will report on the resulting Mars dishes as well as other findings.
---
 Heidi Neilson addresses topics such as weather and the cultural landscape of outer space. Her work, often collaborative and publishing-based, has been supported by the Art Matters Foundation, the Bronx Museum of the Arts, the Center for Book Arts, the College Book Art Association, The Drawing Center, Flux Factory, the International Print Center New York, the Islip Art Museum, the Lower Manhattan Cultural Council, the Lower East Side Printshop, Provisions Library, Visual Studies Workshop, and Women's Studio Workshop. Neilson is a 2015 fellow in Interdisciplinary Work from the New York Foundation for the Arts and her work is included in over 60 museum and university collections.
---
In 2007 Neilson and Natalie Campbell co-founded SP Weather Station, which was Featured Artist Project at the Center for Book Arts (2014), participated in the Queens International 4 at the Queens Museum of Art (2009), and was awarded an NYC Department of Cultural Affairs Greater New York Arts Development Fund Grant through the Queens Council on the Arts (2010). In 2015 Neilson and Douglas Paulson co-organized the Menu for Mars Kitchen at The Boiler-Pierogi in Brooklyn to taste-test the future of cuisine on Mars.
Born in Oregon, Neilson received a BA in biology from Reed College and an MFA in painting from Pratt Institute.