Location: UCF Art Gallery
A Re-staging of the 1889 Paris World Fair!
Tuesday, November 17th
11:30 a.m. – 12:50 p.m.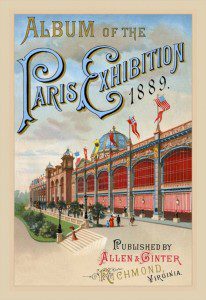 Join us in the UCF Art Gallery for a re-staging of the 1889 Paris World Fair. Come meet Bouguereau, Seurat, Gauguin, Cézanne, Van Gogh, the Impressionists, and many others from Dr. Keri Watson's 19th Century Art History Course.  Enjoy French inspired refreshments while experiencing the first Reacting to the Past (RTTP) game ever played at the University of Central Florida.
This game considers the question: What is Art? Students debate principles of artistic design in the context of the revolutionary changes that began shaking the French art world in 1888-89. Come see images from the 1889 Paris Salon and Edison's original film of the Fair, including rare footage of Oscar Wilde. Students have been role-playing characters, including artists, dealers, critics, and buyers, who were active in Paris in 1888 and 1889. This was a tumultuous period for French art. Students have been reading primary sources and studying the artwork that forms the basis of their positions. In addition to these visual texts, students have been reading art criticism from the period, which helped them to form the basis of their own presentations in favor of one art style over another.  These discussions are complicated and enriched by secondary debates over the economics of art, the rise of independent art dealers, and the government's role as a patron of the arts. Click here for more information on the Reacting pedagogy and its use in art history.
Follow the game on Twitter #rttp4430 @watson74k
Free and open to the public!