Location: UCF Art Gallery
Panel Discussion:
March 16, 2015 2:30-5:00 pm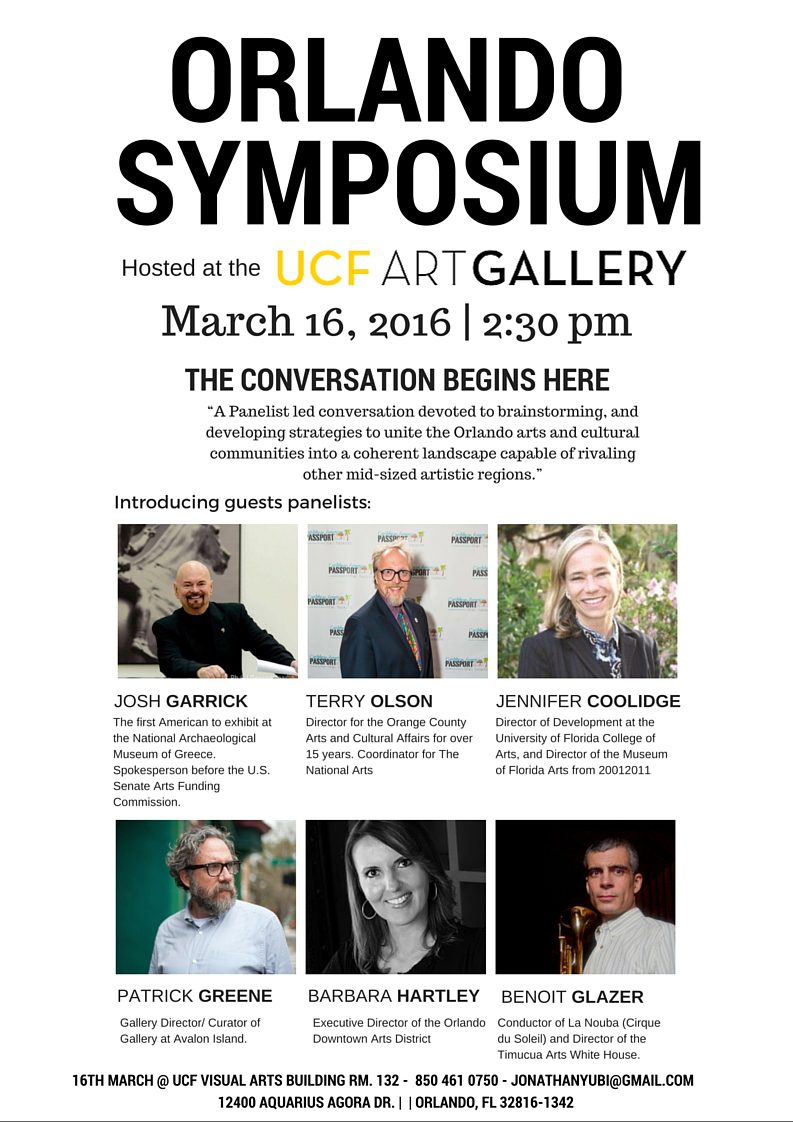 Purpose:
An artistic and culturally dedicated think tank devoted to brainstorm, and develop strategies to unite the fragmented arts and cultural communities in Orlando into a unified landscape capable of rivaling other mid-sized artistic meccas.
The panel discussion will begin with the moderator asking the panelists a series of questions. And then opening the floor to the audience for a short Q&A with the panelists.
The event will then move into the foyer with refreshments and a chance for audience members and panelists to connect.
The Event ends in time for the opening reception of the MFA Thesis exhibition
Event Sponsor:
Henao Contemporary Center
Jonathan Yubi
Marketing Project Manager, Henao Contemporary Center
Event Host:
University of Central Florida Art Gallery
Advisory Board:
Jose Henao. Director of Henao Contemporary Center.
Yulia Tikhonova. Director of UCF Art Gallery.
Panelists:
Barbara Hartley. Director of Downtown Arts District.
Josh Garrick. Curator of Henao Contemporary Center.
Patrick Greene. Curator of Gallery at Avalon Island.
Terry Olson. Orange County Director of Arts and Cultural Affairs.
Jennifer Coolidge. Director of Development. University of Florida College of Arts.
Moderator:
Richard Muenster.
Timeline:
2:30 Panelist Arrive at UCF
2:45 Panelist get situated in the VAB 132 Auditorium
3:00 Symposium begins in Auditorium
3:45 Moderator opens the floor for Q&A for Audience
4:15 Audience released for refreshments and UCF Art Gallery tour.
5:00 Opening of M.F.A Thesis Exhibition