Location: Orlando Science Center
UCF School of Visual Arts and Design SPONSORED ART EXHIBITION:
OTRONICON 2016
Exhibition Dates: January 14 – March 26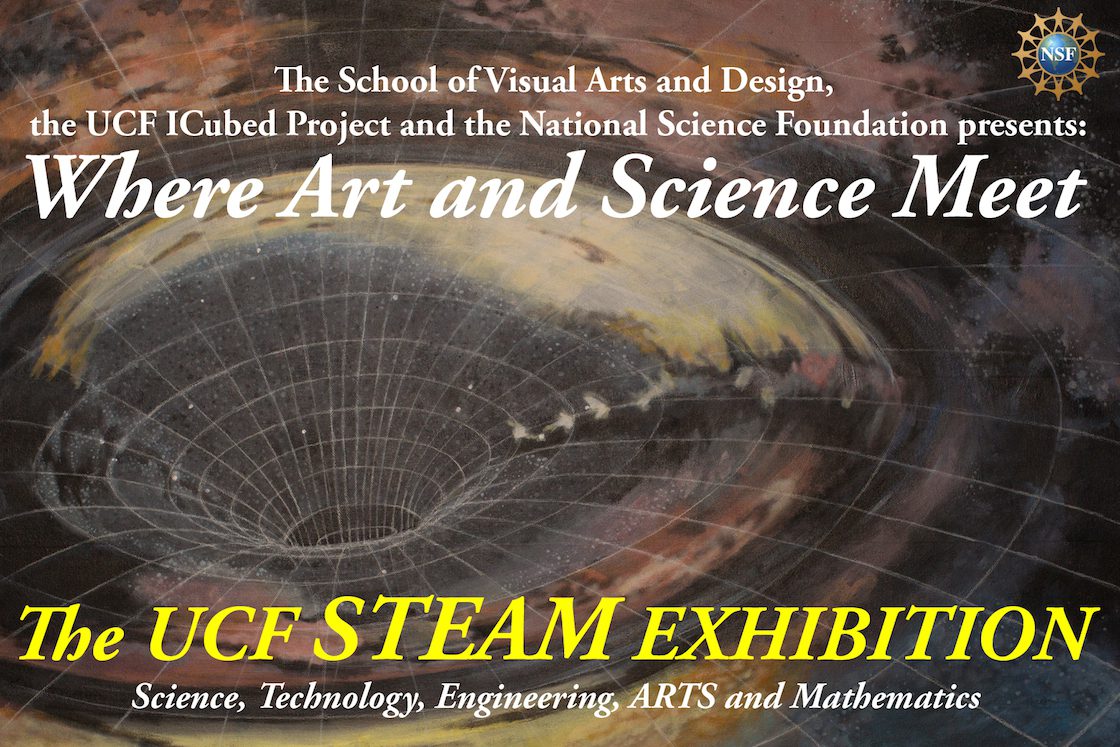 EVENT INFORMATION:
UCF School of Visual Art
is pleased to present the first ever exhibition at the Orlando Science Center, an ongoing collaboration which will produce rotating exhibitions on the third floor mezzanine of the Center annually.  The
UCF STEAM Exhibition
is currently on view and proud to be a part of the 2016
OTRONICON
Festival January 15th-18th.
Otronicon is a celebration of interactive technology that takes place each January at Orlando Science Center. It offers a glimpse into the future and a demonstration of how interactive technology will impact how we work, learn and play. At Otronicon, guests walk on the cutting edge through state of the art video games, digital media, digital art, and workshops – not to mention military and medical simulators typically not available to the public.
The 2016 UCF STEAM Exhibition presents paintings, drawings, photographs and 3D artworks created by UCF fine arts students and UCF CREATE elementary students in visual response to STEM topics.
The exhibition includes futuristic visualizations, illustrations of current research and compelling artworks that both celebrate and question the social, cultural and political opportunities and ramifications of technological advancements in the science disciplines.
The show offers new visual evidence to the Orlando Regional Public that "A" should be added to the current worldwide emphasis on STEM teaching to create STEAM – Science, Technology, Engineering, ARTS and Mathematics.
"The knowledge, skills, attitudes and behavior students acquire from studying the arts have been identified by the Partnership for 21st Century Skills and other organizations as the skills needed to be successful in the global economy.  These skills include creativity and innovation; critical thinking and problem solving; communication and collaboration; flexibility and adaptability; and social and cross-cultural skills".  (Ohio Alliance for Arts Education)
The UCF STEAM Exhibition is sponsored by the UCF ICubed Project.  ICubed is a National Science Foundation funded project. ICubed's mission is to encourage new and increased STEM research and education activities at UCF and to effectively communicate STEM research to UCF's stakeholders. The STEAM Exhibition is one of the ways to communicate UCF STEM research to UCF's stakeholders.
---
ABOUT UCF's ICubed STEAM Project:
One of the objectives of ICubed is to inform the UCF Community about scientific and engineering concepts. The project is accomplishing this objective by funding the STEAM Gallery  which is an activity that encourages STEM faculty and their students to collaborate with Art and Design faculty and their students to create STEM inspired artworks (sculptures, paintings, drawings and posters).
ICubed is successfully integrating STEAM activities into existing Art and Design courses. Select artworks from these efforts are preserved by the ICubed project for a travelling exhibitions at:
http://www.icubed.ucf.edu/STEAM.aspx