Location: UCF Art Gallery
Free and Open to the Public
---
New York based interdisciplinary artist and curator, Katya Grokhovsky's work deals with issues of alienation, gender politics and migration, through thecombination of performance, sculpture, installation, video, photography, painting and drawing. She will discuss her art practice and her ongoing project "Status Update", which will be performed live during Art in Odd Places Festival, Orlando from 17th-20th September 2015.
---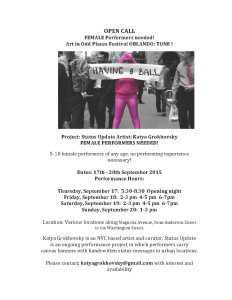 OPEN CALL TO ARTISTS
BIO

Katya Grokhovsky holds an MFA from the School of the Art Institute of Chicago (2011), a BFA from Victorian College of the Arts, Australia (2007) and is a recipient of numerous fellowships, residencies and awards including SOHO20 Chelsea Gallery Residency (2015), BRIC Media Arts Fellowship (2015), VOX Populi AUX Curatorial Fellowship in Performance, Philadelphia (2015), New York Studio Residency Program Visiting Artist (2015), Residency Unlimited (2014), Kimmel Harding Nelson Center for the Arts, (2014), Saltonstall Foundation for the Arts (2013), NARS Residency (2013), Santa Fe Art Institute Residency (2012), Watermill Center Summer Residency (2011), Dame Joan Sutherland Fund Grant (2013), Australia Council for the Arts ArtStart Grant (2013), NYFA Mentoring Program for Immigrant Artists (2012), Chashama space to create grant (2012). Her work has been exhibited in venues such as Lesley Heller Workspace (2015), Judith Charles Gallery (2015), Dixon Place (2015), Spring Break Art /Show (2015), EFA Project Space (2014), HERE Arts Center (2014), Art in Odd Places NYC (2014), SAW – Storefront Art Walk Bay Ridge (2014), Gateway Project (2014), A.I.R Gallery Projects, Governor's Island (2014), Amelie A. Wallace Gallery, SUNY College (2014), Panoply Performance Lab (2014), New York City Center Lobby Projects (2013), Galerie Protege NYC (2013/14), IDEAS City, New Museum (2013), Gallery Affero (2013), Movement Research Festival (2012), Chashama (2012), Ukrainian Institute of America (2012), Grace Exhibition Space (2012-14), The Franklin (2013), Antena gallery (2013), Defibrillator gallery (2011/13), Bus Projects (2012), Heaven gallery (2010), amongst many others.