Keeping it Current in the OC: LIVE Art Happening, Student Night, OC Art Legends Exhibition, and OC Homeless Advocacy!!
Thursday, September 10, 2015; 5:00pm – 8:00pm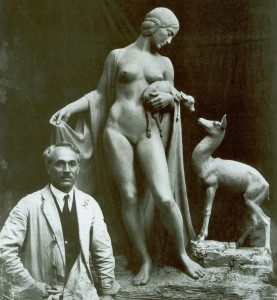 Skip the hassle of downtown and try something new at the Polasek after-business hours as we celebrate all things current that are happening in the OC! Join us for our Orange County awareness night on Thursday, September 10, 2015 from 5-8pm where art and community issues combine. Check out our Hal McIntosh exhibit and learn about an Orange County Art Legend. A retrospective 60 years in the making, but so shockingly fresh!
Meet California graffiti artist, Skid Robot, whose groundbreaking work illustrates the dreams of the homeless of L.A.'s infamous "Skid Row". His art empowers those without a voice as he illustrates their personal stories. Now Skid Robot turns his advocacy eye to the homeless population of our local OC, FL. and will be creating a graffiti installation LIVE throughout the eventing. See his creative process unfold in our gorgeous sculpture gardens, ask this masked-artist your questions, and soak up his powerful message. Skid Robot's installation will be up through the month of September at the Polasek. This will be the first of four pieces of his art ever offered for sale. All proceeds from the sale of his art will be used for future homeless advocacy. At 6:30pm, local homeless advocate, Tom Rebman – known all over the county simply as "Homeless Teacher", sheds light on this relevant social issue; what are the real challenges facing our large homeless population in Orange County, what was his experience living as a homeless person, and what can we do to help now? His presentation will be staged in our newly opened historic Capen House. All donations collected the evening of will go directly towards helping the homeless of Orlando, throught the 501(c)3 nonprofit charity, Homeless and Hungry.
Part of our Student Night celebration we'll offer complimentary arts activities for all visitors. Make and take home a piece of wearable art inspired by the works of Hal McIntosh or Skid Robot, your choice! Have fun with your friends and create art while you mingle. If you're a student, learn about internship opportunities at the Polasek, with Curator, Rachel Frisby.
The Sculpture Gardens, Polasek Gallery, and Historic Capen house will be open special for this event, so it's the perfect time to discover what's happening in the O.C. while you experience all the Albin Polasek Museum has to offer!
Cover: $5.00 (Refreshments and cash bar)                                                                                                                                                         Students are FREE with valid student ID card!
Albin Polasek Museum & Sculpture Gardens                                                                                                                                                         633 Osceola Avenue, Winter Park, FL 32789