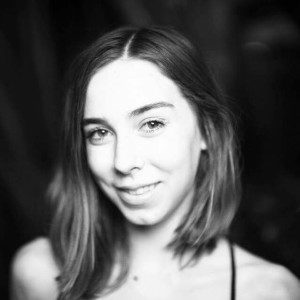 Halee Sommer has done so much for the gallery in her time with us. She has recently accepted a scholarship to attend UF in the fall to pursue her Master's Degree. We caught up with her to get the inside scoop:
---
G: So, your time at the UCF Art Gallery is coming to a close. What do you have planned for the future?
H: I am sad this time has arrived. I have been awarded a graduate assistantship to the University of Florida to pursue my Master's degree in Museology with a concentration in Curatorial Practices, so in August I will be moving to Gainesville seeking a new level of enlightenment. Before I can officially say good-bye, there are a few more projects I am working on. There will be some interesting things in the works over the next few months.
---
G: In what ways do you see the degree program you chose carrying over into your career?
H: I will be attending the University of Florida in their Museology (Museum Studies) Master's program with a concentration in Curatorial Practices. I see the skills I learn during the next two years to be crucial to my development as a curator. I am also greatly excited about meeting new artists and seeing Gainesville's arts community. I think the connections I will make in graduate school as well as the administrative technique I will foster will aid me as I pursue professional ventures in the future.
For more information on my degree program, check out UF Curatorial Degree Program
---
G: Has your job here at the UCF Art Gallery influenced you in choosing a focus for UF?
H: When I began as a Gallery Assistant at the UCF Art Gallery, I knew I wanted to pursue a Master's degree in curatorial work. I have spent a lot of time in Orlando volunteering my time at various galleries around town, most notably: Snap! Orlando, and I realized that nothing makes me happier than being in a creative and fast-paced environment. At the UCF Art Gallery, I learned a lot of skills that I will carry with me as I move forward with my education. I learned how to properly handle artwork and artifacts, manage our Permanent Collection and gain administrative skills that I will need as I move forward professionally.
---
G: What are some highlights from your time here? Any shows that stand out in your mind?
H: There have been some really amazing shows at the UCF Art Gallery during my time here. I feel so lucky to have been present during some key moments in its history. I have been present to see its walls completely change from gray carpeting to lovely white, Level 5 drywall. I have been here to see our new Director, Yulia Tikhonova, recharge and revitalize our gallery's programming. There have been some great changes made to the gallery since I began working here and while I'm sad to leave, I know the gallery has even more great things in store in the next few years.
---
G: What should we be on the lookout for from you? Any secret plans or projects we should know about?
H: There is always a secret project being planned! I have a running list of upcoming projects that are in the works, but they are all in my head. After Art in Odd Places there will be something happening involving the creator of the underground cultural blog, Always Nothing. Not to give too much away, but it will be a juried exhibition covering a pretty controversial topic happening in Orlando right now. That's all I can say about that for now, though.
Other than curatorial work, I'm planning on submitting research to a few conferences over the next few months. Keep your fingers crossed for me, please!
---
G: What comes next for Art Mobile? TakeOver?
H: This is such a tough question for me! In an ideal world, I would continue to do it all, work on my Master's degree and facilitate these programs. I will continue to work behind-the-scenes on both Art Mobile and Takeover, so please stay tuned-in to us on Facebook!
Art Mobile is planning on having a show during the next Third Thursday event and Takeover has a few things planned. We will have a fresh exhibition in July, and the artists are really spectacular (but I'm not going to give any secrets away just yet) Last month, our first ever Pitch & Patch was such a success that I would love to plan one more before my time in Orlando is up.
…Again, stay tuned. There is a lot that can happen in one month!
---
G: I heard that you and a few others were chosen to curate an Art In Odd Places (AIOP) showcase! Can you tell us more about that? When is it?
H: Art in Odd Places has been such a momentous force in Orlando the past few months. It seems everywhere I go, someone mentions it in conversation. The city as a whole is very excited about this opportunity. I think it's going to do great things to elevate Orlando's status as an arts mecca in America. We have amazing things happening here, and it's wonderful to see that we are starting to get some national recognition for it!
I am part of a team that got accepted to participate in this year's festival. We are comprised of three UCF SVAD Alums and one current UCF SVAD student. We are going to bring a lot to the table this year with our idea, Project Darkroom. We will be creating a donation-based community darkroom and will exhibit the artwork created during the festival on the last day. I hope that Project Darkroom will educate more people on the art of analog photography and help cultivate a new generation of film photographers.
Art in Odd Places is happening September 17-20 in Downtown Orlando. Art In Odd Places for more information.
---
G: Thank you for your hard work with us here at the Gallery, you will surely be missed. On behalf of the UCF Art Gallery and SVAD we wish you the best in all you do! Any last words, comments, or shout-outs?
H: Thank you so much! I feel so grateful for my time at UCF and I will treasure the memories made here. I will give a shout out to everyone at the Gallery, Yulia, Greyson, Michaela, and Nicole, for being such a great team to work with. One more shout-out to my mentor and friend, Ilenia, for all the support she's given me. I've had a wonderful learning experience during my time as a Gallery Assistant.