Presented in partnership with the Orlando Shakespeare Theater
Sponsored by Rita and John Lowndes, in honor of Dean José Fernández
Patrick Doyle will present his greatest works as the composer for Kenneth Branagh's Shakespeare movies (Hamlet, Much Ado About Nothing, Henry V and more).  Conducted by acclaimed maestro James Shearman (Brave, Thor, Harry Potter and the Goblet of Fire), the UCF Orchestra and choir will perform songs and underscores from the best scenes in the films with actors from Prague Shakespeare Company and Orlando Shakespeare Theater playing the parts. This program is presented as a part of "Shakespeare 400" a year-long, worldwide celebration of the life of Shakespeare, who died in 1616.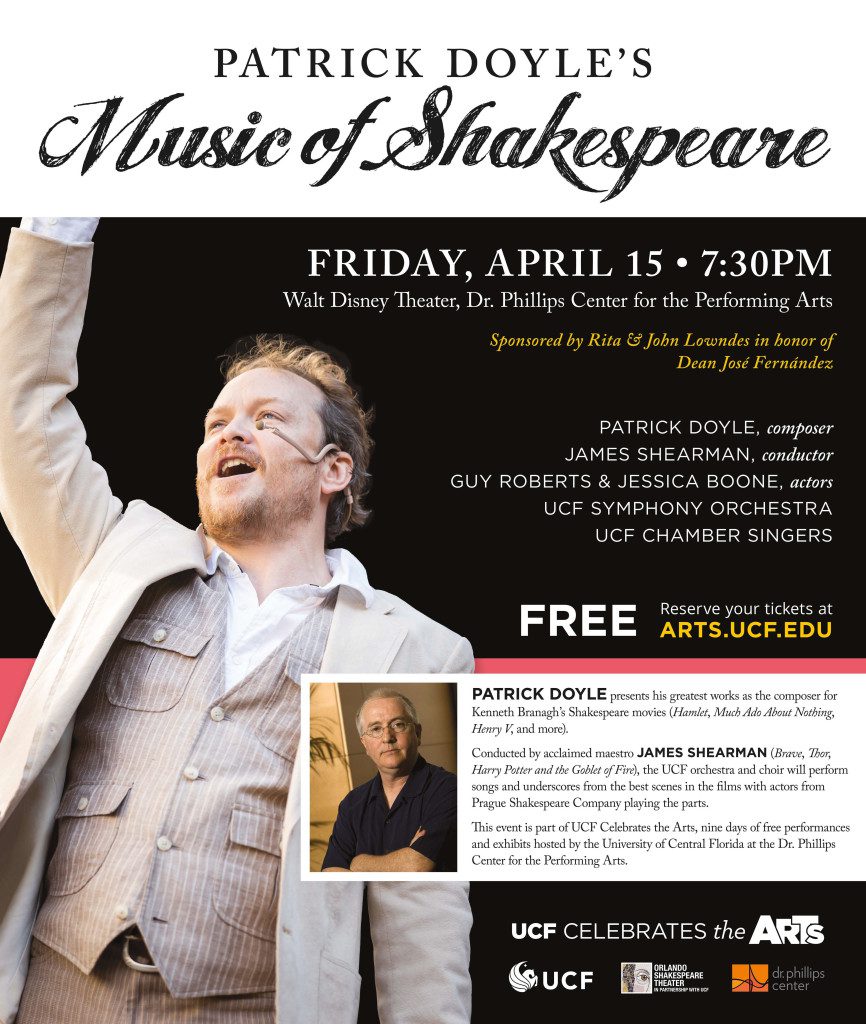 IN THE NEWS
"Patrick Doyle's Music of Shakespeare, will feature the music of composer and two-time Oscar nominee Doyle, who has served as the composer for Sir Kenneth Branagh's Shakespearean films, including Hamlet, Much Ado About Nothing and Henry V. The program will be presented Friday, April 15, at the Dr. Phillips Center for the Performing Arts under the baton of conductor James Shearman. While the musicians perform the songs and underscores from Doyle's cinematic scores, actors from the Prague Shakespeare…" (Read more.)
CREATIVE TEAM
Patrick Doyle, composer
James Shearman, conductor
Patrick Neil Doyle, music coordinator
Jim Helsinger (Orlando Shakespeare Theater) and Jeffrey Moore (UCF), producers
Guy Roberts, actor (Prague Shakespeare Company)
Jessica Boone, actor (Prague Shakespeare Company)
Dan Kremer, actor (Seattle, Utah, Oregon Shakespeare Festivals)
Blaine Edwards, actor (UCF MFA in Acting, grad. 2017)
Chung Park, director UCF Symphony Orchestra
David Brunner, director UCF Chamber Singers
Bert Scott, lighting designer
George Hamrah, stage manager
Kaja Curtis, photographer
Yun-Ling Hsu, rehearsal pianist
PROGRAM
ACT I
Selections from Much Ado About Nothing
The Picnic (Beatrice)
Overture
Patrick Doyle's Insights to Much Ado About Nothing
Pardon Goddess of the Night (with UCF Chamber Singers and solo voice)
Take Her Back Again
It Must Be Requited (Benedict)
Contempt Farewell (Beatrice)
Selections from Hamlet
Fanfare
In Pace (with UCF Chamber Singers)
Patrick Doyle's Insights to Hamlet
Now Could I Drink Hot Blood (Claudius & Hamlet duologue)
What Players Are They
Part Them They Are Incensed
Your Sister's Drowned (Gertrude & Laertes duologue)
My Thoughts Be Bloody (Hamlet)
Go Bid the Soldiers Shoot (Horatio & Fortinbras duologue with UCF Chamber Singers)
Intermission
ACT II
Selections from Love's Labour's Lost
Love's Labour's Lost
Patrick Doyle's Insights to Love's Labour's Lost
Beauty Of A Woman's Face (Berowne)
Cinetone News
Selections from As You Like It
Patrick Doyle's Insights to As You Like It
Blow Blow (Amien's song)
Violin Romance
A Lover & His Lass (with UCF Chamber Singers)
Selections from Henry V
Patrick Doyle's Insights to Henry V
Opening Title – O For a Muse Of Fire (Chorus speech)
Once More Unto The Breach (male speech – Henry V)
The Death Of Falstaff
St Crispin's Day (Henry V)
Non Nobis, Domine (with UCF Chamber Singers)
Finale
Strike Up Pipers (with UCF Chamber Singers & cast)
BIOGRAPHIES
Patrick Doyle (composer) is a classically trained composer. He graduated from the Royal Scottish Academy of Music in 1975 and was made a Fellow of the RSAM in 2001.
In 1989 director Sir Kenneth Branagh commissioned Patrick to compose the score for feature film Henry V, conducted by Sir Simon Rattle, and they have subsequently collaborated on numerous pictures, including Much Ado About Nothing, Hamlet, As You Like It and Cinderella. Patrick and Branagh's collaboration within film and theatre has continued to this day, with performances worldwide that include Branagh's 2015 production of The Winter's Tale which ran at the Garrick Theatre in London's West End.
Patrick has been commissioned to score over 50 international feature films, including Harry Potter and the Goblet of Fire, Gosford Park, Sense and Sensibility, Indochine, Carlito's Way and A Little Princess. His work has led to collaborations with some of the most acclaimed directors in the world, such as Regis Wargnier, Brian De Palma, Alfonso Cuaròn, Ang Lee, Chen Kaige, Mike Newell and Robert Altman.
Patrick has received two Oscar, two Golden Globe, one BAFTA and two Cesar nominations, as well as winning the 1989 Ivor Novello Award for Best Film Theme for Henry V. He has also been honoured with a Lifetime Achievement Award from The World Soundtrack Awards and Scottish BAFTA, the Henry Mancini Award from ASCAP and the PRS Award for Extraordinary Achievement in Music. +
In 2015 Patrick completed work on the music for Walt Disney's live action version of Cinderella, directed by Branagh and marking their eleventh film collaboration to date. Patrick also completed recording a solo piano album, made up of a collection of his film scores to date, which was released by Varese Sarabande in July 2015. Most recently, Patrick has completed the score the highly anticipated remake of Scottish classic 'Whisky Galore', set for release in 2016.

James Shearman (conductor) is widely recognized as a premier conductor and orchestrator who has contributed to over 70 film scores, from the critically acclaimed Gosford Park, Academy Award winning score Shakespeare in Love, Mansfield Park and the Classic BRIT Award nominated score The Other Boleyn Girl, to British and Hollywood blockbusters such as Bridget Jones's Diary, Lara Croft: Tomb Raider, Harry Potter and the Goblet of Fire, Nanny McPhee, Marvel's Thor, Pixar's Brave and more recently, Disney's Cinderella.
James studied composition and conducting at the Royal Academy of Music in London, where he won the Eric Coates prize for composition. Since graduating in 1996 he has orchestrated and/or conducted scores for many of Hollywood's Academy Award winning and/or nominated A-list composers including, Elliot Goldenthal, Mark Isham, Jan A.P. Kaczmarek, John Powell, Howard Shore, Hans Zimmer, and most notably, Patrick Doyle, with whom he has a particularly successful, long-standing and treasured collaboration.
In addition to a career in film music James is also increasingly popular in the concert hall conducting some of the world's leading symphony orchestras. As a conductor in the concert hall, James recently made his Royal Festival Hall début as guest conductor with the Philharmonia Orchestra.
In 2015 he was elected a Fellow of the Royal Academy of Music.