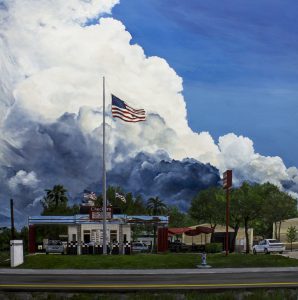 "Individual Theorem" is a showcase of individual works of art against a backdrop of contemporary concern. How do you remain yourself in an ever-growing society of deepening complexity and possibility? UCF's Emerging Media graduate students from the School of Visual Arts and Design show compelling answers.
This art exhibition is open March 15-April 14 off-site at the Gallery at Avalon Island.
Join us for an artist talk Saturday, April 14 at noon.
Gallery at Avalon Island
(6 min. walk from Dr. Phillips Center)
39 S. Magnolia Avenue
Orlando, FL 32801
Graduate Student Artists: Jason Fronczek, Nick Kalemba, Theresa Lucey, Diane Parks, Tim Reid, Marlenys Rojas-Reid, Chris Santos, Ericka Sobrack, Jacob Wan, Mauro Weiser
Acrylic painting by Ericka Sobrack