Generously supported by the Downtown Development Board
UCF's Flying Horse Big Band presents a historical musical perspective on iconic American composer, singer, musician and former Orlando resident Ray Charles. A spectacular lineup of special guests joins Jeff Rupert and the band for hit songs like "I Got a Woman," "Hit the Road, Jack" and other Charles classics.
A pre-performance talk with Jeff Rupert, led by UCF Faculty Member, William Ayers, will be held in the Tupperware Brands Hospitality Suite from 6-7 PM.
Flying Horse Big Band

Jeff Rupert, Director
Alto Saxophone: Declan Ward, Andy Garcia
Tenor Saxophone: Ryan Devlin, Dylan Hannan
Baritone Saxophone: Justin Dudley
Trombone: Jeremiah St. John, Christian Herrera, Jacob Henderson, Garrett Gauvin
Trumpet: Marco Rivera, Matt Pieper, Kaylie Genton, Randy Le
Piano: Collin Oliver and Carl Fleitz
Bass: Michael Santos
Guitar: Daniel Howard
Drum Set: Devon Costanza
The FLYING HORSE BIG BAND is one of the premiere performing ensembles of UCF Music. The band has appeared at the Montreux, Switzerland and the North Sea Jazz Festivals, as well as numerous festival and concert appearances domestically. The band has featured Randy Brecker, Bob Berg, Michael Mossman, James Moody, Nick Brignola, Harry Allen, Steve Turre, Rodney Holmes, Terry Gibbs, Marvin Stamm, Mulgrew Miller, John Swana, Kevin Mahogany, Lou Donaldson and Eric Alexander with the band. In 2005 the Flying Horse Big Band premiered Sam Rivers' work for double big band, with Rivers' RIVBEA orchestra. The group has had five recordings on the national jazz charts: Jazz Town, The Blues is Alright, Into the Mystic, Big Man on Campus, and The Bat Swings! Former members of the band include musicians now performing on television shows in Los Angeles, New York and Nashville, while several others are professors at universities around the country. The Flying Horse Big Band recordings can be found at flyinghorserecords.com.
The Jazz Professors
Saxophone: Jeff Rupert
Piano: Per Danielsson
Guitar: Bobby Koelble
Bass: Richard Drexler
Drums: Marty Morell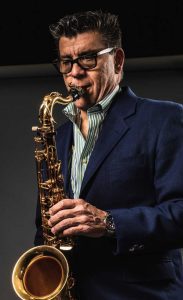 JEFF RUPERT's nine recordings as a leader all charted on Jazz Week. Do That Again! was #39 out of the top 100 jazz albums of 2014, and En Plein Air: The Jazz Professors play Monet charted on Jazz Week
to #29. Rupert's latest release Let's Sail Away with Veronica Swift, Richard Drexler and Marty Morell
was #1 on the jazz charts. Rupert is a Pegasus Distinguished Professor, Trustee Endowed Chair,
and Director of Jazz Studies at the University of Central Florida (UCF), and founder of Flying Horse
Records, for which he has produced four big band albums for the Flying Horse Big Band, all featuring original compositions and arrangements. His latest release as director of UCF's Flying Horse Big Band
is The Bat Swings!, music from the 60's T.V Show, Batman. The Album charted on Roots Music Report, JazzWeek, and North American College & Community Radio, and was the #1 album of the week in the
U.S. on two of those charts, simultaneously. This past fall Rupert's second duo album R & D with pianist Richard Drexler was released and another is due out fall 2019 with tenor saxophone virtuoso George Garzone.
Guest Artists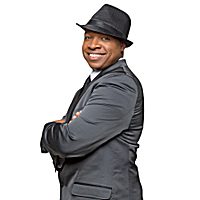 Khristian Dentley
Khristian Dentley is the baritone for the singing group Take 6. The group was formed in 1980 and Dentley joined the group in 2011. During their career the group has sold millions of recordings
and has won countless awards including ten Grammy Awards. The group has been active in music
advocacy programs, such as those funded or created by NAMM.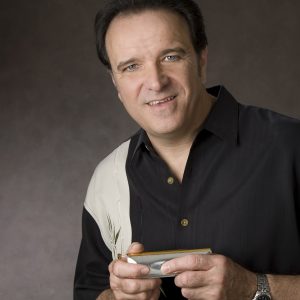 Rob Paparozzi
New Jersey-based frontman, singer and harmonica player Rob Paparozzi has been a blues performer since 1967. But he's far from being strictly a blues musician. In fact, he's at home playing a wide range of music, ranging from rock to blues to jazz to pop and country. This versatility is reflected in the long and remarkably diverse list of major artists Paparozzi has worked with, including B.B. King, Dr. John, Bruce Springsteen, Whitney Houston, Carole King, Roberta Flack, Culture Club, Cyndi Lauper, Randy Newman, Jimmy McGriff, James Galway, Dolly Parton & George Jones. Paparozzi has been touring the world with the "Original Blues Brothers Band", featuring guitar legend Steve Cropper and Saxman Blu Lou Marini 2000-to present. robpaparozzi.com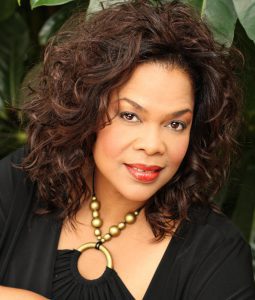 DaVonda Simmons
A multifaceted entertainer, DaVonda Simmons has captivated audiences with her unique style of Jazz, Rhythm & Blues, Classical, and Broadway genres for more than 25 years. She honed her skills and received her Bachelor of Music from Florida International University in Miami, Florida. Simmons
has headlined in some of Florida's hottest entertainment venues including the Fontainebleau Hilton Hotel, the famous Forge Restaurant, O'Hara's Jazz Club and more. She has appeared as a principal performer and special guest artist for Walt Disney Entertainment for more than 20 years. Ms. Simmons' received rave reviews for her one woman cabaret, as well as musical theatre performances with principal roles in shows such as Dream Girls, Sweet Charity, The Wiz, The Festival Of The Lion King
and Menopause the Musical.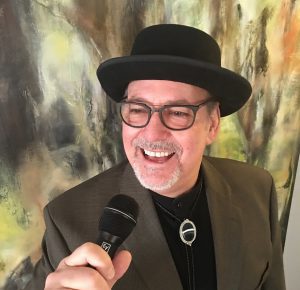 Vance Villastrigo
Villastrigo sings, swings and rocks the house wherever he performs. Villastrigo has been performing professionally since the age of 15, playing piano and singing in studios, jazz clubs, piano bars, cabaret and rock & roll shows. Born and raised in San Antonio Texas, Villastrigo has played with many great artists including, Clifford Scott, Clark Terry, Odette, Billy Taylor, Dexter Gordon, Betty Carter, Rufus Reed and Blood, Sweat and Tears. You might catch Villastrigo with the Jazz Lobsters, His Dueling Pianos show or one of his own bands V-Squared or Vance's Mood. He is a frequent guest of
the University of Central Florida's Jazz Ensemble and performed on their recently recorded Jazz Town. CD.