Department website
Active Students
(as of April 2022)
Undergrad majors: 85
Undergrad minors: 78
Undergrad certificates: 18
Graduate students: 28
Graduate certificates: 30
2021-22 Student Credit Hours:
24,580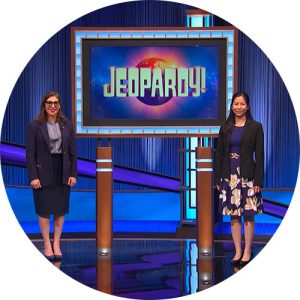 Mariana Chao '07 '14MA on Jeopardy
The 2021-22 academic year offered thrilling accomplishments for students, faculty and staff in the Department of Writing and Rhetoric (DWR).
Faculty members Nikolas Gardiakos and Meeghan Faulconer launched the department's first podcast, Discussions on Writing and Rhetoric Podcast. The podcast, which released six episodes this year, highlights working and learning in the DWR. We were elated for colleague Mariana Chao, University Writing Center Coordinator, who realized a lifelong dream by appearing on a spring 2022 episode of Jeopardy.
Chris Hixon, '21 MA, is using his writing and persuasive skills in his new role as Director of Advancement for the College of Arts and Humanities at UCF. Honors College scholar and BA '22 Lindsey Wright presented her research "The Sound of Identity: Audios and Hashtags as Nexuses of Practice on TikTok" at Posters on the Hill in Washington D.C. Wright will pursue a graduate degree at North Carolina State in the fall.
In further student activity, the UCF Chapter of Pi Epsilon Pi, the national honor society for undergraduate students in writing studies, inducted six new members at the Spring 2022 departmental graduation ceremony, and McNair scholars across the disciplines, under the instruction of Laurie Pinkert in ENC 3473, received over $500,000 in graduate fellowship funding from national organizations such a Fulbright, National Science Foundation, and the National GEM Consortium.
Faculty members brought in approximately $170,000 in grant and research awards this academic year. Jeremy Carnes, Jamila Kareem and Sherry Rankins-Robertson secured external grants totaling $50,000 that funded a celebration of Indigenous writers, works and communities. Blake Scott and Nathan Holic won a 2022 Pabst Steinmetz Foundation Arts and Wellness Grant of $25,000 for their research project "Strengthening Hospital Nurses' Mental Health Resilience Through a Peer Support Training Program Using Comic Testimonials." Four faculty members in the department collectively secured $95,000 of interdisciplinary, cross-campus internal seed funding for exploratory research. Angela Rounsaville and Joel Schneier partnered with colleagues in the College of Community Innovation and Education and the College of Nursing on research that focuses on self-regulated writing processes of students. Blake Scott and Nathan Holic, with colleagues in the College of Nursing and the College of Science, were awarded funds to advance their research on mental health resilience for nurses.
The scholarly accomplishments of DWR faculty members continue to bring national attention to the College of Arts and Humanities and UCF… [and] faculty were acknowledged on campus for their excellence in teaching and institutional service.
The scholarly accomplishments of DWR faculty members continue to bring national attention to the College of Arts and Humanities and UCF. DWR faculty published more than 30 peer-reviewed scholarly articles and book chapters. Faculty members presented more than 25 professional presentations at local, regional, national and international conferences. Six faculty members served as editors, co-editors and/or copyeditors for professional journals along with ten who served as proposal and/or manuscript reviewers for various publication venues. Some research highlights include: Sonia Arellano won the 2022 CCCC Richard Braddock Award for her work "Sexual Violences Traveling to El Norte: An Example of Quilting as Method." For his editorship of Rhetoric of Health and Medicine, Blake Scott was awarded Best of the Journals in Rhetoric and Composition by Parlor Press. Jamila Kareem was a featured speaker alongside writer Kiese Laymon and scholar Chanda Prescod-Weinstein in "CRT: A Critical Conversation about Race and History." President of LGBTQ+ History Museum of Central Florida and poet Martha Brenckle was one of three finalists for Orlando's Poet Laureate; won third place in the Writer's Digest Annual Poetry Award for her work, "The Curies at Home," and was a finalist for the Fish Publishing 2022 Short Story Contest. Laurie Pinkert was awarded the Association of Writing Across the Curriculum research initiative grant to support "Sobre Escrituro – a Hispanic Writers Thread." Three DWR faculty members traveled to Ireland in July of 2022 to represent UCF at IEE Pro Comm, an international professional communication conference.
Faculty were acknowledged on campus for their excellence in teaching and institutional service. The department's Diversity, Equity and Inclusion Committee recognized scientific rhetorician Thomas Wright with the 2022 Excellence of Equity in Teaching Award. His teaching award carried a research grant, which provided him the opportunity to travel to MIT to research scientist Michael Faraday's notes from the 19th century. Featured at the 2022 Founder's Day, Brandy Dieterle won the College of Arts and Humanities Teaching Award for Excellence in Undergraduate Teaching, and Blake Scott was celebrated for his 20 years of service at UCF.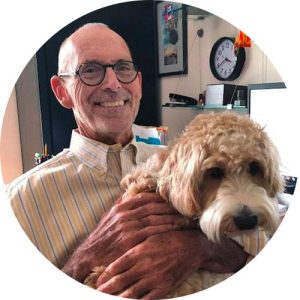 Rick Schell, Prof. Emeritus
Two faculty members retired from the department. Scott "Rick" Schell was awarded professor emeritus upon retirement in December of 2021 after a 52-year career in higher education. Schell came to UCF in 1987 and served in various leadership roles—most notably his decade-long service as Vice President and Chief of Staff. Professor Schell continues his service to the community of Orlando through his work as President of Orlando Shakes and board member for the Holocaust Memorial Resource and Education Center. Marcy Galbreath retired from the department after nearly a decade of exemplary student engagement in the classroom and in her role as academic advisor. Galbreath said, "Teaching was a career change for me, and it has been a life changing experience; I only wonder that it took me so long to find what is the most rewarding work I have ever done."
The department welcomed its first postdoctoral scholar to its faculty. Jeremy Carnes is a graduate of the University of Wisconsin-Milwaukee; he studies Indigenous and visual/material rhetorics and comics. Carnes offered writing workshops on "The Art and Literature of Indigenous Comics" at the Orange County Library System along with a featured session "Betty Mae Jumper: Seminole Story Keeper" at UCF Learning Institute for the Elderly (LIFE). Nathan Holic facilitated workshops on comics at two Orange County elementary schools. Joe Longhany conducted a series of legal studies workshop that explored the rhetoric of Supreme Court decisions. Faculty in the department continue the critical work of teaching writing in prisons through their commitment to the Florida Prison Education Project (FPEP). Among the DWR faculty who teach writing in incarcerated spaces, Heather Vazquez meets weekly with writers on the inside; at a faculty development conference presentation, Vazquez reflected her astonishment of teaching writers who read the textbook cover-to-cover—rather than the assigned sections. In addition to the community engagement FPEP, the department continues its service to the community through its support of continued education for high school educators by hosting the College Board's Advanced Placement Summer Institute. Director Steffen Guenzel successfully moved the institute fully online in the summers of 2021 and 2022.
The undergraduate curriculum, under the direction of Stephanie Wheeler, was strengthened by the development of three new courses that bring students' lived experiences and cultural values to the forefront of classroom conversations, including Latinx Rhetorics, Queer Rhetorics and Queering Writing, and a special topics course in Indigenous communities and rhetorics. WritingFest! highlighted both undergraduate and graduate writers and culminated in a gallery of students works. DWR contributed to UCF Celebrates the Arts through hosting a performance and discussion with Mojave-Latina MacArthur Foundation fellow, language activist and Pulitzer Prize-winning poet Natalie Diaz. The department also collaboratively hosted a virtual event with the UCF Alumni Book Club, a book talk with Kiley Reid, author of Such a Fun Age.
The department produces three digital publications featuring student work: Convergence Rhetoric: A Journal of Undergraduate Research, a peer-reviewed online journal of undergraduate research in writing and rhetoric and the digital humanities; Imprint: A UCF Magazine, a publication for students of any major who are looking for an outlet to voice their opinions; and Stylus: A Journal of First-Year Writing, which provides a forum for the exemplary writing and research produced by students enrolled in the university's first-year composition courses.
The department supports students in all disciplines across campus through the work of the First-Year Writing program, the University Writing Center and the Writing Across the Curriculum program. The First-Year Writing program taught approximately 6,500 writers this year, along with boasting the annual celebration of first-year writers at Knights Write Showcase. The University Writing Center (UWC) offered 30 workshops that enhanced skills for more than 1,200 students. This year the UWC began offering graduate writing groups—a space for graduate students to write, offer feedback and collaborate on their thesis and dissertation projects. Further, the center provided 4,000 peer tutoring consultation sessions. The Writing Center and the Writing Across the Curriculum Program facilitated a series of workshops for local high schools to help students achieve success in their scholarship and application essays, in hopes of attracting hundreds of future Knights.