Program website
Active Students
(as of April 2023)
Undergrad minors: 160
Undergrad certificates: 9
Graduate certificates: 14
2022-23 Student Credit Hours:
1,680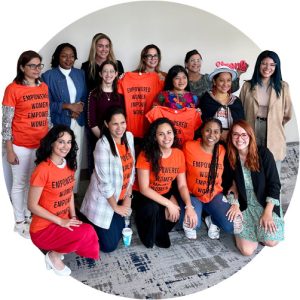 Women's and Gender Studies (WGST) has had a dynamic year to say the least! We always strive to provide the best support and opportunities for our students, research and service.
---
Awards and Recognitions
Congratulations to Leandra Preston for her 20 years of service to UCF! Preston was hired as visiting instructor in fall 2002 through the English department and then hired to teach Introduction to Women's Studies in fall 2003. Preston was the first full-time WGST faculty hire and she has earned two TIP awards and an Excellence in Undergraduate Teaching Award.  
Additional awards and achievements for WGST faculty include Anne Bubriski receiving the Distinguished Career in Academic Sociology from the UCF Sociology Department and Maria Santana-Rogers receiving the LaFaSA, Faculty Champion and Role Model award from the Latino Faculty and Student Association.  
We are committed and dedicated to providing the classes, programs, events and services that engage, educate and connect our… communities.
---
Research
Santana-Rogers, even while on leave, was busy conducting research. She published "The Application of User Centric Metadata in Student Reflections: The Service-Learning Classroom for Non-Science Majors" in the Journal of Service-Learning in Higher Education (June 2022), and "From Empowerment to Domesticity: The Case of Rosie the Riveter and the WWII Campaign" is included in the 6th-12th grade collection, Clear Literature by Carnegie Learning, Inc. (January 2023).  
At the International Conference on Television, Audio, Video, New Media, and Feminism; hosted by UCF Texts & Technology, Preston presented "Mommy Juice Memes: Disrupting Media Representations of Alcohol Use by Women during the Covid-19 Pandemic."   
---
Service
Every year, WGST has multiple events and programs benefiting faculty, students and the local to global community. Notably, a women's think tank, hosted by UCF's Global Perspectives and International Initiatives, held a roundtable on women's issues in the Middle-East and North Africa. Additionally, Bubriski and Preston presented at the UCF Global Perspectives and Initiatives campus-wide event "Championing Women Across UCF and Beyond" in October 2022.  
Continuing the global connections, in partnership with WorldOrlando and the State Department, Bubriski and Preston hosted meetings with women leaders from across the globe. In March, about 20 leaders from Latin America came to UCF for a meeting on women's economic and social advancement and eliminating gender discrimination globally. In June, Bubriski and Preston were guest speakers for a virtual meeting with women from the Middle East and Arabic-speaking countries to discuss women's challenges and progress in leadership.  
For more than a decade, Women's and Gender Studies has partnered with the Farmworkers Association of Florida (FWAF). In collaboration with UCF Student Government Association, Bubriski organized a day-long field trip for students in her honors "Women, Race and Struggle" course to visit the FWAF main office in Apopka and meet retired women farmworkers who now advocate for farmworkers' rights and justice.   
Our award-winning Science, Leadership, and Mentoring (SLAM) program, led by Bubriski, included three participants receiving scholarships from the American Association of University Women (AAUW) to attend the National Conference for College Women Student Leaders at the University of Maryland in May 2023. Bubriski was also awarded a Community Action Grant of $8,000 from AAUW for a space exploration and careers program to be implemented within SLAM 2023-24. SLAM is excited to help host the GLAMPing: Girls Leading and Making Program week-long, all-day leadership and STEM summer camp for middle school girls in partnership with UCF iSTEM in summer 2023. 
Preston's non-profit Animal Safehouse Rescue Program had some major accomplishments. Preston was recognized with the 2022 Animal Welfare Champion Award from Serene Harbor. Animal Safehouse opened a new building to expand the organization's ability to serve people leaving domestic violence situations and need a place to temporarily house their pets safely.  
Women's and Gender Studies continues to grow in student interest and demand each year and we are committed and dedicated to providing the classes, programs, events and services that engage, educate and connect our students, faculty and local and global communities.
— Anne Bubriski, director