Center website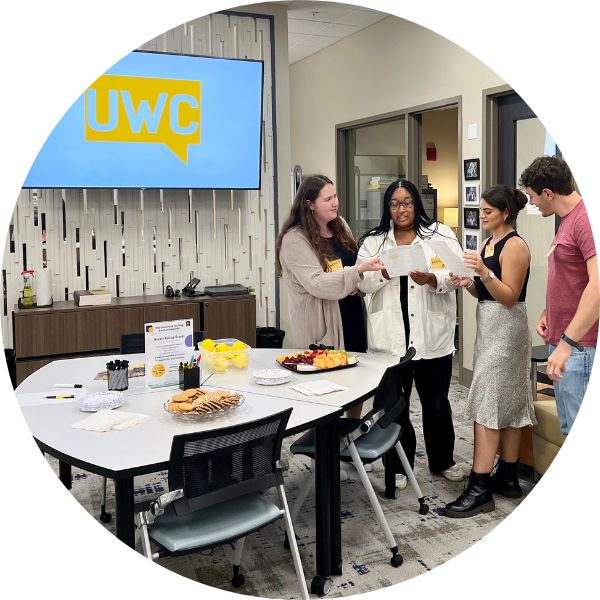 The University Writing Center and Writing Across the Curriculum Program comprise the UCF Center for Writing Excellence, which supports student and faculty writing at UCF and beyond.  
Writing Across the Curriculum
In 2022-2023, the Writing Across the Curriculum (WAC) Program continued to support faculty across disciplines. Our WAC workshops on Artificial Intelligence (AI) and Writing encouraged more than 75 UCF faculty members across different fields to rethink their writing assignments with a better understanding of AI technologies. The annual WAC Track at the Summer Institute supported faculty members across the disciplines in a 3-day intensive program on WAC pedagogy. 
The WAC Research Lab supported the development of Sobre Escritura, a collection of stories of writing across languages, cultures and domains. The lab is also supporting faculty who are conducting research on writing processes and STEM enculturation, and we are gearing up to support additional research on the impacts of artificial intelligence tools like ChatGPT on writing experiences, expectations and expertise. 
In addition to sponsoring faculty development and writing research, WAC also served as a hub for celebration of writing in its many forms. Our continued sponsorship of UCF's annual celebration of the National Day on Writing, in collaboration with the Museum of Art-Deland and campus stakeholders like the UWC, hosted interactive stations titled "Write Like a Hero," "Write in Gratitude," "Write Your Truth" and "Write for Change." We also hosted a panel at the annual Knights Write event, giving students the chance to understand how experts across disciplines continue learning to write over time. 
This year, the WAC Program extended writing research and pedagogy to the community. With funding from the National Endowment for the Humanities, we co-hosted a series of "With More Than Words" events as part of UCF Celebrates the Arts. Indigenous and Latinx scholars joined us to explore the roles of storytelling, multimodal writing and material practices in fostering community-based change. Additionally, through partnerships with local schools, we offered writing workshops to more than 150 high schoolers, bringing several students to UCF's campus for their first time. 
As part of the Center for Writing Excellence, the Writing Across the Curriculum Program caters to faculty, students and community members alike, facilitating opportunities to help them write for change in their courses, their disciplines and their community. I look forward to continuing to write together, now and into the future. 
— Laurie A. Pinkert, director
---
University Writing Center
The University Writing Center (UWC) employed and educated 32 writing consultants in 2022-23, comprising 25 undergraduate and seven graduate students from various majors across the university. We provided 4,200 undergraduate consultations and 700 graduate consultations to provide writing support to students in over 98 disciplines. In addition to the peer one-on-one sessions, the Writing Center engaged another 4,800 students through workshops, events, class visits and university tabling events. We are pleased to report that we have seen a 32 percent increase in the Writing Center's usage from spring 2022 to spring 2023.
The Drop-in-Lab, created in 2021, acts as a supplementary resource for introducing students to the center as well as allows writers the opportunity to have brief sessions with our tutors without making an appointment. The UWC continues to publish a newsletter twice a year that focuses on writing strategies and research endeavors. The newsletter also includes a flash fiction contest every issue. In collaboration with Writing Across the Curriculum, the center offered a graduate writing group that met twice a week.   
Beginning in summer B 2023 and continuing through spring 2024, the UWC, along with the Hispanic Service Institution, will participate in the Progresando Initiative sponsored by Bank of America. This initiative will offer a research and writing lab specifically aimed to assist students in the nursing and healthcare fields.  
The UWC remains dedicated to serving students from a variety of linguistic backgrounds, from first-year to graduate students in every discipline. Our mission aligns with the goals of UCF, particularly its goals to offer a place to learn and work and to support research and creative works as they relate to writing and communication.
— Debbie Weaver, director