Hispanic Heritage Month at UCF is an annual celebration of the Latinx community, lasting from September 15 to October 15. Within the arts and humanities, several initiatives and events are scheduled to highlight a variety of cultures and experiences.
SaGa hosts "¡Tú y yo somos SaGA!"
The UCF Spanish Graduate Association (SaGA) in partnership with the Department of Modern Languages and Literatures is hosting a welcome event to celebrate HHM. Titled "You and I, we are SaGA!" students are invited to perform songs or short stories from home countries, bring a local dish, dress or representation of their homelands. The event will be held September 19 from 6-7:30pm in the new Graduate Student Center, Trevor Colbourn Hall room 213. Reach out to [email protected] to sign up to perform.
---
History faculty discuss their books
Dr. Luis Martínez-Fernández is a Professor in the Department of History. Dr. Martínez-Fernández's research focuses on Latin America, the Caribbean, Cuba and Puerto Rico, Latinos in the United States, and Higher Education. His latest work, Key to the New World, is the first comprehensive history of early colonial Cuba written in English, and fills the gap in knowledge of the island before 1700.
Joining Dr. Martínez-Fernández are Dr. Barbara Gannon to discuss her book Americans Remember Their Civil War; Dr. Duncan Hardy to explore his text Associative Political Culture in the Holy Roman Empire; and Dr. David Head focusing on his book The Golden Age of Piracy: The Rise, Fall, and Enduring Popularity of Pirates. This book talk will be held September 27 at 4:30pm in Trevor Colbourn Hall room 351.
---
Aquifer celebrates Latinx writers
In honor of HHM, The Florida Review's online publication Aquifer will publish multiple creative works per week from Latino/Latina/Latinx writers throughout Hispanic Heritage Month. Normally, issues feature a wide range of topics and authors, but after the Pulse tragedy in 2016, TFR and Aquifer changed their policy on themed issues to feature six pieces of writing dedicated to the impact of the event in the Fall 2016 issue (40.2).
After that special edition, Lisa Roney, editor and director of TFR and Aquifer, had the opportunity to interview distinguished author Ana Castillo about her new book, Black Dove, a memoir partly about her son being incarcerated for theft. Between the interview, a stockpile of submissions from prisoners across the country, and submitted poems about friends and family in prison, their Fall 2017 theme emerged. "The number of people being incarcerated in the US is an important social issue," Roney affirms. "One submission from a prisoner that we received struck us with its eerie originality." The section on Prison in TFR Fall 2017 issue (41.2) contained seven pieces.
Heading into Aquifer's second year, the team wanted to continue raising awareness of social issues. Specifically, Roney brings up the VIDA count, which documents discrimination against women in the publishing world and sometimes focuses on writers of color. "At The Florida Review and Aquifer, we are dedicated to being part of the solution to gender and racial inequity," Roney says.
Nicole Oquendo, special section editor, notes, "As editors, we have a responsibility to make time to highlight a diverse range of voices." Former creative nonfiction editor of TFR and current Full Sail University faculty, she agreed to come back and help put together a celebration of Latino/Latina/Latinx authors, especially featuring early-career and mid-career writers. "There is so much exciting new work going on, and Latinx writers are adding so much to both the Florida and the national literary scene," comments Roney. "In addition, when we found out that Hispanic Heritage Month is September 15 to October 15—and that this year is the fiftieth anniversary of HHM—we felt that it would be a natural fit for us." The team plans to publish numerous works in Aquifer during HHM and continue their new tradition of a special feature in the fall print issue, 42.2. Between the two, they will feature more than 40 writers and artists.
Here are the first features in Aquifer:
The Florida Review Fall 2018 issue 42.2, due to publish later this year, will also have a special guest-edited Latinx feature.
---
Orlando Shakes' In the Heights features Theatre UCF alumni, faculty, students
Playing through October 5 at Orlando Shakes, In the Heights tells the universal story of a vibrant community in New York's Washington Heights neighborhood. It's a community on the brink of change, full of hopes, dreams and pressures, where the biggest struggles can be deciding which traditions you take with you, and which ones you leave behind. In the Heights is the winner of the 2008 Tony Awards for Best Musical, Best Score, Best Choreography, and Best Orchestrations. Adapted into a musical by Hamilton creator Lin-Manuel Miranda, the Orlando Shakes production includes a Latinx cast featuring many Theatre UCF alumni, faculty and current students.
In the ensemble from Theatre UCF, Nicolette Quintero '16, Kyle Laing '18, Joshian Morales '12 (BFA Musical Theatre alumni), Rico Lastrapes '15, Cherise James '15 (BFA Acting alumna) and Ana Martinez Medina (current third-year MFA Acting student) perform. Two more alumni, Raleigh Mosley II '16 (BFA Musical Theatre alumnus) and Deanna Quintero '14 (BFA Acting alumna), are understudying. Backstage, Kim Ball (current MA in Musical Theatre student) choreographed, staff accompanist Josh Ceballos served as Musical Director, and faculty member and Director of Production Bert Scott did lighting design.
Tickets for In the Heights available now.
---
Classical guitar recital from Dr. Eladio Scharrón of UCF Music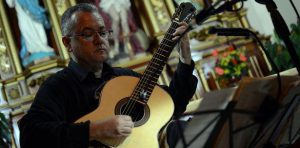 UCF classical guitar professor, Dr. Eladio Scharrón, presents a recital in celebration of Hispanic Heritage Month on Thursday, October 11 at 8pm in the Rehearsal Hall Auditorium.
Dr. Scharrón was born in San Sebastián, Puerto Rico, into a family of guitarists well known in the island. He is a graduate of the University of Puerto Rico where he studied with guitarist-composer Ernesto Cordero. He has also been invited to prestigious guitar festivals like the Brussels Guitar Festival, the International Guitar Festival of Puerto Rico and New York's Música de Cámara among others. Since 1998, Dr. Scharrón has been part of the faculty in the Department of Music.
The guitar studio will also be performing November 30 and April 11, and Scharrón will have another recital April 4. These concerts are free and open to the public, no ticket required.
---
The HHM committee encourages participants to bring their jerseys, flags and cultural dress to the Festival Latino: UCF Hispanic Heritage Month Opening Celebration and parade on September 17. The parade begins at Millican Hall at noon, crossing campus to Memory Mall for live performances and food.
A full listing of all Hispanic Heritage Month events is available on their website and Facebook page.