On Oct. 5 – Oct. 8, the University of Central Florida will bring 26 Pebbles – a play written by BFA musical theatre alumnus Eric Ulloa '04 – to the Orlando Repertory Theatre.
Ulloa's 26 Pebbles was created as a response to the 2012 Sandy Hook Elementary shooting. As a socially active individual, Ulloa felt a need to shine a light on the tragedy that changed the lives of many people in Newtown, Connecticut. Posting articles on Facebook had become incessant and status updates weren't making the difference Ulloa had hoped to see, so he decided to put his efforts toward a bigger, more impactful project. He flew to Newtown and conducted interviews with the town's people, and 26 Pebbles is a composition of their words.
"I was tired of my own complacency and how I wasn't using my talents to somehow help the world in some way," Ulloa said. "Artists are allowed amazing opportunities with our inherent gifts and I wanted to find a way to bring an even sharper focus on the shooting epidemic that was sweeping our country."
Theatre faculty member Be Boyd is directing the play that consists of UCF graduate and undergraduate students. According to Boyd, the students love working on the show because they want to honor the people who were shaken by the horrific event, and support Ulloa's commitment to sharing their stories.
"26 Pebbles is a piece about humanity at its best and worst, but mostly its best," said Boyd, associate professor of undergraduate acting and BFA acting coordinator. "It's an extremely touching, interactive and educational piece about the community's spirit, their loss and the world's response to their tragedy."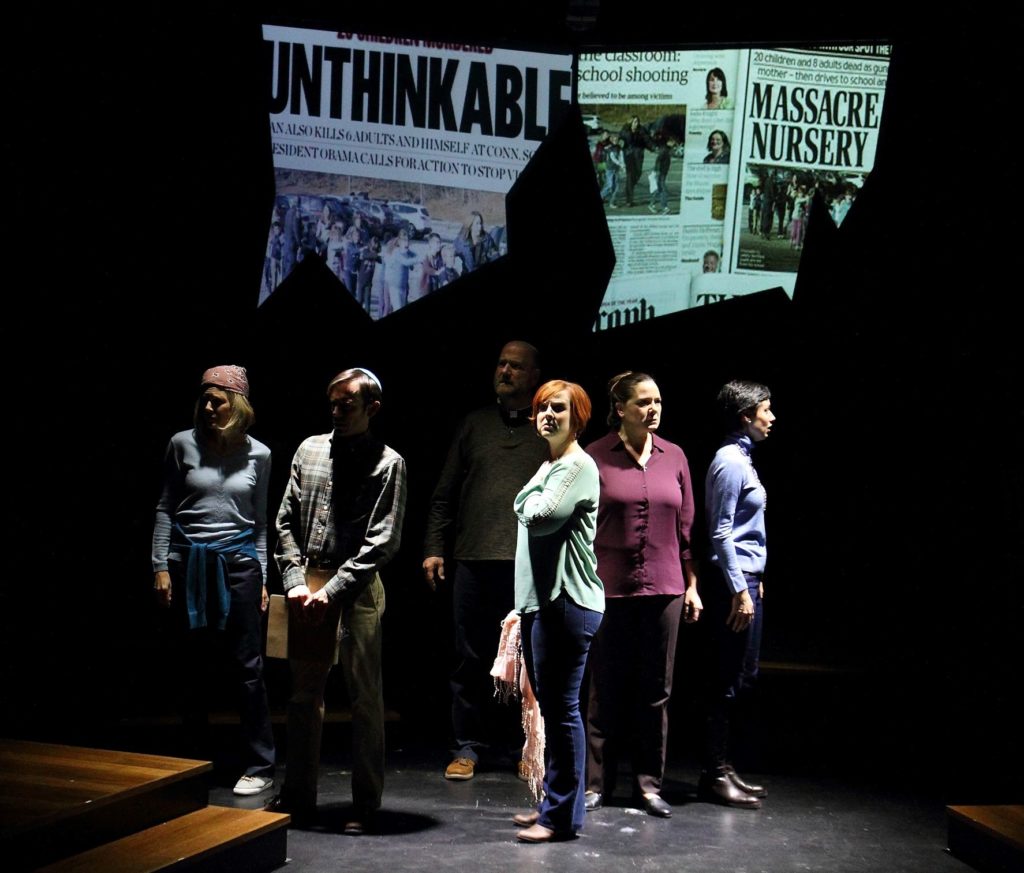 Ulloa looks forward to sharing his play with the Orlando community, where he once resided as a Theatre UCF student. For him, this experience has brought him full-circle.
"The theatre program at UCF gave me the theatrical foundation I needed to get where I am today," he said. "Without it, I wouldn't have been equipped with the tools and knowledge needed to create 26 Pebbles and share it with communities around the country, especially with the people of Orlando who understand the power of community and how strong it can be when we are launched into a nightmare."
Performances of 26 Pebbles are at 7 pm on Thursday, October 5; Friday, October 6; and Saturday, October 7; and at 5 pm on Sunday, October 8. The show will be hosted at the Orlando Repertory Theatre, 1001 E. Princeton St, Orlando, FL 32803. The performances are free but require a ticket. More info is available at http://theatre.cah.ucf.edu/events.php?id=3916.
Ancillary events around the performances include:
Thursday, Oct. 5
Pre-show events: Hosted by Orlando United Assistance Center with a focus on education
Giving the community an understanding of the mental health and survival resources that are now available to members of the Pulse community and other trauma victims
Post-show events: Talk back with Eric Ulloa and a Q&A with audience members
Friday, Oct. 6
Post-show event: Talk back with the cast of 26 Pebbles and a Q&A with audience members
Saturday, Oct. 7
Post-show event: Talk back with the cast of 26 Pebbles and a Q&A with audience members
Sunday, Oct. 8
Post-show event: Forum discussion led by Orlando United Assistance Center
The School of Performing Arts at the University of Central Florida comprises the Music and Theatre departments. In addition to year-round performances and teaching on the UCF campus, the School presents performances and outreach in cooperation with our community partners, which include the Orlando Philharmonic Orchestra, the Orlando Repertory Theatre, and the Orlando Shakespeare Theater. For more information about attending performances visit http://performingarts.cah.ucf.edu
The University of Central Florida, one of the largest universities in the nation with more than 64,000 students, uses the power of scale and the pursuit of excellence to make a better future for our students and society. Described by The Washington Post as demolishing "the popular belief that exclusivity is a virtue in higher education" and credited by Politico with creating a "seamless pipeline of social mobility," UCF is recognized as one of the best values in higher education. UCF aligns its teaching, research and service with the needs of the community and beyond, offering more than 200 degree programs at more than a dozen locations, including its main campus in Orlando. Faculty and students are creating innovations in areas as diverse as simulation and training, optics and lasers, hospitality management, video game design, business, education and health care to solve local and global problems. For more information, visit www.ucf.edu.