When you walk into Dr. Tyler Fisher's office, you might find him having an enthusiastic conversation in Spanish with a co-worker or poring over a book of 16th-century Spanish poetry. But Fisher isn't from Spain, nor is he Hispanic. And yet his knowledge of the Spanish language and culture is vast, cultivated from almost two decades of research that began in his undergraduate years at UCF and continued through graduate and postgraduate programs at the University of Oxford.
Now Fisher is back at UCF with a breadth of academic experience under his belt. But this time, he'll be a professor rather than a student.
Fisher, who was a Burnett Honors Scholar, received two bachelor's degrees at UCF — one in English Literature and one in Spanish. To say he's passionate about the subjects is an understatement. Even from the start of his freshman year of college, he knew he was interested in language. Then two events happened that sparked his interest in an academic career.
First, Fisher took an English Composition 1 class taught by Dr. Barry Mauer, an associate professor of English at UCF, now the director of the Texts and Technology doctoral program. "Whenever you have a meeting with Barry Mauer, you come out thinking about the world in a different way," said Fisher. "He made me realize that an academic career path was something viable and something that I would enjoy." So after taking that first class, Fisher declared English Literature as his major.
But then, he studied abroad in Spain. Like many Florida students, Fisher had taken Spanish in high school but wasn't yet comfortable speaking the language. He took this as a challenge, enrolling in Spanish as an elective. But it wasn't until after that study abroad experience in the summer of his freshman year that he declared his second major, Spanish. Studying abroad had made him fall in love with the Spanish language and culture.
Fisher's dedication to his chosen subjects was unwavering, motivating him to complete several undergraduate research projects. When he graduated from UCF in 2003, he was the first student from the university to be awarded a Rhodes Scholarship, one of the most prestigious scholarships in academia. It allowed him to pursue a master's in European Literature at the University of Oxford.
One of the perks provided to Fisher while studying at the oldest university in the English-speaking world was having access to Oxford's famous libraries, especially the Bodleian and Taylorian Libraries. The long-standing rivalry between early modern Spain and England gave Fisher a treasure trove of Spanish pieces to explore. "They even have some Spanish texts that were stolen by English pirates," said Fisher. He carried this excitement with him through his master's, doctorate and postdoctoral research fellowship at Oxford. After his fellowship ended, he taught classes at Oxford and at the University of London.
Common themes in Fisher's research projects over the years have been cross-cultural communications and understanding cultures "on their own terms." To Fisher, this means disregarding the preconceptions one might bring to a cultural encounter, or even to a piece of literature such as a poem. For example, he lived among the Yezidis in Iraq for some time in order to investigate how they viewed their shamans, who claimed to have prophesied the ISIS attacks. Hearing their stories without making assumptions helped him get the most out of his interviews.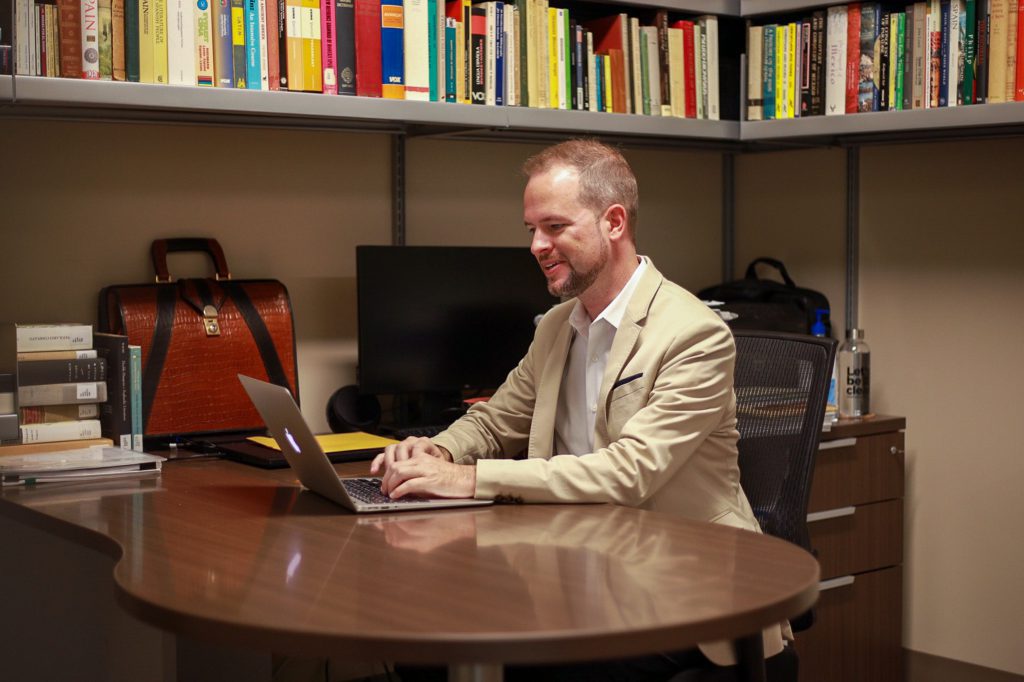 The next chapter of Fisher's story tracks back to UCF, where he was offered a position designed specifically for him by former president John C. Hitt and then-provost Dale Whittaker. While his academic home is in the Department of Modern Languages and Literatures, Fisher will also contribute to the Burnett Honors College's humanities teaching and UCF's internationalization and Study Abroad initiatives.
Fisher says he is looking forward to working within UCF's interdisciplinary culture. "While Oxford's more specialized system of education pushed me to go deep into one subject, it's refreshing to get back to a broader approach," said Fisher. "The freedom that we have here at UCF to cross disciplinary boundaries is something I'm excited to experience again."
Fisher's background demonstrates the many possibilities of studying modern languages and literature. Some general advice he has for students is to "avoid dissociating the language from the culture and vice-versa."
He also encourages studying abroad and taking advantage of the immersive experiences that Orlando has to offer. As an undergrad, Fisher was a pianist at a majority-Puerto Rican church. The experience was mutually beneficial for everyone—the church got a pianist, while he was able to practice his Spanish every Sunday and make some lifelong friends. "I think that regular immersion or exchange arrangements are key to developing language fluency, otherwise it's so easy to get rusty," said Fisher.
But he also offered a more abstract idea for students to consider: "Keep in mind that you can learn something from every person you meet. By approaching people with openness and humility, they may share aspects of their culture that can help you better understand the world."