Want to gain valuable experience as an English Teaching Assistant while exploring South America? The UCF Modern Languages and Literature Department is encouraging current Teaching English as a Foreign Language Undergraduate Certification students to apply for an ETA-ship abroad. This year's selected student, Emily Puckett, worked alongside experienced instructors at two bilingual schools in Foz do Iguaçu, Brazil.
What is an ETA?
An ETA initially observes English teachers who have proven expertise in education and then gets to independently lead and create activities for their students. Marcella Farina, assistant professor and coordinator of the ETA-ship in Foz do Iguaçu, took great care in selecting these mentors for Puckett.
"I met with key teachers in Brazil last year and hand-picked those I wanted the candidate to work with," said Farina. "It's important for our ETAs to get quality guidance, not just any guidance."
For those pursuing careers in teaching, an ETA-ship can add relevant, first-hand experience to a resume. But taking the position abroad can also expand a student's worldview.
Emily Puckett: Honing skills miles away from home
Puckett '18, who graduated as a Political Science major with a TEFL Undergraduate Certificate, has learned plenty about teaching and Brazilian culture from her past ETA-ship. She discovered that there are differences between instructing middle and high school students abroad compared to in the U.S.
"Classrooms in Brazil have up to 40 students. Teaching a lesson in 50 minutes to 40 students is definitely not an easy task, especially since these students have different levels of English," said Puckett. "Because of this, I've learned how to present lessons in a fashion that caters to everyone. Also, I had to open my 'personal bubble' quite a bit while I was there. The students were very affectionate — they wanted to hug me, ask me questions, and even follow me on social media — which isn't really the norm for older students in the U.S."
The challenges and surprises were worth it for Puckett, who took the ETA-ship recommended to her by Farina in order to gain professional experience but also learn another culture and grow as a person. For two months, she supported the language faculties of her assigned schools with classroom learning, lesson planning and language assessment — all the while representing UCF on another continent.
"Being the first UCF TEFL undergrad to complete an extended teach-abroad experience is so rewarding," said Puckett. "I really hope that more students complete this ETA-ship in the future because it's not just a great opportunity to teach English — it's also helpful for the Brazilian students to learn English directly from a native speaker. The program benefits everyone involved."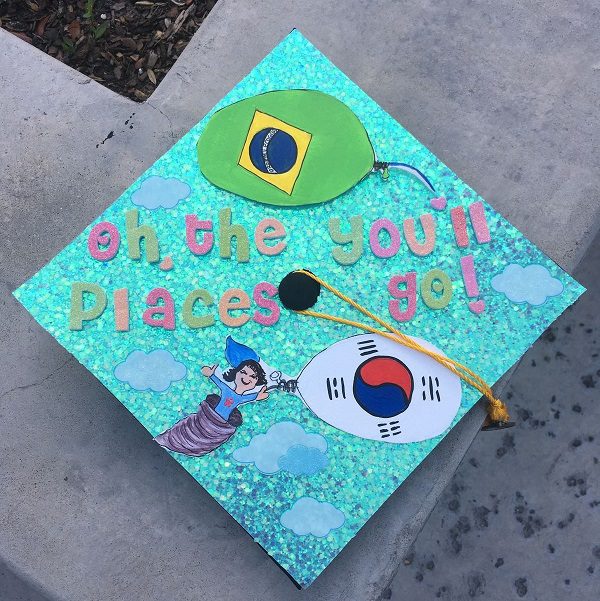 Puckett finished up her time in Brazil with a capstone project. All the students in her classes worked together to create a fully English presentation that involved singing, dancing, and video recordings. The engaging and creative activity further immersed students into the English language while also demonstrating what Puckett had accomplished in her position.
With her TEFL Undergraduate Certificate and ETA experience under her belt, Puckett landed a job teaching English to adults in Seoul, South Korea, following her May 2018 graduation. Her next plans are to enter graduate school for TESOL and eventually work at an English institution in the U.S.
"The ETA-ship brought me closer to my goals since it gave me teaching experience in my undergraduate years," said Puckett. "It definitely helped me get my job."
An opportunity for a variety of majors
Puckett, who majored in Political Science and decided to enter the TEFL career, says the two areas of study intersect.
"I focused on International Relations in my degree, which equipped me with a background knowledge of politics and culture around the world," said Puckett. "This allowed me to develop an understanding of why certain cultures have different education systems and why those systems are in place."
The interdisciplinary nature of the TEFL Undergraduate Certificate program and the ETA-ship benefits students who may not be pursuing a teaching or language-related major but who are interested in English language education abroad. Any student who is enrolled in the TEFL Undergraduate Certificate program and has completed its three core courses with high marks is eligible for the ETA position.
Students are not required to be fluent in Portuguese to excel in the ETA role. However, according to Farina, prospective ETAs must be responsible, diligent, and eloquent English speakers.
"We want to send ambassadors who can not only help the schools but also gain from the experience," said Farina.
The TEFL Undergraduate Certification program is similarly open to all UCF students, regardless of major.
"Many of our TEFL undergrads come from majors that are anything but language," said Farina. "We have students who study Biology, Theatre, Political Science — one thing they all have in common is their desire to travel the world and teach English."
Puckett says the TEFL courses taught her important skills that have helped her succeed in the ETA-ship and her current job, such as how to quickly find common grammar mistakes and resolve issues that can arise during second language acquisition.
"The TEFL program at UCF is not easy, but I can say with confidence that it has prepared me to become an English instructor," said Puckett.
To apply for the ETA opportunity and walk in Puckett's footsteps, email [email protected]. Not a TEFL Undergraduate Certification student yet? Visit www.mll.cah.ucf.edu to find out how to become one.