Families, friends and colleagues celebrated 11 University of Central Florida faculty members Wednesday during the second annual Luminary Awards Night.
The recipient of the award from the College of Arts and Humanities for 2018 is Professor Humberto López Cruz of the Department of Modern Languages and Literatures. López Cruz's focus on Panamanian literature has made him an expert in the field. He analyzes the writings from the country as it has matured the past 100 years to help understand the sense of identity that emerges. His research also includes Cuban and Puerto Rican literatures, and he is a creative writer who has authored books of poetry.
The event, cosponsored by the Office of Research and Faculty Excellence, recognizes faculty members across all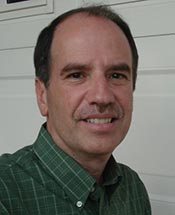 disciplines for being academic leaders in their field and conducting work that has a significant impact on the world.
"Luminaries, you shine a positive light on the university and illuminate the path for discovery and UCF's future successes," UCF President Dale Whittaker told the audience gathered at Orlando's Harry P. Leu Gardens. "I can't think of a better word to describe the work of tonight's honorees than 'impact.' These individuals embody UCF's promise to have a positive, lasting impact on our students and society."
Recipients received a glass award and each week one faculty member will be featured on the Office of Research website through December. Check back for Professor López Cruz's highlight soon!
Read the full article on UCF Today.