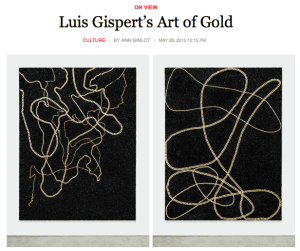 Flying Horse Editions, UCF's fine art research facility and print shop, was mentioned in the New York Times style magazine T and a New York Times blog post as the birth place of artist Luis Gispert's method for creating the pieces in his new series Aqua Regia.
The series features gold-plated chains wound around specially produced asphalt canvases made in Gispert's studio. Gispert was inspired by the way the press at Flying Horse Editions caused its chains to appear ribbonlike.
To read more about Luis Gispert's series, you can head over to the NYTimes blog post.