School website
Active Students (as of April 2023)
Undergrad majors: 2,383
Undergrad minors: 279
Graduate students: 40
2022-23 Student Credit Hours: 34,327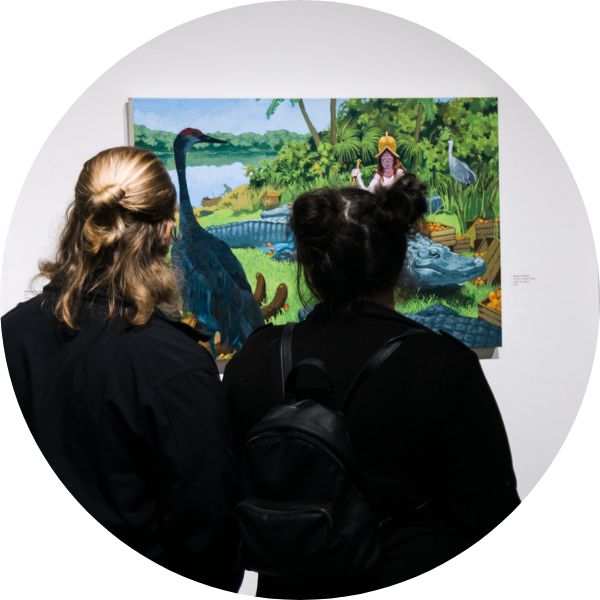 The School of Visual Arts and Design (SVAD) had a remarkable year of activities and achievements. We returned to more physical and community activities as COVID continued to recede. This year the school participated in a comprehensive academic program review (APR), a year-long process conducted every seven years. This process involved the authoring of self-study documents for each of our academic programs and a two-day site visit from external consultants located across the country. The site visit wrapped up in early February. The reviewers were impressed by the dedication of our faculty and staff members to student learning and success, pointing out the quality of instruction as a strength of our school.    
Community engagement was also highlighted as a school strength by our APR reviewers and this is evident in our ongoing commitment to the annual UCF Celebrates the Arts festival in April. Patrons are always excited to see SVAD's recurring mainstay events each year which include our sculptural totems, the live-action Creative Clash graphic design competition, our animation premieres and showcases and well-attended community events for architecture and the Florida Prison Education Project (FPEP). A special new event this year also explored the implications of artificial intelligence for the world of art and an animation faculty member along with a Texts and Technology doctoral student/art history adjunct instructor both served on the panel discussion for that event. SVAD was happy to play a role in UCF Celebrates the Arts' receipt of a 2022 Golden Brick Award for impact on Downtown Orlando. 
This academic year also marked the debut of our inaugural Art Knight! event. Right before Thanksgiving, we opened all the studios in the Visual Arts building to the local community and welcomed hundreds of visitors to experience student art, visit our BFA exhibition, learn about art history and hear live music from Professor Rob Reedy's Rust Bucket band. Knightro attended as a special guest and was competitive in our art history trivia event. Art Knight! was a great success, and we plan to keep this going as a yearly event each November. We also launched a new digital newsletter, Art Bytes, to help promote the work of our students, faculty and alumni on a more regular basis. 
Another example of SVAD's impact in the community is found in the outstanding work of our Jenkins Community Arts Scholars, overseen by Professor Kevin Haran. These students work in all different types of arts organizations throughout Central Florida and improve our communities in numerous ways. For example, this year, one of our students Valeria Fajardo worked with the Orlando Museum of Art (OMA) as an intern. Valeria noticed that OMA had no Spanish language text anywhere in the institution and mentioned it to the museum staff. She translated the materials so that OMA could better serve the Spanish speaking population of Central Florida. 
SVAD was ranked among the best schools for animation, graphic design and illustration from Animation Career Review.
Our students were active this year in professional service and successful in winning awards and scholarships. Fifteen SVAD students participated in the American Institute of Graphic Arts (AIGA) membership program this year and four students received awards for their projects at the Mentorship SPOT Showcase Awards. Art History student Nathanael Lapierre was awarded UCF's highest student award, the Order of Pegasus, to acknowledge his academic success as well as his sustained commitment to his community.  
SVAD students also received several scholarships this year which allowed them to pursue their studies at UCF. The Cartwright Family Humanities & Arts Endowment fund provided three scholarships for students to attend the pre-college animation intensive summer camp program (offered through UCF CREATE) and the éclat Law Firm awarded graduate student Njeri Kinuthia a $5,000 award to support a graduate student in the Emerging Media MFA Studio Arts and Design program. Additionally, we had two Emerging Media MFA Studio Art and Design students peer reviewed and accepted to co-present at the biennial Foundations in Art: Theory and Education conference in Denver, CO. 
The 2022-23 academic year was a big year for grant-funded, collaborative projects and partnerships. Associate Professor Matt Dombrowski received an $85K Unity for Humanity Grant to continue to develop the Limbitless Training game. There were only five grants awarded from a pool of over 500 applications. This grant is in addition to the $40,000 Epic Mega grant the team received at the beginning of the spring semester. Unity and Epic Unreal are the top two game engines used in the video games industry. Associate Professor Keri Watson was also awarded multiple grants this year including a large ($160K) implementation grant from the Laughing Gull Foundation, as well as additional funding support from the Florida Humanities Greater Good program ($10K), the Pabst Steinmetz Foundation Arts and Wellness program ($25K) and the NEA Big Read ($20K). We also established a new partnership with Mattamy Homes, the Meridian Parks Art Walk, that showcases 20 SVAD student artworks twice a year. Finally, our ongoing partnership with Cushman & Wakefield is exhibiting 35 works annually in the lobby spaces of five corporate offices. 
SVAD faculty exhibited their creative work and research through multiple outlets this year. In May, Pegasus Professor Stella Sung debuted Starbursts for the Orlando Philharmonic Orchestra, a piece inspired by images from the James Webb Space Telescope and commissioned in honor of the orchestra's 30th anniversary season. In a glowing review published in the Orlando Sentinel, columnist Matt Palm wrote that "Sung's composition was full of musical colors, with the overall impression that there's more going on in outer space than meets the eye. Forget the cold, dead expanse of the galaxy. Starbursts starts with an inviting fluttering in the strings and never looks back." 
One of our faculty members in the sculpture area, Bobby Aiosa, was a featured member of the Furniture Society and was awarded a grant from the Windgate Foundation to improve equipment and facilities in our woodshop area. Faculty members including Aiosa, along with Advanced Lab Coordinator Byron Clercx, also worked with faculty members Rob Reedy and Debi Starr on sculptural collaborations with Mead Botanical Garden and a large upcoming donation of equipment from Boss Laser in Sanford. Our ceramics professor, Hadi Abbas, also had an exhibition of his work, "Earth and Water, Wind and Fire" at Valencia College's Anita S. Wooten Gallery. 
One of our graphic design and printmaking faculty members, Ashley Taylor, was selected for Adobe's inaugural Creator Class, in partnership with the National Women's Soccer League. As a member of the Creator Class, Ashley will have exclusive behind-the-scenes access to the Orlando Pride (an NWSL team) and league moments throughout the season, learn from Adobe workshops and receive $10K to develop creative projects using Adobe tools and resources. Another graphic design faculty member, Victor Davila, co-chaired the SURFACE min-conference as part of the 2022 American Institute of Graphic Arts (AIGA) national conference in Seattle, Washington. 
This past August, animation faculty member Jo Anne Adams curated and participated in the Character Animation BFA and Animation and Visual Effects MFA Sketch Club exhibit at the Orlando Science Center Fusion Gallery. Architecture faculty member Tommy James presented his work at the 111th meeting of the Association of Collegiate Schools of Architecture (ASCA) national conference in St. Louis. His research explores an innovative new model for human-centric architectural design he calls a "pipeline to better placemaking." 
Our staff members also had a productive year and were recognized by peers and leadership for their dedication to UCF. Staff members Joe Muley and Brendan Solinsky were honored this year at the college staff awards ceremony. Both Joe and Brendan have been instrumental in our efforts to provide increasingly more visual arts at UCF Celebrates the Arts and both have also worked tirelessly to improve our infrastructure and technology within the school. Staff member Hannah Estes was additionally recognized for five years of service to the school and former SVAD staff members Steven Blackburn and Christine Michel were recognized for ten years of service to the college.  
As we wrapped up the spring semester, one of our experimental animation students, Lyn Oquendo, was profiled in an article showcasing their inspirational journal through UCF to obtain a dream job at Warner Brothers Animation (WBA). While employed at WBA, Oquendo has been able to work on projects including Teen Titans Go!, Harley Quinn and Bugs Bunny Builders. Another Experimental Animation senior, Celina Sandoval, was accepted into a student competitive mentorship program with Women in Animation called the Digital Lighting Circle where she will receive mentorship from a Senior Generalist at Industrial Light and Magic.  
Our character animation student films continue to receive accolades; the two films completed in 2022 have a combined 67 awards and 25 screenings, and the two films from 2021 have a combined 67 awards and 117 screenings.  
In addition to the student success within our emerging media tracks, studio art student Raven Niekerk '23 was selected as a featured artist in the Atlantic Center for the Arts (ACA) 34th Annual University Student Exhibition.  
Our digital programs are recognized in national rankings year after year. For the 2022-2023 academic year, SVAD was ranked among the best schools for animation, graphic design and illustration from Animation Career Review.  
SVAD alumni are also finding success on a national scale. One of SVAD's Studio Art & Design graduates, Reina Castellanos '16MFA, was selected to be part of Bounty Towel's Inclusive Artist Project and their art will be seen and used in households across the country as part of this initiative. Alumni and past students from the Emerging Media – Character Animation track reported film credits on major films. A few are Michael Woodside '08 on Strange World; Jessica Minoso '15, Caleb Hecht '11, and Tal Minks '18 on Avatar: The Way of Water; Andy Pace on Puss n' Boots: The Last Wish and Josh Janousky '14 on Ant-Man and the Wasp: Quantumania. Tal Minks '18 worked on Avatar: The Way of Water as a lead animator for Steamroller Animation.  
Six other alumni and SVAD faculty members exhibited their contemporary artwork at Casselberry City Hall and SVAD alumnus Jason Fronczek '16 '20MFA curated "Art from the Inside," an exhibition of work made by incarcerated artists as part of the Florida Prison Education Project. Additionally, Photography alumna Clarissa Bonet '08 is included in the triennial Outwin American Portraiture Today competition from the Smithsonian National Portrait Gallery. The exhibition is at the Orlando Museum of Art through October 8. SVAD Studio Art & Design MFA alumni Gabe Cortese '17 '21MFA and Sheherazade Thenard '14 '22MFA exhibited internationally, and each held sold-out exhibitions in London, UK. Finally, D'Andria Carrey '22BFA won first prize in the Suncoast Black Arts Collaborative Visions in Black exhibition in January of 2023.  
This year we searched for six new faculty members and brought on new colleagues in the areas of architecture, foundations design and drawing, character animation and experimental animation. In other faculty news, longtime animation and photography faculty member Keith Kovach retired from UCF this year and lecturer Angie Hernandez left UCF to pursue a dream job on the tenure track in Tennessee. We wish them both the very best and thank them for their significant contributions to our school. We were saddened this year to learn of the passing of Professor Emeritus Walter Gaudnek. Professor Gaudnek had recently retired after 50 years of service to the university. 
— Rudy McDaniel, director