Department website
Active Students
(as of April 2023)
Undergrad majors: 229
Undergrad minors: 280
Undergrad certificates: 14
Graduate certificates: 24
2022-23 Student Credit Hours:
29,148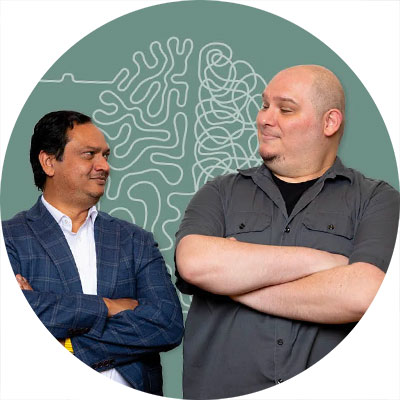 The Department of Philosophy offers multiple degree and certificate programs that help us provide insights into ourselves and our relationships in an ever-changing world. These include engaging undergraduate BA programs in humanities and cultural studies, philosophy, and religion and cultural studies; an undergraduate certificate in interfaith dialogue; and graduate certificate programs in cognitive sciences and theoretical and applied ethics.
This year, several significant new courses were successfully added to our curricula. In the humanities, faculty members proposed HUM 3950 Environmental Humanities, an interdisciplinary course designed to address pressing ecological and environmental concerns. In philosophy, Jonathan Barker proposed PHI 4510 Social Reality, a survey of contemporary social metaphysics that explores the construction of social identities and social roles. Brian Reese proposed PHM 3202 The Social Contract, a survey of modern political philosophy, and a graduate course PHI 5934 Virtue Ethics, which delves into topics such as virtue, happiness, reason and emotion, and the role of friendship and contemplation in human life. Nancy Stanlick co-developed an honors interdisciplinary seminar on "The Allure of Tyranny," examining the cultural, historical and philosophical roots of modern tyrannical regimes. 
The department […] provided insights into ourselves and our relationships in an ever-changing world […] through engaging programs […] and undergraduate and graduate certificate programs […]
Stephen Fiore received the highest faculty designation this year as he was named UCF Pegasus Professor. He also received two new grant awards as the principal investigator. These include a three-year project awarded by the Air Force Office of Scientific Research to understand individual and team cognition in support of future space missions.  
Other grant awardees include Luis Favela, selected as Scialog Fellow for Molecular Basis of Cognition Research, who also received an award from the Defense University Research Instrumentation Program to investigate the motor cortex's contribution to cognitive reasoning. Jonathan Beever is a co-investigator on a National Science Foundation award investigating the "Virtual Experience Research Accelerator (VERA)."   
Cyrus Zargar, our endowed Al-Ghazali distinguished professor in Islamic studies, was promoted to full professor and was awarded a Persian Heritage Foundation Grant for his work. The number of our tenured faculty increased by two members, with Karina Cespedes and Michael Muhammad Knight promoted to associate professor. Derek Green was promoted to associate lecturer. 
In addition to these accomplishments, our faculty members collectively published 23 peer-reviewed journal articles and book chapters, and they gave over 30 referred presentations and over 30 invited presentations, including four keynote addresses. Two of our faculty published stimulating new books in their fields of expertise. Bruce Janz published African Philosophy and Enactivist Cognition: The Space of Thought (Bloomsbury, 2022), described as "brilliant, creative and a compelling guide for new encounters with African Philosophy," by one reviewer, and as "absolutely groundbreaking" and "genuinely urgent work" by another. Michael Muhammad Knight published Sufi Deleuze: Secretions of Islamic Atheism (Fordham University Press, 2023), about which one reviewer writes: "This book is sublime. Knight uses Deleuzian thought to challenge and explode received concepts in the study of religion, and to challenge what religion is in itself, disturbing the sense of what is orthodox or heretical, mainstream or marginal, textual or material, immanent or transcendent."  
Our department co-sponsored the UCF Ethics Bowl team, which won the Southeast Regional Ethics Bowl in November 2022, their second championship in three years. The student team had a commanding 5-0 performance record, but more importantly, they exhibited an outstanding understanding of complex contemporary ethical issues and the core virtues associated with ethical reasoning and democratic deliberation.   
Our department and the Al-Ghazali Islamic Studies program co-sponsored two exciting public events in the spring semester. Matt Saba gave a talk on "Islamic Architecture: Past and Present: The Great Mosque of Samarra and Abbasid Imperial Architecture," and Muhammad U. Faruque presented "Opening Pandora's Box: AI, ChatGPT, and the Mystery of Consciousness." We also co-sponsored a public two-day virtual and in-person bilingual program "Operación Pedro Pan: Honoring the Cultural, Historical Legacy of Cuba's Child Exodus," which featured panel discussions, conversation and music.  
This year marks my tenth and final year as department chair, and it has been an honor and a privilege to serve our students and faculty and to work with colleagues across our college and university. I am happy to welcome Nancy Stanlick as the next department chair and know that our department will be in exceptionally competent hands for many years to come. 
— Michael Strawser, department chair