School website
Music
Active Students (as of April 2023)
Undergrad majors: 395
Undergrad minors: 297
Graduate students: 37
2022-23 Student Credit Hours: 21,213
Theatre
Active Students (as of April 2023)
Undergrad majors: 427
Undergrad minors: 281
Graduate students: 73
2022-23 Student Credit Hours: 22,333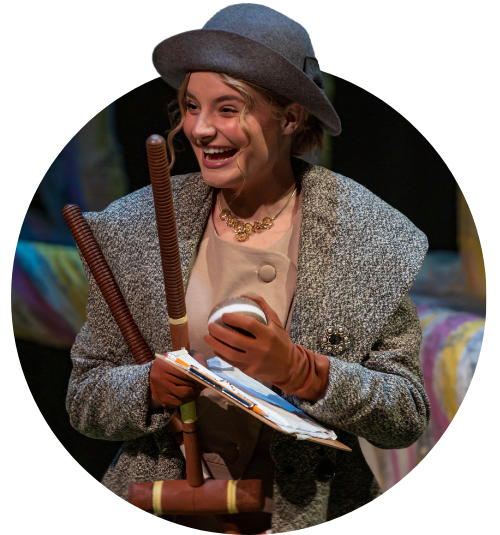 The School of Performing Arts enjoyed a prolific year of music- and theatre-making. With over 300 concerts, six mainstage theatre productions, the ninth UCF Celebrates the Arts festival, our new play festival and various student projects, we positively impacted the community, spreading our artistic influence far and wide.
UCF Celebrates the Arts 2023 comprised more than 40 performances, lectures, presentations and exhibits. In April, the Downtown Orlando Partnership recognized the festival with a Golden Brick Award for the best arts event in 2022. The festival also received significant support grants from the State of Florida and the City of Orlando.
Four guest conductors, including the Orlando Philharmonic Orchestra's Eric Jacobsen, led our symphony concerts. Our choirs and bands performed at the Dr. Phillips Center in the fall and again during UCF Celebrates the Arts. The band program took 20 students to our partner school, Mahidol University, for a month-long residency in Thailand. The students and faculty in our renowned jazz program showcased their talent at the Jazz Education Convention, demonstrating growth in quality and enrollment. Following workshops with composer Michael Ching, UCF Opera performed a delightful modern opera exploring the concept of "speed dating." In April, we hosted three days of high school invitationals, during which students from throughout Central Florida attended choir, band and percussion experiences, worked with professional clinicians and performed on the stage of the world-class Steinmetz Hall. UCF and Orlando Philharmonic Orchestra collaborated on the new OPUS Scholars program, which opened the doors for two outstanding UCF Music graduate students to play as members of the professional orchestra.
Theatre professor Julia Listengarten received a second Pabst Steinmetz Foundation Arts & Wellness Innovation Award. As part of Pegasus PlayLab 2023, she produced Building a Shared Home, a project created in partnership with UCF's College of Community Innovation and Education and Best Buddies of Florida. The project brought together young adults with and without intellectual and developmental disabilities to devise a theatrical piece around the theme of "home," fostering inclusive creative practices, raising awareness about disabilities and empowering participants.
With over 300 concerts, six mainstage theatre productions, the ninth UCF Celebrates the Arts festival […] we positively impacted the community, spreading our artistic influence far and wide.
During the 2022-23 Theatre UCF season, we engaged our theater community through exciting and creative productions. Our season included a diverse range of works: Shakespeare's romantic comedy As You Like It, Bertolt Brecht's political parable The Resistible Rise of Arturo Ui, Linda Radley's contemporary drama The Interference and Steve Martin and Edie Brickell's heartfelt bluegrass musical Bright Star. We also featured an updated version of the musical Working, which included pieces by Tony Award winner Lin-Manuel Miranda, and a TYA production of Home of the Brave, designed and directed by our graduate. TECH-nique: A Dance Concert showcased the talents of students, alumni and faculty choreographers and dancers at UCF Celebrates the Arts. Pegasus PlayLab capped the season with two world-premiere readings, the previously-mentioned Building a Shared Home and a fully staged production of a play premiered at the Orlando Shakes PlayFest in 2022.  
Thanks to a generous grant from Bruce and Jeffrey Gould in honor of their mother, students in the theatre studies program partnered with the College of Nursing to bring the magic of theatre to Nemours Children's Health. 
UCF commissioned new works for band, and the UCF Symphony Orchestra premiered work from composition professor Alex Burtzos' new opera, HE Who Gets Slapped. The Goldman composition program is thriving at full capacity, launching careers in music composition. The National Young Composers Challenge Composium, produced for the third time by UCF, featured six outstanding composers from around the U.S., with their works premiered by the Orlando Philharmonic during the spring festival. The Themed Experience program expanded to include an M.S. degree and now has five full cohorts. The first cohort graduated in May and secured positions at locations like Disney and Universal.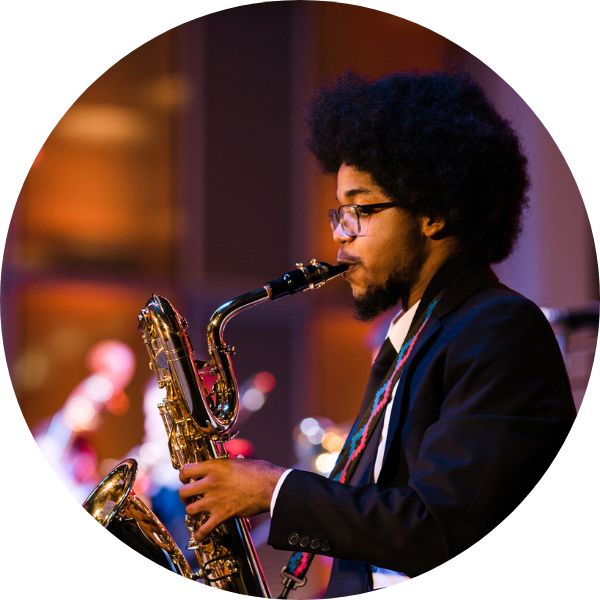 Performing Arts faculty were recognized with a variety of honors, awards and promotions. In addition to our two Pegasus Professors, Jeff Rupert (also a Trustee Chair) and Julia Listengarten, the school boasts three winners of the 2023 Research Incentive Award (Timothy Brown, Alex Burtzos, Julia Listengarten), and two winners of the 2023 Teaching Incentive Award (Julia Listengarten, Elizabeth Horn). We congratulate four faculty members who received tenure in August (Ross Winter, Vivian Majkowski, Jesse Cook and Ben Lieser) and two instructors/lecturers who will be promoted (Joe Gennaro, Judi Siegfried and Roberta Jensen).  We also welcomed two new faculty members: actor John Gardiner and pianist Sun-A Park.  
UCF Celebrates the Arts 2023 was a resounding success. We hosted WUCF's 10th-anniversary concert featuring Broadway star Megan Hilty. Alumni from our musical theater program returned to perform and celebrate the retirement of Earl D. Weaver, UCF's coordinator of musical theater for the past twenty years. Featured in the line-up was Quentin Earl Darrington '16MFA who appeared in the original cast of the current Broadway hit, MJ, and through the magic of a hologram box, Justin Sargent '08 sang a song without actually being there! We are thrilled for Abby Jaros '14, in the current Broadway company of Hamilton, and who sent a backstage video that was played during the concert.
We commend our students, alumni, faculty and staff for their dynamism, passion and commitment to advancing the arts. They strive to tell human stories, create moving music and push the boundaries of their art forms. Our faculty is preparing students to be influential voices for change, propelling the arts into public conversations and experiences.
— Michael Wainstein, director