Department website
Active Students
(as of August 2021)
Undergrad majors: 86
Undergrad minors: 81
Undergrad certificates: 17
Graduate students: 19
Graduate certificates: 34
2020-21 Student Credit Hours:
27,828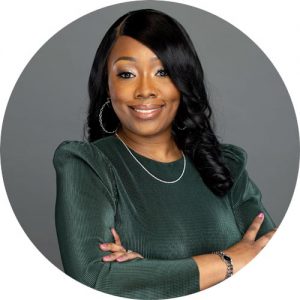 April Baker-Bell
With the global pandemic consuming our attention and energy and the campus underoccupied, our faculty and students foraged ahead with high achievements through remote and socially distanced offerings. The Department of Writing and Rhetoric's more than sixty-member team, in partnership with the (new) leadership of Sherry Rankins-Robertson, made Herculean efforts in advancing student success, scholarly productivity, and community engagement.
The Department of Writing and Rhetoric (DWR) supports students in all disciplines across campus through the work of the First-Year Writing program, the University Writing Center and the Writing Across the Curriculum program. The First-Year Writing program supported more than 7,800 writers this year — more than double the number of students enrolled in freshman writing when the department began a decade ago. The composition program hosted on-going Friday workshops to support composition faculty facing pandemic challenges. Stylus, our first-year journal, featured its first podcast in 2021. The journal uniquely features the researched work from first-year writers and has brought forward the work of nearly 4,000 UCF students in its eleven-year history.
Students from all corners of campus received writing support from the University Writing Center, which served more than 4,500 students through remote sessions. Writing Center interns produced an inaugural newsletter, Just Write, to inform the campus about writing endeavors at UCF. In addition to various workshops with the intent to strengthen writerly skills for students across campus, the Writing Center featured a weekly "Write with Me Wednesdays," and hosted an Open Mic Night in the fall and a Flash Fiction Contest in the spring. The University Writing Center welcomed Director Deborah Weaver.
---
DWR boasts a civic-engaged BA and minor, certificate in professional and public writing at the undergraduate level, graduate certificate in professional writing, and MA in Rhetoric and Composition.
---
Program directors once again hosted a successful Knights Write Showcase, which included student displays, student panels, a faculty panel, and a publication awards ceremony. Convergence Rhetoric, a peer-reviewed online journal of undergraduate student research in writing and rhetoric and the digital humanities, featured topics on gender identify, social media, the influence of COVID-19 on socio-digital technologies and American political culture. Imprint, a student- run publication, focused on how we stay together during the pandemic separation. We continued to celebrate our graduating students in departmental virtual graduation ceremonies in both the fall and spring.
Although many events across campus remained digital due to the pandemic, DWR hosted a variety of speakers for both the community and campus. Pi Epsilon Pi Honor Society was proud to present an alumni panel discussion, "The Roles of Writing Expertise in a Pandemic World and Beyond." During UCF Celebrates the Arts, DWR welcomed national award-winning Black language and literacies scholar April Baker-Bell who shared her research published in her book Linguistic Justice: Black Language, Literacy, Identity, and Pedagogy. The Department was pleased to collaborate with the 2021 Big Read and bring New York Times best-selling author Tayari Jones to UCF. DWR was honored to engage with communication scholar and author of the Art of Positive Communication, Julien Mirivel, who presented on the importance of positive communication at a faculty meeting. As well, Douglas Downs, composition scholar and co-author of Writing about Writing, facilitated a two-day pedagogy workshop for all faculty.
DWR faculty had an outstanding year despite the global pandemic surging forward. Laurie Pinkert and her team won a nearly $600,000 grant funded by the National Science Foundation. Pinkert was also recognized as one of three women who won UCF's Women of Distinction Award by President Alexander Cartwright. Sonia Arellano won the 2021 Kathleen Ethel Welch Outstanding Article Award. Arellano and her co-author were recognized for their article "Advocating Comadrismo: A Feminist Mentoring Approach for Latinas in Rhetoric and Composition," published in Peitho, by the Coalition of Feminist Scholars in Rhetoric and Composition. Jamila Kareem was featured in the Best of Journals in Rhetoric and Composition for her Literacy in Composition Studies article, "Independent Black Institutions and Rhetorical Literacy Education: A Unique Voice of Color." The Theresa Enos 25th Anniversary Award offered an Honorable Mention to Dustin Edwards for his Rhetoric Review article "Digital Rhetoric on a Damaged Planet: Storying Digital Damage as Inventive Response to the Anthropocene." Martha Brenckle was a finalist for the Robert Day Award for Fiction. DWR faculty published more than two dozen peer-reviewed scholarly articles and book chapters. One faculty member published a first-year composition textbook. Faculty presented remotely more than 20 professional presentations at scholarly conferences. Seven faculty members serve as editors, co-editors and/or copyeditors for professional journals.
Our faculty brought their scholarship and service into the community this past year. Nathan Holic taught comics workshops (via Zoom) at the Orange County Public Library. Holic continued his service as Comics Editor for The Florida Review. Martha Brenckle, President of LGBTQ+ History Museum of Central Florida, wrote in honor of Come Out With Pride, as the museum celebrated its fifteenth anniversary. Vanessa Calkins' tips about civic writing were featured in "4 Things to Know When Writing to Your Local Representatives." Joseph Longhany offered preparation for American Bar Association Accrediting Board and Seminole State College's Paralegal Program. Further, Longhany offered talks for the City Council representative for several municipalities in Seminole County. Numerous faculty members serve on international and national boards in both academic and for community organizations. The faculty, staff and students in DWR were nothing less than extraordinary this year.
— Sherry Rankins-Robertson, department chair