Department website
Active Students
(as of August 2021)
Undergrad majors: 2,250
Undergrad minors: 253
Graduate students: 43
2020-21 Student Credit Hours:
31,913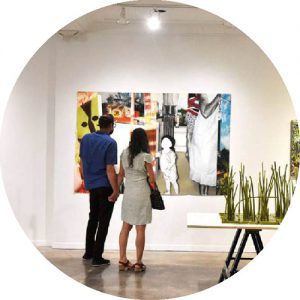 The School of Visual Arts and Design (SVAD) experienced a challenging but rewarding academic year as our school delivered coursework and artistic exhibitions both online and in socially distanced, physical spaces. Faculty worked diligently to deliver the high-quality instruction and mentorship students in our studio and digital programs have come to expect, and our 2,000 student majors were versatile and creative in their approach to working under new constraints with space, distance and materials. Our staff also adapted to our shifted working conditions, developing new processes and procedures for online advising and implementing numerous facilities and computer upgrades for the school. Approximately 325 of our students graduated in the 2020–21 academic year.
Despite the complications of the pandemic, SVAD faculty members were active throughout the year, presenting their creative work at over 70 exhibitions and publishing their scholarship in over 40 scholarly books, book chapters and conference proceedings. With much national travel cancelled or postponed, faculty members partnered with the local community and showed work in exhibitions at the Polasek Museum, A & H's Maitland Art Center and Orlando Museum of Art. Many also used the conditions of social distancing and reduced travel to spend time designing and making art. For many, this was a productive year; these faculty members found the process of creating new works and revisiting prior projects in their studios and offices to be therapeutic and a way of coping with the many other factors outside of their control.
For the first time, one of our faculty members was elected to the College Art Association Board of Directors. For the third year in a row, one of our faculty members was nominated for the 2020 Florida Prize in Contemporary Art — an award that he would be ultimately win, earning a $20,000 cash prize. As part of his winning exhibition for the competition sponsored by the Orlando Museum of Art, this faculty member created a 500-foot drawing titled The Promised Land that explores complex themes emerging from the loss of his nephew who was killed during the war in Afghanistan. Another faculty member served as session chair for the Foundations in Art 2020 Conference and gathered additional funding to allow many of our MFA students to attend the virtual conference.
---
Our faculty members used the conditions of the pandemic to encourage students to explore complex topics of identity, culture, and isolation in their art and design work.
---
Many of our students experienced unique opportunities to create and display their work, such as the Advanced Design Lab (AdLab) students who planned and designed a sculpture that was installed at the Exploria soccer stadium in downtown Orlando, our architecture students who presented their designs to prominent community planners and executives and a photography student who displayed his work at the 32nd Annual Atlantic Center for the Arts student exhibition in New Smyrna. Our students were also prominently featured in this year's programming for UCF Celebrates the Arts.
On the digital side, students and faculty members exhibited work at exciting venues, including the Adobe Max conference (in collaboration with Limbitless Solutions), and one faculty member supported the acquisition of over $100k in grant funding for Limbitless. Students and faculty 3d-modeled, printed, and painted bionic limbs endorsed by video game companies including Ubisoft, CD Projekt Red, 343 Industries, and Microsoft Game Studios. These were designed around video game characters from highly anticipated games including Cyberpunk 2077, Halo, and Assassin's Creed: Origins. The resulting prosthetics will support veterans and first responders. Our student animation films were screened at 48 festivals and won 28 awards worldwide, and our MFA animated films screened at 52 festivals and won 33 worldwide awards. Three of our MFA students won a competition sponsored by Dell Computer. Our graphic design students formed an exciting new partnership with UCF Marketing and won several awards at the AAF Orlando American Advertising Awards.
Alumni from our school participated in numerous exciting events throughout the country. One alumna published her first graphic novel, another worked on the award-winning Pixar film Soul and two of our MFA alumni co-curated the 2020 Center for Book Arts exhibition "Americans Looking In" in New York in the fall. Another alumna and current faculty member presented her artwork in four exhibitions and contributed a catalog entry to the Manifest Gallery Exhibition. Four UCF alumni and a current student showed work at the 2020 Florida Biennial exhibition at the Art and Culture Center in Hollywood, FL. Alumni and faculty work from SVAD was also featured in Orlando Weekly and Orlando Arts Magazine.
SVAD's commitment to community partnership was also strengthened this year, with student artwork installed in the new Celeste Hotel on campus, a faculty member helping veterans seeking healing through art and ongoing successes with the Florida Prison Education Project, an initiative led by an SVAD faculty member. Many internships were also completed by our students working with local arts partners. These student-led community internships were generously funded by the William and Alice Jenkins Community Arts Endowment.
An SVAD faculty member also coordinated the installation of new artwork at the Downtown Campus created by artist Nancy Gutkin O'Neil. This piece is comprised of custom glass artwork that pays tribute to the history of the Parramore community in downtown Orlando. It displays visual and textual historical moments from the community's history dating back to the early 1920s.
SVAD remained committed to inclusive practices this year and featured several exhibitions and events this year exploring these topics in art. Faculty and programs in our school supported or co-sponsored diverse artists, curators and authors including Omari Booker, Tayari Jones, Jonell Logan, Shanequa Gray and Melissa Alexander, among others. Some faculty explored these themes by branching out in new creative directions, such as one of our fine art faculty members who collaborated with the electronic musician Twitch 77 to develop a spoken-word collaboration about domestic abuse. Many of our faculty members also used the conditions of the pandemic to encourage students to explore complex topics of identity, culture and isolation in their art and design work.
An ongoing strength of our school is the close integration between our classrooms and our art gallery. The UCF Art Gallery served as a catalyst for visual arts experiences and education, culture and community engagement by providing a framework for intellectual and creative inquiry. In the 2020–2021 academic year, the gallery hosted seven exhibitions and programming both in person and online that examined cultural and social contexts while supporting contemporary art practices.
— Rudy McDaniel, director