Spotlight
2020-21 Year-in-Review
School of
Performing Arts
Department website
Music
Active Students
(as of August 2021)
Undergrad majors: 410
Undergrad minors: 286
Graduate students: 42
2020-21 Student Credit Hours:
21,518
Theatre
Active Students
(as of August 2021)
Undergrad majors: 535
Undergrad minors: 216
Graduate students: 94
2020-21 Student Credit Hours:
20,324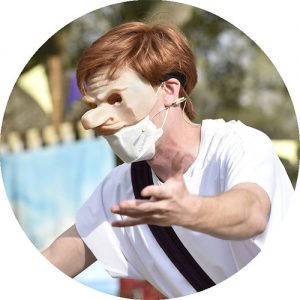 The School of Performing Arts shines when it comes to creativity, and in the face of the challenges of COVID-19, our students, faculty and staff rose to the occasion to foster art, learning and community.
Theatre UCF accomplished an enormous feat by producing virtual performances throughout the fall, with our actors performing from their homes and our designers and technicians stepping up to create in a completely unfamiliar medium. Not only did we push the boundaries of technology, but we also tackled some of today's pressing issues with a series of performances addressing racial equality and social justice. Our final virtual performance was the premiere of a new modern translation of Much Ado About Nothing, created as part of Play On Shakespeare that originated with the Oregon Shakespeare Festival, which was made possible by a generous donation from John and Rita Lowndes.
In the spring, we returned to live performances using outdoor spaces, inviting audiences back for the first time in nearly a year. Our musical theatre students performed a revue of favorite Broadway hits at Orlando Shakes, we captured the outdoor spirit of Commedia del Arte with Scaramouch in Naxos and we invited in families for a show about The Grumpiest Boy in the World.
UCF musicians spent much of the year rehearsing in parking garages, courtyards, balconies and spread out in the Pegasus Ballroom to create a safe environment for students to continue playing and singing. In the absence of live audiences, our ensembles performed for the few people walking by on campus and through livestreams to family and friends. The daily struggles against the weather and noise were worth it when our musicians came together to showcase their work for the community at UCF Celebrates the Arts 2021.
Thanks to the Frontyard Festival venue at Dr. Phillips Center for the Performing Arts, we were able to host our annual festival in their outdoor facilities and inside the Walt Disney Theater with appropriate safety precautions. It was a triumph of perseverance and the perfect way for the community to come back together to experience live performances. Weather threatened to cancel the final night of the festival, and a last-minute decision was made to save the concert by moving it indoors. With no lights, amplifications or stage dressings, the orchestra performed as-is to an enraptured audience from a bare stage, capturing the spirit and determination of our students, faculty and staff this year to keep the arts alive.
Our faculty had many incredible academic achievements this year. Sybil St. Claire's (theatre for social change) project, Advocating for Aphasia: Using the Performing Arts to Create a Conscious Community won a $25,000 Pabst Steinmetz Foundation Arts and Wellness Innovation Award to "find the medicine in our stories using theatre." Other faculty honors include Scott Warfield (music history) being inducted into the UCF Scroll and Quill Society, Kristina Tollefson (costume design) receiving a UCF Research Incentive Award, Steven Chicurel-Stein (musical theatre) and David Brunner (retired Director of Choral Activities) receiving Professor Emeritus, Elizabeth Horn (theatre for young audiences) being named an honoree of Women's History Month at UCF for serving as a role model for her students, and seven faculty receiving tenure promotions, including George Weremchuk (saxophone) receiving full professor status.
---
Our students, faculty and staff rose to the occasion to foster art, learning and community.
---
Our music ensembles received national recognition for their outstanding work. The Flying Horse Big Band released another chart-topping album with Florida Rays, a tribute to jazz and blues icon Ray Charles. The seventh album from the band hit #1 on the RMR chart and #4 on the NACC. Our new Director of Choral Activities and Grammy Music Educator of the Year 2019, Jeffery Redding, along with our UCF choirs, were featured on the national Grammy in the Schools program.
We have exceptional students in the School of Performing Arts, and we are proud of two students who received special recognition this year. Violinist and Music Education major Madeleine Smith received Order of Pegasus, UCF's highest honor for students. Ryan Polk, who plays the trombone and is also studying music education, received the prestigious Founders' Award from the university.
I also want to commend our students, alumni, faculty and staff for their courage in bringing forward ways our school can better address systemic racism and better live up to our values of being a diverse, equitable and inclusive place to learn and create. We dedicated time this year to listening and together, we crafted actionable steps to create an environment where everyone can thrive. I'm particularly proud of the creation of the SPA Diversity Council, made up of alumni and student delegates from each degree program, to ensure students have a platform for their voices to be heard.
This year, we also celebrated the legacy of several faculty members in the School of Performing Arts. Steven Chicurel-Stein (musical theatre) and Cynthia White (new play development) are both retiring from teaching in our theatre programs after years of valuable contributions to our students. We sadly lost one our colleagues, Mark Brotherton, a beloved acting and directing teacher who passed away this spring. His family, students and colleagues established a named scholarship in his honor, which quickly met the $10,000 goal, and will honor his memory and impact on the lives and careers of future students.
I also want to take a moment to acknowledge the work and accomplishments of our alumni. A few highlights from this past year have been alumnus Jonathon Gautier '06 '09MA receiving production credit on Taylor Swift's new album, Alexander Bornstein '09 creating the music for the Transformers series on Netflix released this year, John Norton's '20MA play Triggered being honored by the Kennedy Center with the 2021 Citizen Artist Award, one of their highest honors, and Dominique Allen Lawson '14 landing a supporting role in Happiest Season, one of the most talked about holiday movies of the year.
We continue to be inspired by the work of all our faculty, students, alumni and staff as they continue creating beautiful works of art and push the boundaries of what is possible.
— Michael Wainstein, director