PRINT Digital Research and Preservation Internship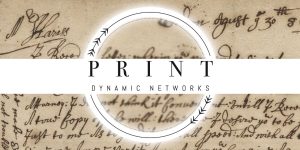 Intern will work on PRINT – People, Religion, Information Networks and Travel – a digital humanities project that is digitizing seventeenth-century letters from the U.S., Germany, the Netherlands, and the U.K., creating a database of transcriptions, and developing innovative digital tools to visualize the transatlantic communication networks the correspondence reveals. This internship provides an excellent opportunity to learn how to use innovative digital tools, develop teamwork skills, and understand the processes of creating public history digital projects.
Intern will work 10-12 hours/week (during regular semesters or the equivalent over Summer C). The internship counts for 3 hours of college credit. Potential interns should schedule an appointment for an interview with Dr. Rosalind Beiler at [email protected].
Duties will include but are not limited to:
Meeting weekly with the research team
Assisting with metadata creation
Learning about and creating Linked Open Data
Conducting historical research to contextualize ordinary people
Teaching others paleography and transcription skills
Skills and technology needed:
Enrolled in a degree in History or related degree; Undergraduates must have completed 12 credit hours in history (w/ a GPA of 3.0 or higher)
Good organizational skills
Ability to work independently/self-motivated
Strong analytical and research skills
Good interpersonal communication skills/ability to work on team
Internet access
Flexibility and a positive attitude
Fluent skills with Microsoft Office suite